Commentary
U.S. "Climate Czar" John Kerry has a long history of supporting communist states, including the Chinese Communist Party (CCP).
Kerry could not have been happy with the disclosure last week that he has invested $1 million in a Chinese private equity firm, which has "invested in a tech company blacklisted for human rights abuses but is also a major shareholder in a solar panel company linked to labor abuses of the Uyghurs," according to The Washington Free Beacon.
This embarrassing news could not have come at a worse time for the itinerant purveyor of all things green for the Biden administration, as Kerry plays a prominent role in the 26th U.N. Climate Change Conference of the Parties (COP26) held in Glasgow, Scotland, from Oct. 31 to Nov. 12.
As a reminder, Kerry is a former Democrat U.S. Senator from Massachusetts, a Democrat presidential candidate in 2004, and served as the 68th secretary of state from 2013 to 2017, during Barack Obama's second term.
Kerry has supported the causes of foreign communists and enemies of America during his long public career. Let us examine the record.
Vietnam Era (1966–1978)
Kerry first achieved notoriety as a controversial naval reserve officer during the Vietnam War, a collaborator with the communist North Vietnamese, and a war protestor. There is much controversy about his naval service and medals awarded, as well as his anti-war protests and phony war crimes charges, as was made public by the Swift Vets and POWs for Truth in 2004, during Kerry's presidential campaign.
Kerry colluded with the communist North Vietnamese during the Paris Peace Accords in 1970, when he was still technically a naval reserve officer. That meeting was a direct violation of U.S. code 18 U.S.C. 953, for which he was never held accountable. Kerry later even bragged about his Paris meetings with the communists in testimony before Congress: "I have been to Paris. I have talked with both delegations at the peace talks, that is to say the Democratic Republic of Vietnam and the Provisional Revolutionary Government." A court martial would very likely have nipped Kerry's pro-communist political career in the bud, but then-Secretary of Defense Melvin Laird ultimately declined two Navy requests to court martial Kerry for this and other anti-war activities.
US Senator (1984–2012)
During his Senate career, Kerry opposed every Reagan Cold War policy aimed at deterring the Soviets. And he even advocated on behalf of the communist Sandinistas in Nicaragua in the 1980s, as noted by the Los Angeles Times:
"Many leaders had a hand in Washington's Cold War triumph, but Ronald Reagan's contributions were pivotal, and Kerry opposed every one of them. … He opposed our support for guerrillas in Nicaragua as vociferously as anyone in the Senate, even traveling to Managua to try to cut a deal with Sandinista strongman Daniel Ortega to thwart Reagan's policy."

Secretary of State (2013–2016)
Kerry replaced Hillary Clinton as President Obama's secretary of state in 2013. Throughout his tenure, Kerry supported normalization of relations with communist Cuba, and he made it a priority to break with past U.S. policy by pushing to open a U.S. Embassy in Cuba. Obama shared his vision, and thus Kerry was able to make his triumphant visit to reopen the U.S. Embassy in Havana in 2015, much to the chagrin of American anticommunists, and especially Cuban-Americans, who fully understood the evils of the communist regime in Cuba.
Kerry also played a significant role in helping Obama negotiate the flawed "Joint Comprehensive Plan of Action" (JCPOA, the "nuclear deal") with the terror-supporting Islamic Republic of Iran, which was never ratified by the U.S. Senate.
Iran is fast becoming a major economic and political ally of the Chinese regime. China and Iran have recently signed an agreement that involves "Chinese investment of $400 billon in Iran over a 25-year period in return for lower Iranian petroleum export prices," according to the Center for Strategic & International Studies.
Some have argued that, due to stunning concessions in the deal to the Chinese, Iran is becoming a de facto Chinese colony. "A secret element of the agreement has a military dimension: China will deploy 5,000 members of its security forces on the ground in Iran," according to the Gatestone Institute. And Kerry helped lay the groundwork for China's People's Liberation Army to establish a foothold in Iran.
Out of Government (2017–2020)
Kerry continued to negotiate with the Iranians and Europeans in order to prop up the JCPOA after he was out of government, as well as directly undermine official U.S. policy, as then-President Donald Trump withdrew from the agreement and reimposed sanctions on Iran.
Kerry almost certainly violated the Logan Act by conducting unauthorized negotiations as a private citizen with foreign government representatives, as noted by Kerry's hometown newspaper, The Boston Globe: "[Kerry] sat down at the United Nations with Foreign Minister Javad Zarif to discuss ways of preserving the pact limiting Iran's nuclear weapons program. It was the second time in about two months that the two had met to strategize over salvaging a deal they spent years negotiating during the Obama administration."
As noted above, keeping the JCPOA in place was, and is, an objective that directly aids the Chinese regime's geopolitical objectives in Iran and the Arabian Gulf region in general.
Climate Czar (2021–Present)
It was a natural act for President Joe Biden to appoint his long-time political ally Kerry as the first U.S. Special Presidential Envoy for Climate.
In an early act of perfidy, The New York Times has noted that Kerry disclosed over 200 Israeli covert operations in Syria with Iranian Foreign Minister Javad Zarif, according to audio tape excerpts. Was classified information disclosed with Zarif in discussing those covert operations? And who but America's potential adversaries—including Russia and China—benefitted by these disclosures?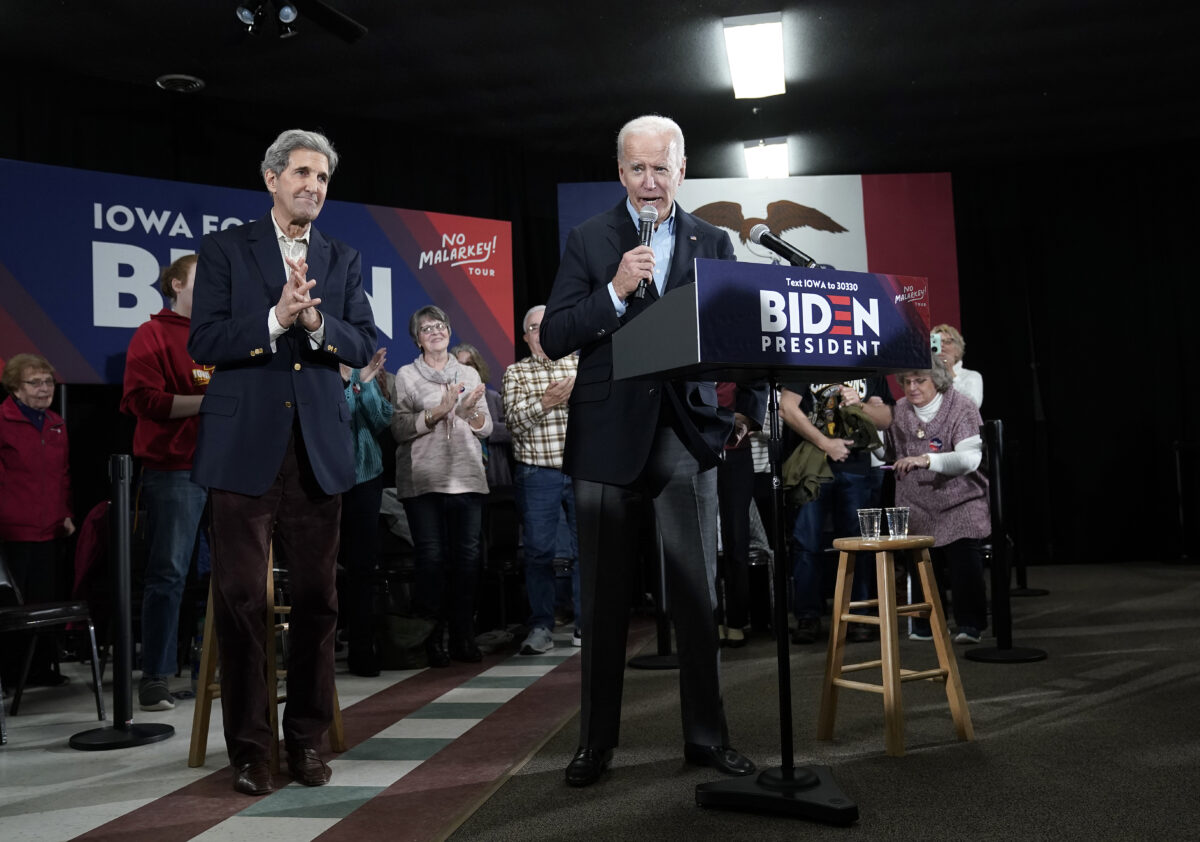 Back in April, Kerry facilitated a joint U.S.-China statement on the "climate crisis." His portfolio includes pushing for green technology in the United States and overseas, and his investment in a major shareholder of a Chinese solar panel company would appear to be a clear conflict of interest. As China is the top supplier of solar panels in the world, Kerry well understands the personal business potential resulting from the Democratic Party's inexorable push for implementing the "Green New Deal" in America. This is a conflict of interest, which provides economic benefits to a communist-run country.
Just as Kerry and Biden were long-time friends and allies, Kerry's stepson, Chris Heinz, partnered with Biden's son, Hunter, in 2009 to create a small international private equity firm, which was backed by the Heinz family's "alternative investment fund, Rosemont Capital," according to a report by the New York Post.
That small firm, Rosemont Seneca Partners, was later merged with Bohai Capital, a Chinese firm controlled by the Bank of China, to form a new joint venture called Bohai Harvest Investment (BHR). BHR was able to secure a $1.5 billion business loan from the Bank of China. Part of that loan was used to invest in the automotive subsidiary of Aviation Industry Corporation of China, which is "a major Chinese military contractor accused of frequently stealing U.S. military technology," according to The Western Journal.
Political connections and corruption are the only explanations for how such business transactions happen. And who benefits? The CCP, the Chinese military, and the sons of two top Democrats.
John and Chris, and Joe and Hunter—the parallels are remarkable, but not surprising. And the "Climate Czar" has extended his investments to Uyghur genocide-linked Chinese entities now, too. Just the latest in Kerry's political history that is replete with pro-communist activities.
Views expressed in this article are the opinions of the author and do not necessarily reflect the views of The Epoch Times.