A Taco Bell manager in Portland, Ore., has been sentenced to three years probation for choking a pregnant employee.
Linda Witkerson, 48, pleaded guilty to fourth-degree assault and strangulation in Multnomah County Circuit Court on Friday, March 29, according to the Oregonian newspaper.
The defendant was also ordered to pay a $250 fine, attend anger management classes, and perform 100 hours of community service.
The judge ordered Witkerson not to have any contact with 29-year-old Mary Hulett, the former co-worker.
"I'm glad there was at least some kind of punishment for what she did," Hulett told the Oregonian newspaper. "I think she got what she deserved."
Taco Bell released the following statement in response to the incident, according to KATU:
"Taco Bell and the franchisee who owns and operates this location do not tolerate this type of behavior. This manager was terminated at the time of the incident and no longer works for the franchisee."
The Incident
The victim told the court that when she was employed at the Portland International Airport Taco Bell, Witkerson was rude to her because of the frequent breaks she took due to her pregnancy, KATU reported.
On June 3, 2018, Witkerson and Hulett got into an argument over a food order.
Hulett, who was four months pregnant at the time, ordered some food while she was on a break.
Witkerson canceled the order and the two argued.
Video shows Hulett going into an office, with Witkerson soon following. The two are seen in a heated exchange.
Witkerson walks away from Hulett and slams the door in her face, according to the footage.
Hulett is seen opening the door and continuing to argue, after which Witkerson walks back and slams the door shut a second time.
Witkerson then walks back into the room and puts her hands on Hulett's neck, as if to choke her.
The pregnant employee then shoved the manager away.
"I didn't know when she was going to take her hands off my throat, and I was in fear for my child," Hulett told the Oregonian/OregonLive. "I'm just glad she let go and my son was born healthy."
"It was wrong for me to call her the [expletive], but that doesn't justify you putting your hands on someone," she continued.
Hulett no longer works for Taco Bell.
Bomb Squad Called to Taco Bell
On Jan. 26, a Taco Bell restaurant was evacuated and the bomb squad called in when a Florida magnet fisher accidentally snagged a rusty old hand grenade, put it in his girlfriend's trunk and drove to a nearby Taco Bell.
The Ocala Police Department warned the public to steer clear of the scene.
"Be advised that the Taco Bell on East Silver Springs Blvd. has been evacuated, following a report of an explosive device located in a vehicle on premises," said the police in a statement on Jan. 26.
"At 5:01 p.m. a caller informed dispatchers that he had found a hand grenade while magnet fishing in Ocklawaha, put it in his trunk, and drove to Taco Bell in Ocala."
The police said in a later statement the rusty object was verified as an authentic World War II hand grenade.
"The bomb squad removed the grenade without incident and advised it would be disposed of properly," said the police in an update. "Taco Bell has reopened."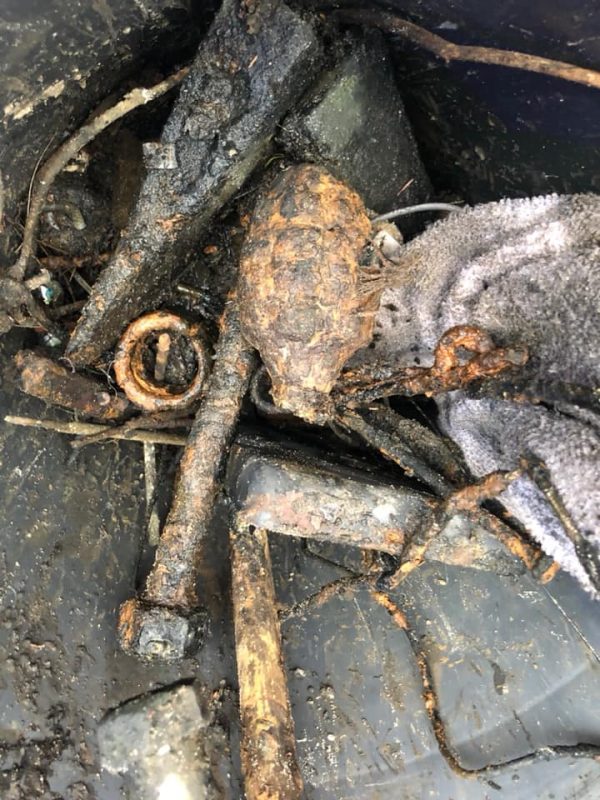 According to a separate police report, the grenade was destroyed as a precautionary measure.
The man and a woman were fishing for "precious metals" with a magnet when they picked up the grenade.
The man put it into a plastic 5-gallon bucket, which he placed into the trunk of his girlfriend's vehicle.
According to Gizmodo, the report states, "Both individuals later drove into the Ocala city limits, parked at the Taco Bell on East Silver Springs Boulevard, and notified law enforcement of their discovery so it could be recovered."
Epoch Times reporter Simon Veazey contributed to this report.