A former NFL player and current Georgia business owner was arrested after allegedly trashing his own restaurant and ice cream shop to make it look like he was the victim of a hate crime by a supporter of the president.
Edawn Coughman, 31, of Buford, was taken into custody on Sept. 13 on charges of false reporting a burglary, insurance fraud, and concealing a license plate, Gwinnett County police said in a press release.
Police responded just before 9:30 p.m. on Wednesday, Sept. 11, after a 911 call reporting apparent break-ins at the Create and Bake Restaurant and Coughman's Creamery in unincorporated Lawrenceville. The caller said the suspect was still inside one of the businesses and was committing acts of vandalism.
Officers attending to the scene confronted a suspect, who, according to the Gwinnett Daily Post, was wearing gloves and a hoodie. Officers then learned that the suspect—Coughman—owned the businesses. He told them he was the victim of a burglary earlier in the day and had returned to tidy up.
"Edawn told officers that he noticed the damage and theft of equipment earlier in the day. He said that he called his insurance company to report the incident, but he did not call 911," police said.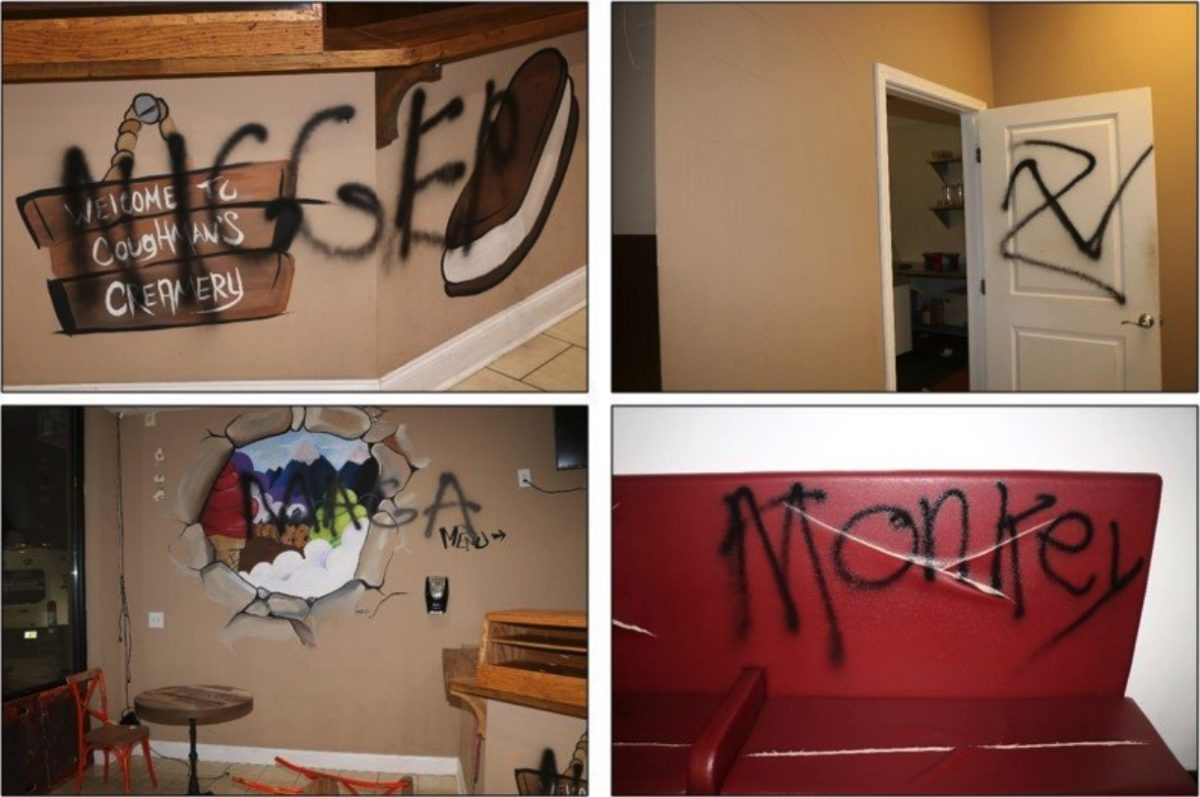 Upon further investigation, police concluded the former tackle for the Tampa Bay Buccaneers "conjured a premeditated plan to damage his own property, attempt to make it appear as a hate crime, file a claim with his insurance company, and sell off the undamaged appliances and electronics."
Coughman allegedly used a yellow crow bar to simulate the effects of a break-in, and used black spray paint to scrawl "racially-motivated words, swastikas, and 'MAGA'" on the walls, referring to President Donald Trump's 2016 slogan, "Make America Great Again." Police noted in the release that "the back door to one of the businesses had yellow pry marks."
A local business owner is accused of staging a racially-motivated burglary. Edawn Coughman (31) has been charged with False Report of a Crime, Insurance Fraud, & Concealing a License Plate. He was arrested and bonded out of the GC Jail yesterday.

Details: https://t.co/0MEy6iHsT9 pic.twitter.com/imRNVa7WIT

— Gwinnett County Police (@GwinnettPd) September 13, 2019
Investigators later recovered the yellow crow bar and spray paint from Coughman's pickup truck, along with several televisions that appeared to have been ripped off walls.
"The TVs were still attached to the brackets with damaged drywall," police said.
"It's possible he was trying to stage this as a hate crime," Cpl. Michele Pihera told the Gwinnett Daily Post. "We don't know if he was trying to get attention for this. What we do know is, if that witness had not called us and if those officers had not responded as quickly as they did, we would probably be sitting here talking about a completely different crime in which Mr. Coughman would be trying to say he's a victim."
Police said Coughman has bonded out of jail.