The collapse of Chinese property giant Evergrande will be contained before it will significantly affect the Australian economy, Prime Minister Scott Morrison said.
"When it comes to Evergrande, this is principally an issue in China, and that addresses their financial stability," Morrison told reporters in Washington D.C. ahead of the Quad Summit.
Morrison discussed the issue with American Federal Reserve chairman Jerome Powell and noted that his assessment showed the broader exposures and effects were largely limited to within China.
"These things can have confidence impacts in the global marketplace, but those who follow the markets, we've seen particularly here, that impact, I wouldn't say it has been realised," Morrison said. "Our expectation is that China will address that issue and seek to contain its impact."
The deadline for Evergrande to pay an $83.5 million bond passed today with no word from the property giant, leaving investors concerned for another impending Lehmann Brothers moment.
China Evergrande Group shares have fallen by around 10 percent in value today and over 80 percent this year.
The company has now entered a 30-day grace period to meet the payment before it officially defaults.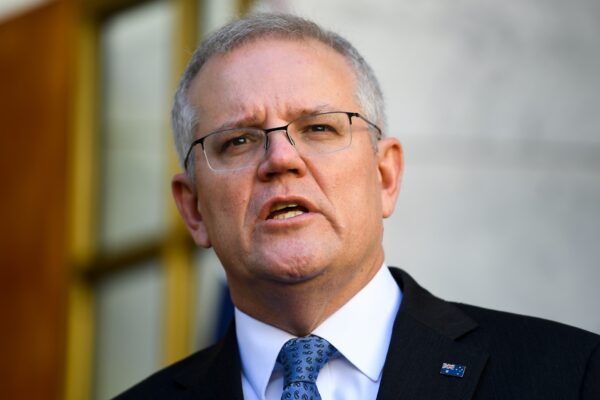 The Reserve Bank of Australia (RBA) also took note of the overall situation during its September meeting, saying China's weaker than expected economic data suggested a downturn in its financial situation.
"There was also uncertainty [from board members] about the effects of a range of recent policy measures, including those aimed at curbing financial stability risks, reducing carbon emissions, and achieving broader social objectives," the RBA board said.
SMP Capital chief economist Shane Oliver does not believe Australia will experience any significant shock directly to its market due to the relatively modest exposure of Western Banks to China.
"I wouldn't overstate the exposure of Western banks to China," Oliver told the ABC. "The amount of money owed by other brands in its offshore markets to foreign investors is about $20 billion. When Lehman Brothers went bust, it went bust with about $150 billion."
He said the real risk would come from the hit to lender confidence, which may cause a sharp fall in the Chinese property market. In turn, Chinese investment in Australian property may feel the spillover effects.
"And because China is like 25 percent of the global economy [there's] obviously a big impact on global growth," Oliver said.
However, the effects of the Evergrande collapse will likely be felt by Australia's raw materials industry.
Iron ore has already tumbled to almost half the value of its peak, $230 per tonne, after China claimed it would cut steel production for its emissions reduction target.
The industry will be exposed to more pressure as a slowing Chinese property industry will further cut its demand for steel.