ESPN Body Issue 2013: Modern Athlete, Nude Classical Form
July 11, 2013 10:28 am Last Updated: July 11, 2013 10:28 am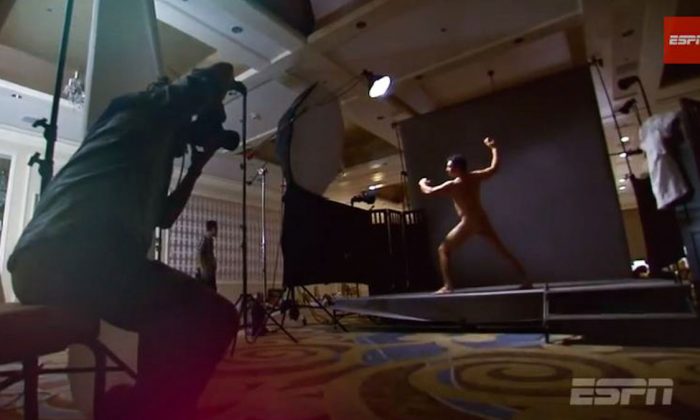 ESPN Body Issue 2013: As a nude Matt Harvey wound up and lunged forward to pitch, a camera caught the movement of his muscles in an instant—making fast work of an athletic portrait similar to those once painstakingly formed by ancient Greek sculptors.
"I like the poses that really show the mechanics of pitching, the muscles that are worked during pitching," said Harvey in an ESPN interview. Harvey is a New York Met and one of 21 athletes to pose nude for ESPN magazine's annual Body Issue to be released next week.
San Francisco 49ers quarterback Colin Kaepernick could have made a suitable model for the ancient sculptors—his expression stoic; his form still, yet seeming to charge forth.
"The High Classical [Greek] style was fascinated with the aesthetic problem of showing motion in a static medium," wrote Roy Matthews and F. DeWitt Platt in the book The Western Humanities, referring to Greek sculpture in the fifth century B.C.
On Kaepernick's 6-foot-4 frame, fleshed out by 230 muscular pounds, the upper torso muscles are most pronounced. For NBA player, John Wall, the leg muscles stand out, featured in the foreground as he dribbles the ball.
While the modern spread in ESPN magazine may recall Greek classical forms, some differences stand out. Kaepernick's tattoos for starters. But also the personalities captured in each shot. Greek sculpture of the High Classical period concentrated on ideals rather than individuality.
"The distinctive traits of Greek classical idealism became dominant: concentration on ideal beauty and the typical rather than the individual; balance, symmetry, and rhythm; harmony achieved through mathematical proportions; restraint, simplicity, majestic dignity, serenity, grandeur," wrote Meyer Reinhold of the University of Missouri in the book Hellas and Rome: The Story of Greco-Roman Civilization.
What would the Greek models have said of their experience posing? Harvey described the experience of posing nude in an interview with ESPN posted on YouTube, "That was kind of like the first time you go to college and you have to, you know, shower with all 25 teammates."
Gary Player, 77-year-old PGA Tour Lifetime Achievement Award winner, said in a caption published along with his photo: "I have this great ambition to show the world how fit you can be at this age. People retiring at 65 is a joke. I'm almost 78—if I retire, I'd be dead in one year. I still work on my ranch, I do golf course design, I'm traveling seven months a year. You've got to keep moving."
Player, 5-foot-7, 150 pounds, holds a giant golf ball, recalling the Greek figure Atlas.
ESPN has previewed images from it's 2013 Body Issue online, including nude photos of rock climbers, snowboarders, motocross racers, and more—each with muscular definition particular to their sport.