News Analysis
ISTANBUL—After 15 years in power as prime minister and president, Recep Tayyip Erdogan faced down a weak opposition in June elections that swept away any checks and balances to the unchallenged rule he wanted.
In Turkey, he appears lord of all he surveys.
But his victory could become a poisoned chalice if he can't resolve a feud with President Donald Trump that is pushing his country towards financial crisis.
Erdogan has limited options. Most involve a loss of face or a loss of sovereignty for which he alone would be blamed, having successfully marginalized not just a divided opposition but his own Justice and Development Party (AKP).
His victories in June were decisive. Re-elected as president under a new order modeled more on Vladimir Putin's Russia than France or the United States, he also secured a parliamentary majority by allying with far-right nationalists.
The role of prime minister was abolished, leaving Erdogan to dominate not just the executive—appointing ministers, chairing the cabinet, and replacing top civil servants with political appointees—but also holding sway over the judiciary and the legislature.
Having chosen to rule alone from his vast neo-Ottoman palace in Ankara, he confronts the spiraling crisis alone.
The lira has collapsed by 40 percent this year. Turkish banks that borrowed heavily abroad now face the near-impossible task of refinancing short-term debt in expensive dollars and euros.
Rattled Investors
Investors rattled by soaring inflation and a widening current account deficit were suddenly confronted by a row between Erdogan and Trump, who doubled tariffs on U.S. imports of Turkish steel and aluminum in an attempt to force Ankara to release Andrew Brunson, an evangelical Protestant pastor jailed after an attempted coup in 2016.
As the lira lost a quarter of its value last month alone, Erdogan accused the United States of waging "economic war" against Turkey.
According to JPMorgan, $179 billion in Turkish foreign debt matures in the year to July 2019, $146 billion of which is owed by the private sector—especially Turkey's banks—which borrowed abroad, but often earns mostly in lira, saddling it with a severe debt mismatch given the plummeting currency.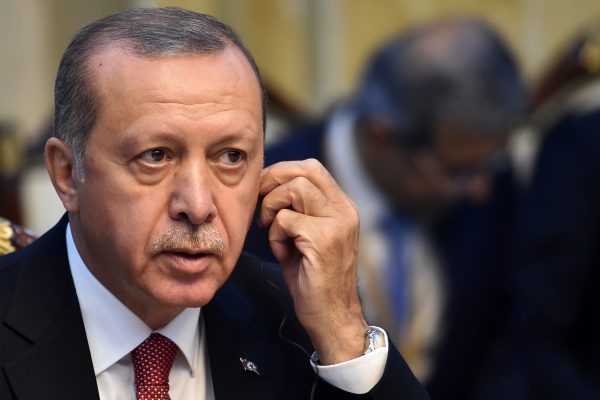 The question is now whether Erdogan will make up with Trump—as recently as July's NATO summit, they were seen fist-bumping—perhaps at this month's U.N. General Assembly session.
As inflation spikes, the central bank is signaling a rise in interest rates next week in an attempt to halt the lira's free-fall.
But given Erdogan's belief that interest rates, which he calls the "mother and father of all evil," are a cause of inflation, any increase may be too little and too late.
That increases the likelihood that Turkey may have to go to the IMF for the size of bailout it needs. The government rules this out as an unacceptable surrender of sovereignty.
"I have no need of the IMF," finance minister Berat Albayrak told Reuters on Sept. 2. The minister is Erdogan's son-in-law.
Mustafa Sentop, deputy speaker of parliament and the AKP's former election campaigns chief, says the Turkish economy is in reasonable shape, when benchmarked against comparable emerging markets. "We don't believe Turkey will have a problem in funding this debt," he said.
Trump last month demanded the unconditional release of Brunson, calling him a "great patriot hostage," after the collapse of a deal that might have freed him.
In exchange for the release of Brunson, analysts say Turkey wants: The repatriation of an executive from the state-owned Halkbank who was convicted of breaking sanctions on Iran, the reduction of a fine still to be imposed by the U.S. Treasury on Halkbank, and Trump's intercession with Israel to free a Turkish woman held as a courier for Hamas.
By Samia Nakhoul and Dominic Evans