The complete shutdown of Sydney's train network from Monday morning, without prior notice, has been labelled by the New South Wales (NSW) transport minister as the "most unAustralian act I've ever heard of."
David Elliot said the transport union failed to show up to a conciliation meeting at 8 p.m. on Sunday, giving the government an impression that it would not be possible to operate services safely amid planned industrial action. The transport department then made the decision to call off all services at 2 a.m. on Monday morning.
The government and unions are blaming each other for the chaos that Sydney residents woke up to, with many stranded and unable to commute to work.
The two sides had reached an agreement on Saturday. However, due to a misinterpretation of the agreement, another conciliation meeting was scheduled on Sunday evening.
"They didn't even bother showing up," he told 2GB radio. "And so that was an easy hit for them to turn up to work today and put forward working conditions that would have been completely unacceptable when it comes to safety."
However, the Rail, Tram, and Bus Union (RTBU) said the chaos was caused by the government's decision to shut the train network, not the planned industrial action that would have lasted for two weeks starting from Monday.
"There's no strike—workers are simply performing the shifts we're set without any changes," RTBU NSW Secretary Alex Claassens said on Sunday.
He said all union members had gone to work, only to be told that trains were not running.
Unions NSW said the state government, "in an aggressive, high-stakes tactic," cancelled all train services and "blamed it on industrial action."
"Let's correct the record: rail services can continue to operate. Premier Dominic Perrottet shut them down," the peak union body wrote on Twitter.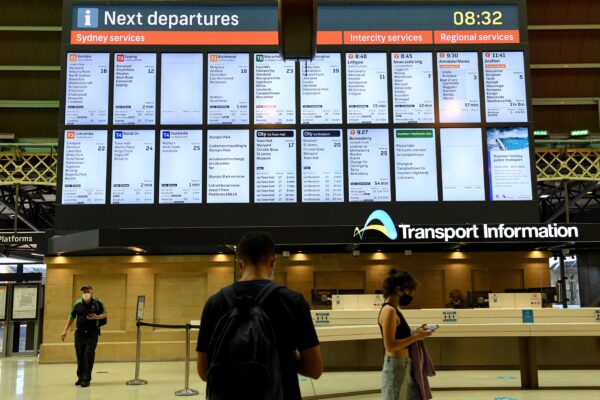 However, Elliot said it was "ridiculous" for the government to choose to have train services down on a vital day when international travellers returned, universities reopened, and the city began returning to normal after restrictions eased.
"To say that I'm furious about their … hijacking the city on a day that's supposed to come out of restrictions and were supposed to get economic activity going again," he said. "And its allegation that it's the government's fault. Why the hell would I want a strike to occur on a Monday that universities are going back?"
Elliot said the move by the unions was "nothing but political," blaming the Labor Party as the "political puppet masters" behind the move.
"It's not a coincidence that … 12 weeks before a federal election and 12 months before the state election, that this is occurring," he told Nine.
The prime minister and premier have echoed his statements, with Perrottet calling it a "coordinated, concerted attack" on the government by Labor and the unions.
"I'm incredibly disappointed with what has occurred across our city this morning," Perrottet told reporters on Monday. "This is the unions playing games with the Labor Party for political purposes at the expense of our people."
Prime Minister Scott Morrison said a day that should be celebrated for welcoming back Australia's first international tourists in two years has been met with a lack of trains in Sydney.
"It's great news from that point of view that we're pushing through the pandemic," Morrison told 2GB radio. "We're coming out the other side, but the union movement has decided to really pull the rug out from under that on our first day back."
The two sides met at 9 a.m. before the Fair Work Commission and the unions will also meet the premier later on Monday.