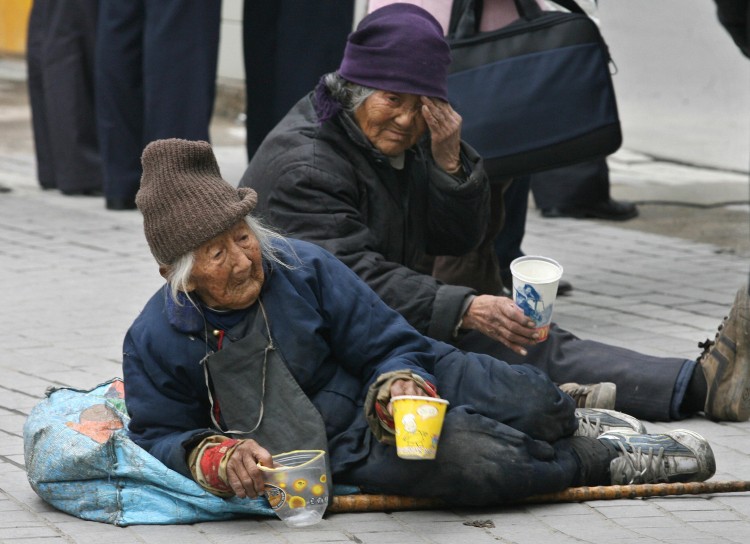 In China, the traditional family was a cross-generational amalgam that lived in one household, with children caring for their aged parents. That has been changing for decades now, but the problem is now reaching a crisis point, with elderly in some rural areas keeping a bottle of pesticide at the ready, in case they fall ill and there is no one to care for them.
Today the aging of Chinese society, combined with absent offspring, no social structures for elder care, and the lack of retirement income, add up to an escalating number of old people fending for themselves. They have been dubbed "the empty-nesters."
Statistics reveal the scope and the urgency of the problem. The China National Committee on Aging said in late 2012 that in the next year those over 60 years of age will exceed 200 million, and by 2050, approximately a third of the population will be elderly, the state-run Xinhua reported.
The growth of China's senior population segment is twice that of developed countries, according to a report by state mouthpiece People's Daily. The proportion of elderly to younger people has been skewed by the one-child policy, with fewer young people and more old people compared to other countries.
In 2004 there were 23.4 million empty-nesters whose children were not at home to care for them, as they were usually in another area working , Xinhua said. In January 2013, People's Daily wrote that of 178 million Chinese over 60 years old, about half are alone. 
Rural Elderly Hit Hard
Jason Ma, a commentator on Chinese social affairs, believes that the number of elderly left to empty households in rural areas could be around 100 million. 
He blames the Communist Party's one-child policy for the problem. China implemented the one-child policy in 1980 and in the next five to ten years the parents of those only children will enter old age. "At that time, the empty nest rate in rural China will be over 70 percent and will have huge social consequences," Ma told NTD.
Although 70 to 80 percent of China's elderly live in rural areas, according to Ma, retirement and pension plans are only available to city dwellers. The rural elderly are not integrated into the existing social welfare system. "Their pains are invisible to society. They have no voice and no prospects," Ma said. 
Research bears out Ma's statements. A joint study in 2012 by the School of Finance at Anhui University of Finance and Economics and the Research Center for Insurance and Social Security at Southwestern University of Finance and Economics said that in 2010, only 32.17 percent of rural seniors were covered by any kind of pension insurance.
During the years of 20 to 30 percent annual economic growth, the regime failed to put in place a social security system that would cover all of the population, Ma said. 
Suicide
Ma said the many elderly people in rural areas, unsupported by any elder care system, have no option but to die when they are stricken with acute health problems. For example, in Hunan Province, which is relatively wealthy, many old people in rural areas have a bottle of pesticide set aside to drink in the event that they can't pay for medical treatments, Ma asid.
The suicide rate among rural elderly Chinese is five times that of their urban counterparts, according to Fei Lipeng, executive director of Beijing Suicide Research and Prevention Center, who spoke to the Chinese financial media Caixin in 2010.  
Li Baoku, president of China Aging Development Foundation, said the suicide rate among rural seniors is four to five times that of the world average. 
In Jingshan region in Hubei Province, there are even suicide houses, or caves, prepared for those who wish to kill themselves. "A large number of sick elderly didn't want to add a burden to their children, and chose to end their own lives," Li said.
One-Child Policy
Demographer Yi Fuxian estimates that there were 218 million one-child families between 1975 and 2010. The 2000 census showed that of every 10,000 newborns, 463 die before 25 years of age. This means more than 10 million only-children will die before reaching 25 years old. 
The alarming result will be this: in the near future, there will be over 10 million families without an adult son or daughter to take care of aging parents, according to Beijing Times.  
The rapid aging of the Chinese society is the result of the Communist Party's one-child policy which has been in effect for over 30 years, explained Ma. The number of newborns in China can no longer replace those who die—something the Party's central planners did not foresee.
Many economists believe that China should have put an end to the one-child policy a decade ago. "If nothing is done to change it now," Ma says, "Chinese people will face disastrous consequences."
The Epoch Times publishes in 35 countries and in 21 languages. Subscribe to our e-newsletter.
Related video: Elderly woman focus of campaign to shut China labor camps