The wife of the late Elijah Cummings is considering running for his congressional seat just weeks after his death, The Washington Post reported.
Maya Rockeymoore Cummings told the publication on Thursday that she is "thinking carefully" about whether or not she will make a bid for the seventh district seat, which her husband previously held for over two decades.
She told the publication: "I love Baltimore City, the counties of the 7th Congressional District, and the state of Maryland.
"I'm deeply committed to public service and I'm honored by the widespread encouragement I've received to continue Elijah's amazing legacy. As I mourn the loss of my husband, I'm thinking carefully about the future and will make an announcement very soon."
Her comments come shortly after Democratic congressman Cummings died at Johns Hopkins Hospital on Oct. 17 at the age of 68.
A spokesperson for Cummings said he had been suffering from longstanding health issues before his death.
He had previously undergone both heart and knee surgery but developed an infection following the latter, according to reports.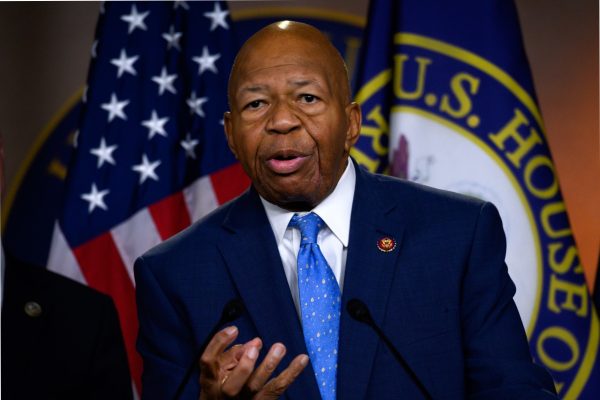 After his death, sources allegedly told the Washington Examiner that Rockeymoore Cummings became a favorite to run for her late husband's seat in Congress.
She currently serves as the chairwoman of the Maryland Democratic Party—a position she has held for nearly a year—and has extensive political experience.
Rockeymoore Cummings previously worked as chief of staff to now-retired New York Rep. Charles Rangel, and held senior positions with both the National Urban League and the Congressional Black Caucus, the Post reported.
In October 2017, she entered Maryland's governor race but was later forced to drop out the following January when her husband was hospitalized.
She has also been the subject of controversy after a complaint was filed against her non-profit organization, the Center for Global Policy Solutions, earlier this year.
Rockeymoore Cummings was investigated by the IRS after being reported by a government ethics watchdog which noted that her similarly named for-profit consulting firm, Global Policy Solutions, LL, was listed at the same address and phone number as the charity.
The Center for Global Policy Solutions received more than $5 million in grants from the Robert Wood Johnson Foundation between 2013 to 2016, according to the complaint.
Subsequently, the two groups were accused of receiving an "illegal private benefit" through the nonprofit's tax-exempt status, which put her in violation of the Internal Revenue Code for overlapping her nonprofit and for-profit business dealings.
It was also reported that she may have personally benefited financially from the charitable donations.
However, Elijah Cummings vehemently denied the allegations in a statement to Fox News, calling the claims "baseless" and "fabricated."
If Rockeymoore Cummings were to decide to enter the race for the state's 7th District, she will be working on a tight deadline as candidates only have until Nov. 20 to formally file their bid for the seat.
A number of state officials have already announced their intention to run for the seat.
They are House of Delegates Majority Whip Talmadge Branch (D) Mark Gosnell, the Director of Intensive Care and Chief of Pulmonary Medicine at Medstar Harbor Hospital, Republicans Liz Matory, Ray Bly, and Reba Hawkins, and Democrats Darryl Gonzales and Charles Smith.
Several other candidates have also said they are considering running, including former Baltimore mayor Stephanie Rawlings-Blake, delegate Vanessa Atterbeary, and Baltimore state senators Cory McCray, Jill Carter, and Antonio Hayes.