Eleventh-Hour Push to Halt Canada-China Investment Deal
November 1, 2012 12:55 am Last Updated: October 1, 2015 11:57 am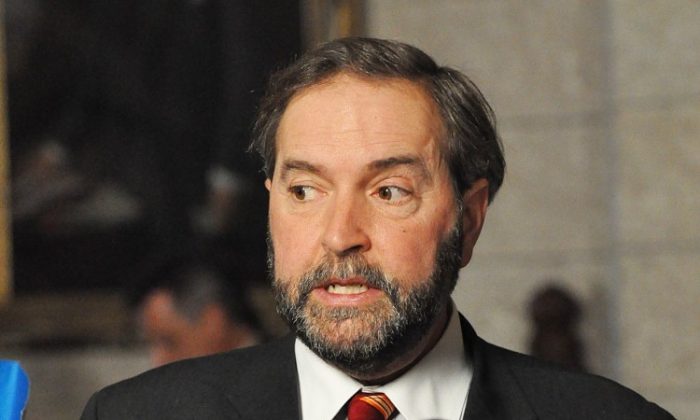 Canada's investment treaty with China has spurred a last-minute fury of opposition just as the government approaches the end of a waiting period that prevented it from finalizing the agreement. 
While the deal has been signed, it still needs to be ratified in Parliament, a final move that can be invoked any day now after the mandatory 21 sitting days since being tabled in Parliament, which ends on Thursday.
The government pledges the Canada-China Foreign Investment Protection Agreement (FIPA) will protect Canadian investment in China but has been reticent to see the deal scrutinized in Parliament. 
Opposition parties and critics say the agreement is too important and problematic to be finalized without a closer look.
If finalized in its current form, the agreement will hold for 31 years and lock Canada in a lopsided deal that favours Beijing, argue its critics. NDP leader Thomas Mulcair, however, said an NDP government would cancel the deal if it turned out to be as bad as it looks.
"We're not going to be bound for the next 30 years by an agreement that hasn't even been studied, that would make our court system take the interests of foreign investors and foreign companies pass above the interests of Canadians, the interests of our environment, the interests of our rights," he said.
Until recently, Green Party Leader Elizabeth May has been the only voice on Parliament Hill raising concerns that the deal would give Chinese companies the ability to sue the Canadian government—and to do so without Canadians even knowing what their tax dollars were being paid out for in cases that Canada lost.
The government says the NDP had four opposition days to put the deal on the agenda in the House of Commons. Mulcair rejects that suggestion, saying the government sets the agenda.
"They're trying to fast-track it. They're trying to shove it down Canadians' throat without proper analysis."
Critics say it has taken time to study the agreement in order to uncover what is at stake.
Secret Tribunal
The deal was touted by the Conservatives as a major breakthrough after successive governments failed to secure a foreign investment protection agreement with China after 18 years of trying.
But since being tabled, the treaty has raised numerous concerns, many left unacknowledged by the government. 
"There are some serious alarm bells going off about the Canada China [FIPA], said Don Davies, the NDP's trade critic.
Chief among them is the secretive tribunal that will decide trade disagreements between the two countries that arise from provisions allowing Chinese companies to sue Canada over regulations that affect profits.
"This is the first agreement Canada has signed that has provisions for a secret dispute resolution process," said Davies.
While redacted documents would disclose how much Canada lost in such a disagreement, they would not disclose why unless the Chinese company allowed it to be known, an unlikely scenario suggested Davies.
While Canada has a long tradition of public access to judicial proceedings, the opposite is true of China's communist regime.
LeadNow is one of the groups working to raise awareness and opposition to the deal. 
Jamie Biggar, the group's executive director, said even though NAFTA has a similar tribunal system, the facts and arguments behind decisions are publicly available. 
"The secretive nature of the Canada China [FIPA] will make it even harder for Canadians to know the impact of the agreement," he said.
Worse, historically it is the smaller country that loses such disagreements, said Biggar.
"For example we have lost every single case brought against us under NAFTA and have only been successful a few times in reverse."
Europe is currently seeing China's second-largest insurer, Ping An Insurance Group, sue the Belgian government for $2 billion. Lawrence Herman, a trade lawyer with Cassels Brock LLP, told the Globe and Mail earlier this month that Chinese firms have grown increasingly aggressive in using dispute settlement processes.
Biggar is concerned that China could use the threat of litigation to pressure the Canadian government to ignore the concerns of Canadians in areas where it would affect Chinese interests, such as environmental protections or human rights.
"It would create a penalty for government to listen to protesters," he said.
Lack of Reciprocity
Davies and others also denounce the lack of reciprocity in the deal because the agreement lets each country keep its current non-conforming measure used to impede or restrict foreign investment in certain areas. 
Examples include the Chinese regime's practice of forcing foreign investors to partner in joint ventures with Chinese companies or source local suppliers for goods.
Those provisions are not bad in and of themselves, said Davies, but because China can keep all its current non-conforming measures, and Canada has very few due to its liberalized trade agenda, the deal cements Canadian investors in a disadvantaged position.
"Canadian investors moving forward will be subject to far more restraints and conditions on their investment than Chinese investors coming here," he said.
That could perpetuate a situation where Canada is a net importer of investment, meaning Chinese firms are buying Canadian assets at the current rate two to four times what Canadian firms obtain in China. More concerning, perhaps, is the fact that most Chinese firms investing in Canada are owned and controlled by the state.
Davies said most Chinese investment in Canada comes through SOEs (state-owned enterprises).
One such company, the China National Offshore Oil Corp (CNOOC), is known to use its own security forces to participate in the Chinese Communist Party's crackdown on the Falun Gong meditation group. CNOOC's attempt to purchase Calgary-based Nexen for $15 billion is currently under review by the government.
While Mulcair said he would cancel the deal if needed, Davies was concerned it could take 31 years to extricate Canada from obligations within the agreement, according to how it is written now.
Although the Conservatives could pass the deal as early as Thursday, they could also wait or decide not to ratify it at all. The latter is the preferred option for some 60,000 people who signed a petition calling for the government to reject the deal.
Canada has signed some 24 FIPAs by Davies' count, but never with a country the size of China that is a net capital exporter. 
"I think taking some care to really study the ins and outs of this agreement is important," he said.
The Epoch Times publishes in 35 countries and in 19 languages. Subscribe to our e-newsletter.