Egypt: Freedom of Press Tests Democracy Under Military Rule
July 4, 2013 6:52 am Last Updated: July 4, 2013 9:29 am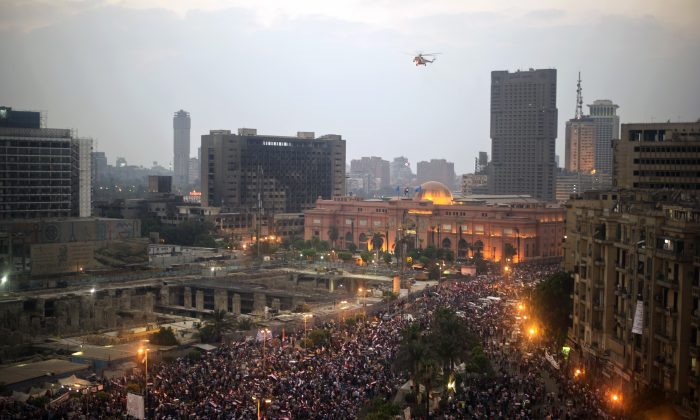 Freedom of the press—that key test of democracy—is off to a shaky start under Egypt's new military-run government. Free press advocacy groups have decried ousted Egyptian President Mohammed Morsi and his Muslim Brotherhood supporters for threatening and assaulting members of the press. 
The military-run government that took power from Morsi Wednesday quickly shut down at least three pro-Morsi media outlets, according to the Committee to Protect Journalists (CPJ).  It also raided Al-Jazeera's Egyptian station.
Shortly after the Egyptian defense minister announced Morsi's ouster, the Muslim Brotherhood's television station, Misr25, went off air, according to state news agency MENA. Two other pro-morsi stations, Al-Hafiz and Al-Nas, also went off air shortly after the announcement, according to state-run Al-Ahram and the Muslim Brotherhood's Freedom and Justice Party.
"We are concerned by reports that authorities are shutting down television coverage based on political perspective," said Sherif Mansour, CPJ's Middle East and North Africa Coordinator, on the organization's website Wednesday. On Tuesday, while the military was still allowing pro-Morsi content, CPJ remained nonetheless wary. Mansour warned: "Those in power have long used state media as their political tool. But in these critical times, when Egyptians are desperate for independent information, the news media should not be political pawns."
Article Continues after the discussion. Vote and comment
[tok id=f9e5e80ce1d466babe03cc28f3c32710 partner=1966]
Reporters have risked their lives and well-being to bring the world information about the Egyptian protests in the days leading up to Morsi's ouster. More than 10 journalists were attacked covering demonstrations all over Egypt, according to Reporters Without Borders (RWB). An Egyptian public health ministry report released July 2 shows 781 people were injured and 16 died on June 30 alone. 
A reporter for Shaab Masr (Egyptian People), Salah El-Din Hassan, was killed by a homemade bomb thrown by an unidentified person on June 28 during a nighttime demonstration in Port Said, according to RWB. An American student was stabbed the same day in Alexandria while taking photos of the protests.
A Dutch reporter was raped by five men in Tahrir Square June 28. The Dutch embassy released a statement Monday confirming that the woman, 22-years-old, was treated in a Cairo hospital following the attack and returned to the Netherlands in the company of family.
At least 46 cases of sexual harassment occurred in Tahrir Square on June 30, according to Operation Anti-Sexual Harassment.
On June 30, pellets used for shooting birds hit Al-Masry Al-Youm (Egypt Independent) reporters Ahmed Ragab and Ahmed Al-Nagar, the daily reported. They were outside the Muslim Brotherhood headquarters in Cairo, where Cairo security forces told Al-Masry Al-Youm the building sustained damage after protesters threw stones and Molotov cocktails at it. The Brotherhood members inside reportedly killed eight anti-Morsi demonstrators when they shot live ammunition and rubber bullets, and threw Molotov cocktails into the crowd. 
On June 27, Welad El Balad reporter Mohamed Heeza was kidnapped, reported Egyptian non-governmental organization Association for Freedom of Thought and Expression. His captors shocked him with electric batons and questioned him about Welad El Balad reporters. They left him on the roadside in Mansourah after several hours of such treatment.
RWB and CPJ have reported other attacks on journalists in Egypt by unidentified assailants and threats issued by the Muslim Brotherhood to antagonistic media outlets.
"The threats uttered by President Morsi and the pressure exercised by the authorities violated freedom of information and the independence of both the state and privately-owned media," RWB said in a statement Tuesday. "This encourages journalists to censor themselves." 
Richard N. Haass, President of the think tank Council on Foreign Relations, is hopeful the military rule will be better than Morsi's reign.
"Egypt is the essence of an immature democracy; it is vulnerable to being hijacked, as Mr. Morsi appeared all too eager to do," Haass wrote in an article on the Council's website Tuesday. "So the military acted. Some will term what it did as a coup d'etat. But this would be inaccurate. This political intervention came in response to a crisis; it was not its cause. Just as important, the events of recent days were not a power grab by Egypt's military. The country's soldiers wisely show little appetite for rule. They are entrusting temporary power with judicial authorities and setting up a timetable for political transition. This is as it should and must be."
CPJ's Mansour said Wednesday, "We urge the military not to deprive Egyptians of information sources at this important juncture."