It has been 13 months since the death of 25-year-old Freddie Gray—and now one of the six Baltimore Police officers accused in his death has been acquitted of all charges.
Edward Nero, 30, was found not guilty after facing four charges of second-degree assault, reckless endangerment, and two counts of office misconduct.
The second of the six to be placed on trial, Nero joined the Baltimore Police Department in 2012. He was on bike patrol when he and the other officers chased and apprehended Gray in West Baltimore on April 12, 2015.
Nero's trial came to an end on its sixth day and involved more than 20 witnesses, according to a Baltimore Sun report. Nero's defense highlighted his his minimal role in the arrest, and claimed the officer followed his trained protocol.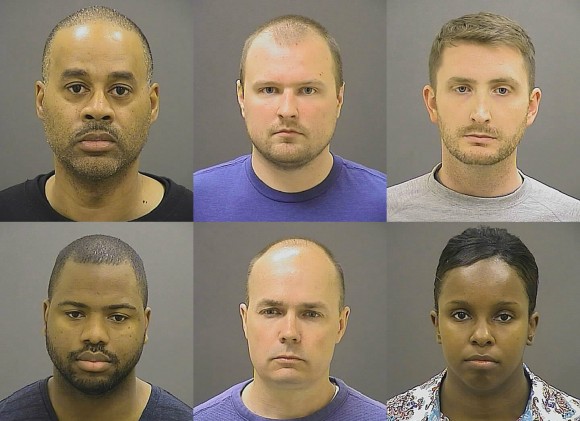 Gray died on April 19, 2015, a week after sustaining a severe spinal injury from riding in the back of a Baltimore Police van—without a seatbelt—while in custody. During the 45-minute ride, Gray had apparently asked for medical help and by the time they reached the police station, he was unresponsive.
On April 27, the day of Gray's funeral, Baltimore topped headlines again as the city erupted with rioting, looting and arson. The city's mayor called for a week-long curfew, while the governor called in the National Guard. 
Gray's death deepened the nation's divide between the public and the police, and became a prominent symbol of the Black Lives Matter movement.
Baltimore Police Officer William Porter, the first to face a jury in Gray's death, had his trial deemed a mistrial as the result of a hung jury last December.
The Sun reports the next trials are scheduled as follows: Officer Caesar Goodson Jr, the driver of the van used to transport Gray (June 6), Lieutenant Brian Rice (July 5), Officer Garrett Miller (July 27), Officer William Porter (September 6), and Sergeant Alicia White (October 13).
Nero's acquittal could erupt the city of Baltimore once again, leading to protests and more unrest. Calls to the Baltimore Police Department were not returned.