Jan. 22, 2021
Please see our response to the CBC reporter's inquiry after our statement below.
In early January 2021, The Epoch Times published a 28-page sample edition distributed to select areas by Canada Post to grow our readership and subscription base, a common and established practice in the publishing industry.
The sample edition includes and showcases a collection of our articles on national and international news, opinions, health, culture and other lifestyle content, as well as a 10-page special report on Beijing's persistent efforts to influence, and infiltrate, Canada and the West, including Canadian politicians.
On Jan. 21, we received an inquiry from CBC News reporter Katie Nicholson about our latest sample edition with questions loaded with inaccurate labels of The Epoch Times.
We have decided to publish our response to the CBC for the following reasons.
This same CBC reporter covered our previous sample edition in April 2020 on the Chinese regime's coverup of the coronavirus outbreak that led to the global pandemic, but purposely omitted crucial facts about The Epoch Times that we provided to her before her deadline, and created biased hit pieces about our media.
On April 29, 2020, CBC published her report on TV, radio, and on its website with an inaccurate and provocative headline that began "Racist and inflammatory…," airing the opinion of one individual and implying that all Canadians felt the same way. The CBC News director of journalistic standards later admitted the article had multiple errors.
A scholar CBC interviewed for their hit pieces later told The Epoch Times that CBC had a "predetermined narrative" when they interviewed him, as can be read here, adding that CBC had "decided in advance" that they were "going to report on Epoch Times in that way." He said: "I will not be particularly inclined to speak with CBC again."
CBC's reports also intentionally omitted the crucial fact that our media organization was founded by Chinese immigrants, as we had told the reporter. This is an important detail that contradicts the claim that we are dealing in racism toward Chinese. The Chinese Communist Party (CCP) does not represent the Chinese people or China. Understanding the difference is vital and will eliminate racial tension, as people come to understand that the criticism is of the CCP, not the Chinese people.
CBC failed to report the facts and contents of our sample edition, and instead repeated unsubstantiated impressions or allegations from individuals about the paper, including one mail carrier. It also gave very negligible (3.5 percent) time to the side defending The Epoch Times, which was limited to a paraphrase of the publisher's quote in their flagship TV program The National.
Based on her questions to us, it seems Ms. Nicholson is taking an angle similar to some other recent media reports to highlight a rebellion by a mail carrier refusing to deliver The Epoch Times sample edition. This is despite numerous confirmations by Canada Post and the relevant ministry that the paper is a mailable product. Responsible journalism would examine the dangers of a few individuals deciding to censor mail and determine for others what they can or cannot read.
Given a public backlash from thousands of its own readers last year in its web report's comments section, CBC made changes to the headline of its April article three times, and deleted hundreds of comments critical of the article and CBC, but the article remained inaccurate.
Despite our multiple requests and communications, CBC refused to retract, or apologize for, its article. To make things worse, CBC then carried additional biased reports by Ms. Nicholson on the Epoch Times and our sample edition.
Unfortunately, some of the same bias and mistakes that previous CBC reports featured in spring 2020 have been repeated over the last few days by CBC local reports on our latest sample edition, and also by some other media outlets.
To further discredit The Epoch Times, CBC's reports have tried to portray the peaceful spiritual practice of Falun Gong, which is the personal belief of the publication's founders, in a negative light. This time around, in a CBC radio interview, the host and her guest when talking about the practice used the slanderous and discriminatory word that the Chinese Communist Party has been spreading to justify its ongoing persecution of the practice.
To ensure the public has access to accurate facts, we have decided this time to make public our latest response to CBC reporter Ms. Nicholson as below.
We also include some of our previous coverage on CBC's biased reports on The Epoch Times at the end of our response.
Our Response to the Inquiry by CBC's Katie Nicholson
January 22, 2021
Hi Ms. Nicholson,
Newspaper sampling is a common practice in the news industry to grow business. Canada is a country that believes in freedom of the press, and we believe readers are wise enough to judge for themselves whether we are reporting truthfully. This is a free country. Readers deserve the chance to know different styles and types of reporting.
The Epoch Times is an independent, non-partisan media outlet that reports honestly and objectively and has won multiple journalism awards.
It is heartening that the vast majority of the feedback we have received from readers of the recent sample edition has been positive.
If people do not wish to read our sample newspaper, then treat it like other promotional material.
CBC is a taxpayer-funded media—to the tune of an estimated over $1 billion per year. It looks as though you are spending tax money to try to discredit an independent media outlet.
It is also surprising that you question Canada Post's delivery of our paper. If the delivery of mail is up to the individual carrier to decide based on his/her impression of "hatred", no one can trust the post office any more. If Canada Post were to block us, that would be the government censoring an independent media outlet. This would violate the Charter of Rights, which guarantees freedom of the press. Canada Post has rightly stood by its mandate.
We are a media started by Asian immigrants. There is no way we would publish content that is anti-Asian. Please read our content more carefully.
To a media that's leaning left, we may seem on the right. We believe we are neutral and independent. We disagree with your label.
The independent media watchdog AllSides evaluates us in this way: "The Epoch Times bias rating is Lean Right, though perhaps close to Center. Much of The Epoch Times' reporting is balanced; a slight right-wing bias is mostly displayed via story choice."
If you see problems with our reporting, then, rather than repeat negative descriptions of us, point to any of our sentences that are not factual. On that basis we can have a reasonable discussion. But you only seem to interview those who speak negatively of us, employing labels, rather than pointing out specific factual errors.
We have been growing very fast exactly because readers like our fact-based reporting. But in reporting the facts, we may contradict some commonly accepted narratives, including about China. Reading us can be a liberating experience. We invite you to give your readers a more objective account of what we are about.
Below is some of our previous coverage on CBC's biased reports on the Epoch Times in April/May 2020:
• CBC Intentionally Excludes Crucial Facts About Epoch Times and Our Coverage of Beijing's Coverup of Virus Outbreak
• CBC Had 'Predetermined Narrative' for Reporting on Epoch Times, Says Scholar Interviewed by Broadcaster
• CBC Admits Mistakes in Reporting of Epoch Times Coverage of Beijing's Virus Coverup
• How CBC Failed Its Own Journalistic Standards in Its Coverage of The Epoch Times
CBC Intentionally Excludes Crucial Facts About Epoch Times and Our Coverage of Beijing's Coverup of Virus Outbreak
April 29, 2020
This is our first public statement on CBC's coverage of The Epoch Times' special edition. To read our second statement, please click here.
The Epoch Times recently published a special edition on how Beijing's coverup of the coronavirus outbreak in Wuhan led to the global pandemic with the front-page headline "How the Chinese Communist Party Endangered the World." It's an eight-page collection of Epoch Times articles distributed to select areas in Canada, as we believe it contains important information for Canadians to have.
On April 29, CBC published an article devoted to this special edition that is deliberately misleading and intentionally excludes crucial information we provided to CBC prior to the publication of its article. The sole purpose seems to be to discredit The Epoch Times and our reporting on the coronavirus.
A copy of our email to the CBC reporter prior to publication is included at the end of this article.
I am heartened to see that most of the comments on the CBC article are critical of it. At the end of this article we include some of the comments.
The headline CBC gave the article seems to speak for all Canadians, saying "'Racist and inflammatory': Canadians upset by Epoch Times claim China behind virus, made it as a bioweapon."
How does CBC know how the majority of Canadians feel about our coverage?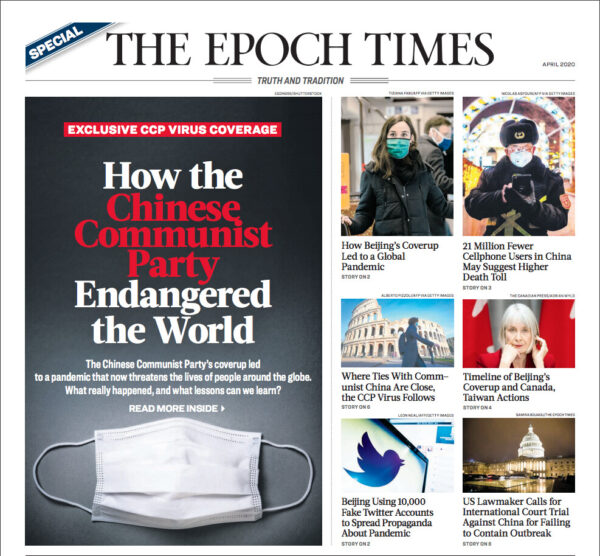 The article quotes an individual who feels that our coverage of the Chinese Communist Party (CCP's) responsibility for the coronavirus pandemic is "racist and inflammatory." Is that one individual's opinion the source of a headline speaking for all Canadians?
The headline focuses on a small part of our eight-page special edition, a commentary article that discusses the history of top CCP officials talking about developing bioweapons. But this opinion article did not state that the Wuhan lab was developing bioweapons, contrary to the claim in the headline.
CBC purposefully omitted that our media organization was founded by Chinese immigrants, which was stated in the email to the reporter. We are the media telling people that this pandemic is not the fault of the Chinese people, but is the fault of the Communist Party. The Chinese people have been victimized by the CCP's handling of this pandemic. By discussing the CCP's role, we are truly standing up for the Chinese people.
Making the truth about the CCP's role clear will also help eliminate racial tension.
CCP propaganda is the origin of the identification of the CCP and China, and the CCP works continuously to emphasize this, not only in its own state-controlled media, but in media around the world.
By merging the two very different entities together to stir up the idea that when someone is talking about the CCP, it's the same as talking about China, this conflation is used to evoke the Chinese people's patriotism and elicit Westerners' concerns over racism, leading people from both groups to defend the CCP. In this way, people's worthy motives are used to enmesh them in the CCP's ill behaviour. If people read our paper, they will understand these issues better.
There is no balance in the CBC article. The reporter purposefully chose a few voices that have one-sided opinions and used them to attempt to discredit us. The article includes no comments from any individuals who might disagree with CBC's criticism.
In fact, we received a great deal of feedback via phone or email regarding this special edition and are aware that many Canadians are highly appreciative of our work. Sometimes people call our office and are very critical, but when we talk to them we often find that they didn't take time to read our content, but just glanced at the cover and jumped to a conclusion. When we explain our content and ask them to read it, they often change their attitude and opinion.
The CBC article also tries to discredit our reporting on China. In fact, China is the most difficult subject for media to cover due to the Beijing regime's lack of transparency. However, we have more connections inside China than others and have reported vital information ahead of many other media.
We began to report on the Wuhan virus on Dec. 31 and reported on the coverup of the real numbers in early February. If more people had been reading The Epoch Times, our country could have been prepared. In our opinion, there is not enough truthful reporting about China and the nature of its ruling communist regime.
The CBC article also uses the persecution against Falun Gong in China to unfairly frame us as an agenda-driven media and then goes on to misrepresent that persecution.
It is grossly irresponsible reporting to say "Its followers say the Chinese government persecutes them and oppresses their religious rights," as though the evidence for the persecution of Falun Gong depends only on what its adherents say. From the most basic research, CBC should know, for example, that both the American Congress and European Parliament have passed resolutions urging the CCP to stop the persecution campaign and have raised concerns about or explicitly condemned the forced organ harvesting that has targeted Falun Gong practitioners.
Regarding the persecution, one CBC source says there could be "certain exaggerations," blatantly downplaying a severe persecution campaign that has resulted in untold suffering and death.
The article also has simple factual errors. For instance, the first sentence describes us as "a free newspaper typically found in street boxes." The Epoch Times in Canada stopped distribution through street boxes last July and is only available via paid subscriptions and home delivery.
This article asserts that the Shen Yun Performing Arts company is part of Epoch Media Group. It is not.
We understand that different readers may have different opinions, and that readers have the right to choose whatever media they want to read. But having multiple voices gives people greater choice, and makes for a healthier society. This CBC report is meant to shut down our voice. Instead of debating on specifics and pointing out concrete reporting errors, it quotes a few critical voices in an attempt to discredit us.
We have received numerous awards for our reporting, including from the Society of Professional Journalists and the New York Press Association.
We also received a national award for our SARS coverage in Canada, after being among the first media to break the SARS story in 2003, three weeks before the Chinese regime admitted there was an epidemic.
Cindy Gu is the publisher of the Canadian editions of The Epoch Times.
*  *  *
The Special Edition can be downloaded here.
Email Sent to CBC Reporter Prior to Publication
The email includes a message to the CBC reporter, information worth noting and information about the Special Edition.
Hi Katie,
Thank you for the inquiry.
1) The Epoch Times was founded by Chinese immigrants in North America who fled communist persecution in their home country. All of our editors and reporters in China were arrested, with some enduring long prison sentences and brutal torture. We have connections in China with people who provide exclusive information that we report on. For instance, here and here are two recent articles about the virus outbreak based on internal government documents leaked to The Epoch Times. The Epoch Times has broken many important stories related to China over the last two decades.
2) We started to report on the worrisome situation of the virus on Dec. 31, 2019. In early February we reported that the real number of deaths and infections inside China was at least 10 to 20 times the Chinese government's official numbers, way ahead of other media. If more people had read our reports, the world would have been better prepared. Timely information can save lives.
3) The Epoch Times has recently been "sampling" copies of a special edition on Beijing's coverup that led to a global pandemic in select areas because we consider that information to be important to Canadians. We regard this sampling as an act of good citizenship.
Sampling refers to distributing copies of a newspaper to specific neighbourhoods. This is a standard way of raising brand awareness and recruiting new subscribers.
4) Some people may have erroneously conflated criticism of the Chinese Communist Party (CCP) with criticism of the Chinese people. The Chinese Communist Party does not represent the Chinese people or China. Understanding the difference is vital and will eliminate racial tension, as people come to understand that the criticism of the handling of the virus is of the CCP, not the Chinese people.
The current confrontation is between the CCP and the people of the world, both in and outside of China. Both the Chinese people and Canadians are victims of the CCP's coverup.
We are not alone in pointing out the distinction between the CCP and China. Consider these recent headlines: Washington Post: "Don't blame 'China' for the coronavirus — blame the Chinese Communist Party"; Globe and Mail: "The coronavirus exposes the lie at the heart of Communist China"; National Post: "Beijing's communist regime is the biggest 'China virus' threatening our survival."
5) Regarding the Wuhan lab, it is a small part of our reporting on the coronavirus. China silenced early whistleblowers, destroyed samples, and falsified data. We simply asked questions like many others. In the past, CCP top military officials openly talked about the development of bioweapons. Whether the virus is engineered or not, has neither been proven nor disproven at this point.
In our documentary we only raise questions, it never ruled out a natural origin and it does not assert that the virus was engineered. The documentary is fastidious in not giving any definitive conclusions regarding the origin. It presents the facts that were known and the opinions of experts.
6) While most newspapers have been experiencing a decline in circulation, The Epoch Times has been growing in recent years, against the trend.
————
Worth noting:
The Epoch Times was among the first to report on the SARS outbreak in 2003, three weeks before the Chinese regime publicly admitted there was an outbreak. Our early coverage of the SARS outbreak earned our Chinese edition a national award from the National Ethnic Press and Media Council of Canada.
According to a recent study by the University of Southampton, if "non-pharmaceutical interventions—such as early detection, isolation of cases, travel restrictions and cordon sanitaire … could have been conducted one week, two weeks, or three weeks earlier, cases could have been reduced by 66 percent, 86 percent and 95 percent, respectively—significantly limiting the geographical spread of the disease."
Dr. Shawn Whatley, past president of the Ontario Medical Association, said "I first learned about the damage by the new, aggressive Wuhan virus from The Epoch Times. Kudos to ET for doing what we pay the departments of health billions of dollars to do."
————
About the Special Edition:
Our Special Edition features some of our coverage of the virus that has engulfed the globe, causing a serious threat to people's health and way of life. There have been multiple reports and studies, and even remarks by governments, noting that had the Chinese communist regime been forthright about the outbreak and the risks sooner, many lives could have been saved and the damage to economies would have been minimal.
The Special Edition delves into topics such as how the Chinese Communist Party's coverup led to a pandemic, how the regime persecuted medical professionals in China who tried to get information out about the outbreak, how it is still hiding the true scale of the pandemic and the number of deaths in China, and how it has launched a global disinformation campaign to lay the blame for the pandemic elsewhere.
Regards,
Cindy Gu
Publisher, The Epoch Times Canada
*  *  *
Selection of Readers' Comments on CBC's Article
Brad Mercier
17 minutes ago
I'm heartened to see most comments are critical of this CBC article and the way it defends the legitimate criticism CCP. Disinformation and controlling the narrative is common with our national broadcaster and this is another example.
John Burnaby
22 minutes ago
Many media organizations, including the CBC, just don't get it. The CCP is an evil organization. They are seeking what's best for themselves at the expense of everything and everyone else. Canada needs to look at them not as friends, but as adversaries – along the lines of Russia, North Korea, etc…
Mark Williamson
23 minutes ago
This article is quickly being buried and rightfully so. Please do not use the term "Canadians" when you are only talking about a handful of people that share your view.
CBC needs to be investigated for writing such a blatantly pro Communist Party of China propaganda piece. Misinformation and misleading statements.
I find Epoch to be one of the more objective, reliable sources of news. They don't like the Chinese Communist Party, and they make that clear. By contrast, I find a lot of disinformation from Canadian main stream sources. I am also appalled that the CBC seems to think that postal workers should have to agree with the content if their deliveries. This article seems to be intended as a smear piece against Epoch Times.
Sandra Rivera
14 minutes ago
I typed in CBC and got this article. I thought at first this was the China Broadcasting Corporation website.
Fred Thiolla
24 minutes ago
Headline from the Epoch Times is: "How the Chinese Communist Party endangered the world"
Now tell me how ANYONE could interpret that as stirring hate or being r*cist? Absolutely ridiculous attempt to defend the CCP. The article should be criticized for pushing untrue claims not for questioning Beijing
The tittle claiming "Canadians upset" is extremely misleading. Perhaps "some Canadian" would be more appropriate. But the integrity of journalist has been in decline for too long now and sadly things just keep getting worst.
Mike Smith
48 minutes ago
Thank you Epoch Times for at least opening up the discussion and our right to question.
Charels Latner
28 minutes ago
The truth will not be suppressed , Thank-you Epoch…..
And yes, thank-you CBC for enlightening Canadians about this great publication.
Odd, but still,
Thanks.
Basically, this article is trying to convince us that criticism of the Chinese Communist Party (CCP) is the same as criticism of the Chinese people and even the same as racism against Chinese people. Suppose we believe it. The questions are
Is Criticism of the Iranian government is racism against Iranian people?
Is Criticism of the North Korean government is racism against Korean people? etc., etc.
Mike Smith
18 minutes ago
Democracy is built on the right to question and the freedom to have different opinions even if you don't agree with them. We should never fear or worse try and squash anybody's opinions. If they are completely false we have to have faith the truth will prevail and it will but it only happens when we are willing to explore all the possibilities.
Instant claims of rac… is cowardly defence.
Brian Robertson
34 minutes ago
The charge of racism has been so overused and abused as to render the term meaningless.
And the charge of being inflammatory?
Don't make me laugh.
*  *  *
To subscribe to The Epoch Times, please visit ReadEpoch.ca
The Epoch Times was founded in 2000 in North America by Chinese immigrants and has been on the forefront of uncensored China news, breaking some of the most important China stories over the past two decades. It was among the first to report on the SARS outbreak in 2003 and won a national award in Canada for this coverage.
Since its launch, the independent news outlet has been the target of multiple attacks and interference from the Chinese communist regime. Last year, its printing press at its Hong Kong office was set on fire by masked intruders during the height of protests in that city. The Epoch Times believes that the Chinese Communist Party was behind the attack in an effort to silence the outlet.
The Epoch Times print newspaper is available via subscription across Canada and the United States. Its online version comes in English, French, Chinese, and more than 20 other languages.