Duane "Dog" Chapman said that his family is trying their best to celebrate the life of wife Beth Chapman after her death came unexpectedly.
"It came very unexpected, really fast," he said of her death. "All of her clothes were exactly where they were, her makeup, everything. We didn't prepare."
Beth died this week after a battle with cancer. Chapman announced her death via Twitter.
"When she had an attack I didn't know anything to do but to say 'in Jesus' name' and hold her and when I said 'in Jesus' name' she said, 'Say it again, say it more,'" he told Hawaii News Now. "And then she told the girls and everybody, with her mouth—she came out of it a couple times—'I love you' and, 'Are you guys all OK? Don't worry,' but she never accepted it."
Beth, 51, was first diagnosed in 2017 with throat cancer before she was declared cancer-free months later. In late 2018, it was revealed that her cancer had returned.
"Beth was somewhat of a control person—not from the grave but from heaven," he said. "I'm sure she's still controlling me and I've got notes in my pillowcases, on my sink, in my shaving thing. She's still telling me what to wear."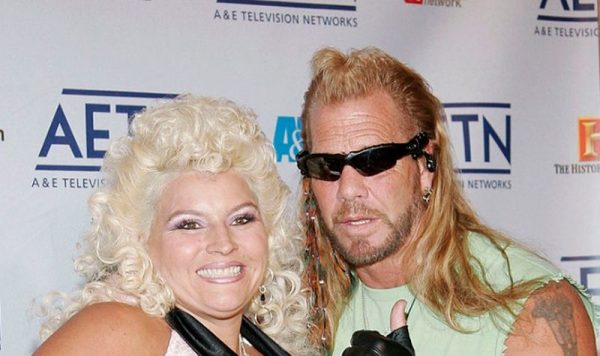 "She did it her way. … Her way was to live. She wanted to live so bad and she fought so long, and the reason she fought, she liked life but she wanted to show people how to beat it and what to do when it got her," Duane Chapman added.
"One of the last things she said [was], 'It's a test of my faith.' She had faith and that was it," he also said. "There's things you go through when you're dying, like steps like you do when you lose someone, right? You get mad at them, and then you go through all these steps."
"Well, the last step when you're dying is to accept it," he added. "And she said to me the other day, 'Honey, that last step, I ain't taking…' So go, Bethy."
I'd never thought I'd lose my mom at 20. I told her I thought she had a couple years left, but in her eyes she disagreed.

— Bonnie Chapman (@Bonniejoc) June 26, 2019
I'll never forget you, mama. You were such a strong woman, and you taught me to always be strong. You were strong for everyone, and you taught me it's okay to let go.

— Bonnie Chapman (@Bonniejoc) June 26, 2019
Daughter Bonnie Chapman also tweeted that she never thought she would lose her mother when she was this young.
Lyssa Chapman, who appeared on the reality show, retweeted her father's announcement about her stepmother's passing. "Beth we love you," she wrote.