Drivers who illegally pass a school bus will lose their driver's license for a period of time, a top Canadian provincial official said this week.
After a rash of accidents in the United States that left multiple children dead, and a number of incidents in Canada where drivers narrowly avoided hitting children while ignoring school lights and stop arms or hitting children, officials took action at the behest of school bus drivers, parents, and other community members.
Prince Edward Island (P.E.I.) Transportation Minister Paula Biggar told the legislature on Nov. 29, that drivers who fall to stop for a school bus will get their license suspended for three months.
They'll also receive an automatic $5,000 fine and 12 demerit points, she added.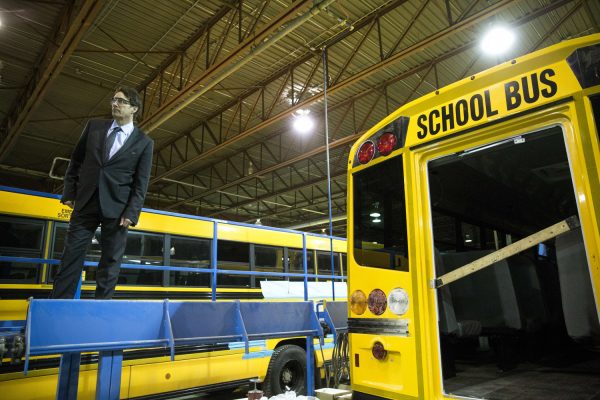 The measures will begin to take effect on Dec. 8.
"This means drivers who ignore this law are not allowed on Island roads," said Biggar in a statement. "We are working with our police and education partners to prevent the dangerous practice of illegally passing school buses and we continue to explore comprehensive options to eliminate this unnecessary risk to children."
"No distraction is worth risking the life of a child," added Education, Early Learning, and Culture Minister Jordan Brown. "I'm glad to see one more step being taken to protect our children who rely on the bus to get to school every day."
In one recent case in Canada, a 5-year-old boy was hit by a driver while trying to board his bus and suffered a broken leg and lesions on his spleen, reported CTV. In the United States, three siblings were killed in October after getting hit while crossing a two-lane highway to their bus. On one road in Florida in mid-November, deputies wrote 30 tickets in a short period of time as drivers brazenly ignored the warning lights and stop arm on school buses.
Punishment in Canada
The measures increase the punishment for failing to stop for a school bus from a fine of $1,000 and eight demerit points. Previously, there was no license suspension either.
Drivers who get their license suspended must meet with highway safety officials and pay a $100 fee. Then, they must take a defensive driving course within six months of getting the license back.
If they fail to do that or if they receive any demerit points within a year of reinstatement, the license will be yanked again.
"Alternating flashing red lights are used when the school bus is stopped to pick up or let off students. When a driver is approaching a school bus with the flashing red lights activated, the driver must stop the vehicle not less than six meters (20 feet) from the front or rear of the bus and remain stopped until the red lights stop flashing," the PEI government stated in a Nov. 30 post announcing the new measures.
"Many school buses are now equipped with cameras to capture any vehicle's license plate that passes a school bus when the red lights are flashing. It is illegal and dangerous to pass a school bus when the lights are flashing. In order to better protect Island students, drivers who illegally pass a school bus will lose their license."
The provincial government advised anyone who spots a driver failing to stop for a bus to write down information such as the date and time of the incident, the vehicle's make, model, and license plate number, and whether the bus was completely stopped with red lights flashing.
From NTD News