Rapper and producer Dr. Dre removed an Instagram post in which he bragged about his daughter being accepted into the University of Southern California (USC), in the wake of a college admissions scandal that has ensnared TV actresses, CEOs, and other luminaries.
"My daughter got accepted into USC all on her own. No jail time!" Dre, who was born Andre Young, wrote on Instagram before he apparently deleted it.
Dre, who is also the co-founder of the Beats by Dre brand, apparently was taking a jab at "Full House" actress Lori Loughlin and "Desperate Housewives" actress Felicity Huffman. Loughlin, in particular, is accused of paying $500,000 to get her two daughters into USC.
Dr. Dre's rubbing a little salt in the wounds of Lori Loughlin and Felicity Huffman.

由 TMZ 发布于 2019年3月23日周六
After the rapper posted the photo on Instagram, some noted that he and Beats co-founder Jimmy Iovine donated $70 million to USC, which was intended to build the USC Jimmy Iovine and Andre Young Academy for Arts, Technology and the Business of Innovation, CBS News reported.
The Andre Young Academy was set up in 2013 "to nurture unbridled creativity at the intersection of four essential areas: arts and design; engineering and computer science; business and venture management; and communication," according to USC's website.
Some claimed that Dre's large donation helped secure the admission of his 18-year-old daughter, Truly Young, into the private school. Some also slammed the former N.W.A. member for bragging about it.
"Yeah, nothing to do with the 70 million $$ donation," one person commented on Fox News.
"Be proud your kid did it on her own. Bragging- not cool," another person said. "He thought she got in on her own. Until he thought about it a little more. Delete! Delete!" said another.
Another added: "I am no fan of Dr. Dre or anybody in the rap area, BUT if his daughter got in USC strictly on her own due to her own qualifications, he has absolutely no reason not to brag on her and no reason to apologize for bragging. If his $70 million donation had anything to do with it, I would just stay quiet and try not to be noticed."
View this post on Instagram
For her part, Truly said that she was pushed by her father to go to USC.
She wrote on Instagram last year: "Dad pushing me to go to USC." The look on her face in the photo seemed to suggest that she was less-than-thrilled to go.
Lori Loughlin Gets Co-Star's Support
Meanwhile, actress Candace Cameron Bure has said "family sticks together no matter what," in what seemed like a sign of support for Loughlin, who appeared with Bure on "Fuller House."
Bure delivered the message in her acceptance speech Saturday night at the Nickelodeon Kids' Choice Award for Favorite Funny TV Show. She also later shared those thoughts on Instagram, according to The Associated Press.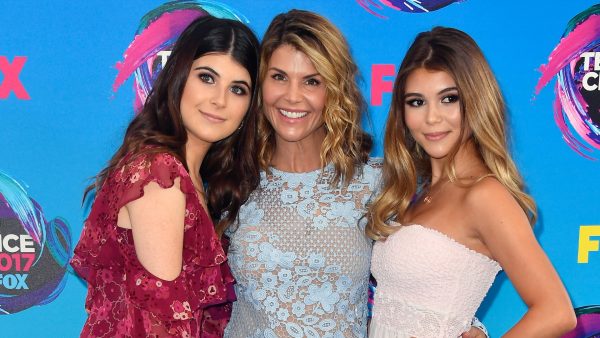 "They stick together through the hard times," she said. "They support each other. They encourage one another. They pray for each other, and they stand by their side no matter how tough it gets. And a loving family that sticks together also celebrates the really good times together."
Loughlin and her husband, fashion designer Mossimo Giannulli, are among dozens who have been charged in the alleged admissions scam. The wealthy parents were accused of bribing coaches and other insiders to get their children into elite schools.
The Associated Press contributed to this report.