The Dow Jones Industrial Average plunged more than 1,000 points on Monday as the number of coronavirus cases outside of China surged, sparking fears of a protracted economic slowdown.
The Dow closed 1,031.61 points lower, or 3.56 percent, at 27,960.80, while the S&P 500 dropped 3.35 percent to 3,225.89. The Nasdaq Composite closed 3.71 percent lower to 9,221.28. Monday's decline marked the third-biggest daily drop for the Dow Jones.
Billionaire investor Warren Buffett warned "a very significant percentage of our businesses one way are affected." But he reiterated that investors should be more focused on the long-term.
"If you're buying a business, and that's what stocks are… you're gonna own it for 10 or 20 years," Buffett told CNBC. "The real question is: 'Has the 10-year or 20-year outlook for American businesses changed in the last 24 hours or 48 hours?'"
The outbreak of coronavirus, which causes the COVID-19 disease, has impacted manufacturing and businesses in China, triggering global supply chain slowdowns that started in January.
On Monday, several analysts had predictions of uncertainty.
"There remains a large degree of uncertainty surrounding the virus, and no one knows how this will ultimately play out," said Keith Lerner, chief market strategist at Truist/SunTrust Advisory, in an interview with CNBC. "With stock prices and valuations still near cycle highs, the risk of a worsening virus outbreak has not been priced into the market to a great extent."
"Fears of secondary infections proliferating outside of China have come home to roost, sending risk assets in a tailspin and a wave of refuge-seeking into safe-haven," Tokyo-based Mizuho Bank also said in a commentary, according to the New York Post.
The coronavirus outbreak, which is believed to have originated in the Chinese city of Wuhan, has triggered mass quarantines and lockdowns in numerous Chinese cities. It's believed that tens of thousands of people have contracted the virus, although experts have said the Chinese regime's reporting isn't accurate.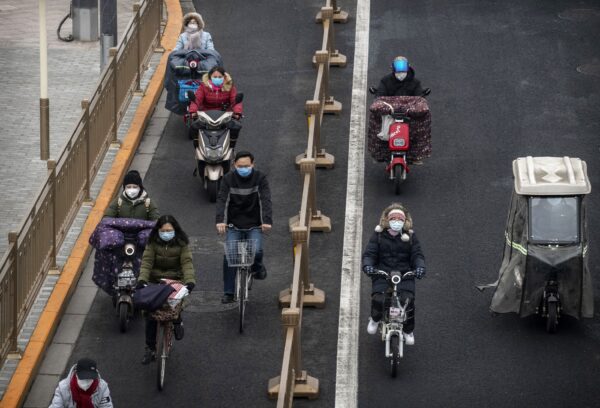 The virus has spread rapidly in other countries, namely in South Korea and Italy, which both reported respective spikes in cases in recent days. Iran also confirmed dozens of new cases and a significant number of deaths from the virus.
The virus outbreak also drew a comment from the Group of 20 finance ministers.
"We will enhance global risk monitoring, including of the recent outbreak of COVID-19," the G20's finance leaders said in a statement on Sunday, reported Reuters. "We stand ready to take further action to address these risks."
"Global growth is expected to pick up modestly in 2020 and 2021," the leaders predicted. "The recovery is supported by the continuation of accommodative financial conditions and some signs of easing trade tensions."
U.S. Treasury Secretary Steven Mnuchin, meanwhile, said he doesn't believe the outbreak will have an impact of the Trump administration's phase one trade deal with China.
"I don't expect that this will have any ramifications on 'phase one.' Based on everything that we know and where the virus is now, I don't expect that it's going to be material," Mnuchin told Reuters in an interview on Sunday. "Obviously that could change as the situation develops. Within the next few more weeks, we'll all have a better assessment as there's more data around the rate of the virus spreading."