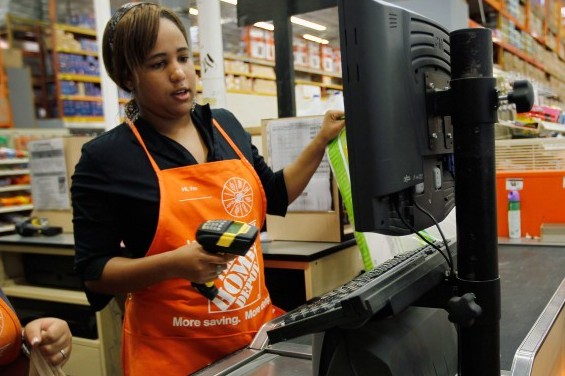 NEW YORK—The Dow Jones Industrial Average closed above 13,000 points on Tuesday, for the first time since the financial crisis.
U.S. stocks were propelled by renewed investor confidence, and sent the Dow higher by 23.6 points, to close at 13,005. The Standard & Poor's 500 Index jumped 4.5 points, or 0.3 percent, and the Nasdaq Composite Index finished Tuesday higher by 20.6 points, or 0.7 percent.
Better-than-expected consumer economic data increased optimism that the U.S. economy was squarely on the path to recovery. If markets stay flat on Wednesday, it would mean that the Dow would finish higher in five consecutive months.
The last time the Dow closed above 13,000 points was on May 19, 2008, four months before the collapse of Lehman Brothers Holdings Inc., which plunged the world into the worst economic recession since the Great Depression. The Dow first eclipsed 13,000 points in early 2007, when the nation's unemployment rate was 4.5 percent.
There were a slew of economic reports contributing to the broad gain in equities.
The Conference Board consumer confidence readings reached their highest levels since February 2011. February's reading climbed to 70.8 points, up from 61.5 in January.
While the reading was below 90, the level, which indicates a healthy economy, it is still on the correct path. A large contributor of the gain was a perceived decline in the nation's unemployment rate. Federal government data said that the nation added 243,000 jobs last month, pushing the official unemployment rate to 8.3 percent.
The all-time low consumer confidence reading was 25.3 recorded in February 2009.
Equities Jump
Electronics giant Apple Inc. again flirted with $500 billion in market capitalization as shares of the company rose 1.8 percent Tuesday to $535, in anticipation of a new iPad release in March.
U.S. airlines also enjoyed a good day as oil futures declined. Shares of United Continental Holdings Inc. rose 2.5 percent to $20.58 per share, while shares of Delta Air Lines Inc. gained 2.5 percent to $9.90 per share.
There were a few corporate earnings releases on Tuesday, as both Priceline.com and AutoZone Inc. reported higher profits in their latest quarter. Shares of Priceline jumped 7 percent to over $632 per share, while shares of AutoZone increased 2.8 percent to $376 per share.