After being bailed, the 14-year-old girl who was sent to a children's home for drawing graffiti told pro-democracy protesters to persevere and remember the Umbrella Movement's original goal.
Speaking to Hong Kong publication Ming Pao, the girl thanked the people who support her, and told Umbrella protesters: "Don't give up on this movement that we've been doing for three months."
"There needs to be more people, not just me alone," she said, adding that protesters should not "forget the original goal" of the movement.
The teen said she was not mistreated in the children's home, and had spent her time there reflecting.
Lennon Wall Chalk Flowers
The 14-year-old was arrested and detained for 17 hours on Dec. 23 for chalking flowers on Hong Kong's "Lennon Wall," the staircase of a government building in Admiralty. Police claimed the girl was arrested for "criminal damage."
"Chalk-girl"drew this,detained 17hrs in police station&sent to Children's Home to wait for her next trial til mid-Jan pic.twitter.com/xrcbrPp2Eg

— Amberbrella (@Amberbrella) December 31, 2014
Now: teen drew flowers with chalk on the wall. Lots of police officers are detaining her & others. #UmbrellaMovement pic.twitter.com/zwNM6S8crf

— Fr_ncisco (@funkcisco) December 22, 2014
During the 79-day street occupation, "Lennon Wall" was covered with colorful Post-it notes bearing supportive messages for the pro-democracy protests. Protesters removed nearly all the notes before the Admiralty site was cleared on Dec. 11, and police have been guarding the staircase ever since.
The original "Lennon Wall" in Prague, Czech Republic was inspired by the late Beatles singer John Lennon. In the late 1980s, Czech students penned Lennon's lyrics and drew his image on the wall to express their displeasure towards the then Czech communist regime.
Following a court order Monday, the girl, who had participated in the Occupy protests, was sent to a children's home.
The girl also faces separation from her father because police are applying a protection order—normally reserved for extreme cases of parental neglect—for the girl. Patricia Ho, the girl's solicitor, says there is "no evidence" of mistreatment.
Two days later, a high court judge intervened and overturned the initial order.
Mr Justice Louis Tong called for an urgent hearing Wednesday night after learning that Hong Kong's Department of Justice permitted the posting of bail, according to South China Morning Post (SCMP).
"This is about an application for a Care or Protection Order at a magistrate's court," Mr Justice Tong said. "[The court] should consider the girl's best interests as it is not a criminal case."
While on bail, the girl has to obey a 10:00 p.m. to 6:00 a.m. curfew unless accompanied by her father, sister, or a social worker. She will stay with her father and can attend school.
The girl is not the first minor that could be split from family for participating in the Occupy protests.
When police cleared the Mong Kok protest site on Nov. 25, they arrested a 14-year-old boy and threatened to send him to a children's home while in detention. Police later applied for a protection order from the court, claiming that the boy's parents did not take care of him.
The court will pass judgement on both 14-year-olds in January.
"Die-in" Support
News of the girl's plight sparked a public outcry and small scale protests on New Year's Eve.
Outside Tuen Mun Children and Juvenile Home where the girl was incarcerated, some protesters plastered Post-it notes with supportive messages onto lamp posts while others chalked flowers on the road.
well #OccupyHK pic.twitter.com/sqqPzMnNEU

— Kris Cheng (@krislc) December 31, 2014
Some draw flowers outside the Children's Home to support 14-yr old girl arrested for drawing flowers on Lennon Wall pic.twitter.com/cIdnt0gjHi

— Amberbrella (@Amberbrella) December 31, 2014
In the evening, twenty-seven protesters staged a "die-in" at the International Finance Center (IFC), one of Hong Kong's largest shopping malls, as well as at a number of locations in the city. They displayed banners with slogans such as "I want genuine universal suffrage" and "Don't fear white terror."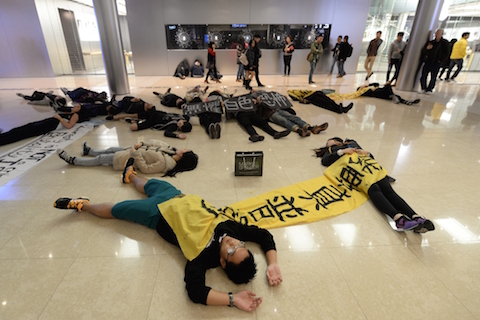 Meanwhile, about thirty protesters made their way to "Lennon Wall" and chalked flowers and messages opposing Hong Kong's embattled top leader Leung Chun-ying into the early hours of New Year's Day.
Concerns


A number of commentators have suggested that the authorities are "killing chickens to silence monkeys"—a Chinese proverb meaning to make an example of some to deter others from doing something—in the two prominent cases involving minors arrested for Umbrella Movement-related activities.
Pan-democratic lawmakers have also raised concerns about the Hong Kong police's political neutrality in handling Occupy cases.
Democratic Party's Wu Chai-wai called the police's action "incomprehensible" and said that it "raises doubts about whether the case involved political persecution," SCMP reports.
Civic Party legislator Claudia Mo questioned: "If the girl had not drawn on the Lennon Wall but somewhere else in the street, would they have made the same application?"