With important playoff implications in a match-up of two 7–7 teams, the visiting Miami Dolphins overwhelmed the New Orleans Saints 20–3 on Monday Night Football.
The Dolphins (8–7) became the first team in NFL history to have both a seven-game losing streak and a seven-game winning streak in the same season. The previous Dolphins 7-game winning streak was in 1985 with Dan Marino's team that reached the Super Bowl.
The COVID-protocol stricken Saints were missing 16 players from the active roster; to include three offensive lineman, starting QB Taysom Hill, and veteran backup Trevor Siemian.
So rookie third-string quarterback Ian Book got the start. Without their best protection, he was sacked eight times and struggled against Miami's high-pressure defense. Book completed 12-of-20 passes for 135 yards and two interceptions.
The first interception came on the Saints opening drive. After completing his first career pass to Ethan Wolf for four yards, he threw a 28 yard pick-six to Nik Needham; giving the Dolphins a 7–0 lead that they would not relinquish.
"Personally (have) a lot to get better at," said Book. "I'm excited to watch the film, get back on the drawing board, just keep going. On the sidelines, we look at the look at the iPads and see there's things in my mind that I want back, but it felt good to be out there."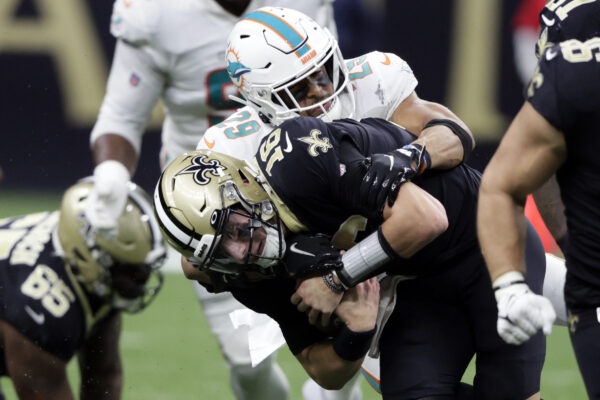 "We're not making any excuses here," said Saints coach Sean Payton. "There were a number of things offensively that didn't sit well. "We have a short week and two important games coming up, both division games that are going to be important relative to the NFC."
Dolphins QB Tua Tagovailoa completed 19 of 26 for 198 yards with one touchdown and one interception.
Tagovailoa credited the Dolphins defense, "the defense played more than complimentary football for us offensively. We didn't put good drives together in the first half … but defense gave us some life with interceptions, and stops. So that was big for us." The defense has given up just 82 points in the previous seven games.
Tagovailoa shared the impact of Dolphins WR Jaylen Waddle on the offense, "Waddle brought a lot. When they try to cover Waddle, he opens up other guys."
After missing last week due to COVID protocols, Waddle led the Dolphins with 10 catches for 92 yards. He has 96 catches for 941 yards total for the season; breaking Chris Chambers' Dolphins rookie record for receiving yards.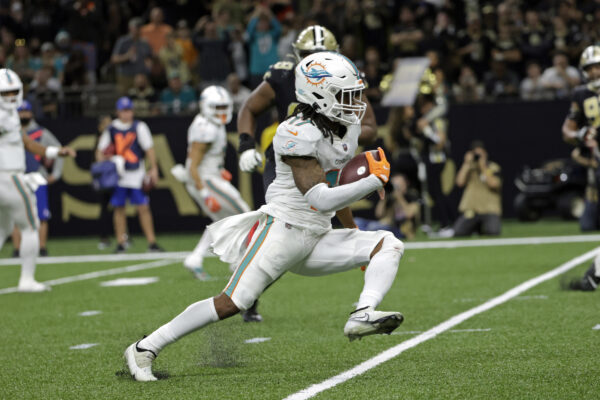 The Dolphins rushed for a total of 86 yards, and was led by Duke Johnson with 39 yards, and Phillip Lindsay with 36 yards.
The Dolphins increased their lead on their second possession, 10–0, with a 48-yard field goal by Jason Sanders.
The Saints scored their only points, with 2:45 left in the first half, through an eight-play, 55-yard drive that culminated in Brett Maher's 38-yard field goal. Miami led 10–3 at halftime.
The Saints leading receiver was Lil'Jordan Humphrey with 3 catches for 70 yards; and Alvin Kamara rushed for 52 yards on 13 carries.
With 5:10 remaining in the third quarter, Miami scored the only offensive touchdown with a 86-yard drive on nine plays. It was recorded as a 1-yard scoring pass; but was essentially a long hand-off, a left-to-right end-around shovel-pass to Waddle, who cut back up through the middle to increase the lead to 17-3. Miami would add a 34-yard field goal with 12:05 left in the game for a final score of 20–3.
Tagovailoa revealed the turnaround in the season resulted from "guys spend a lot of time outside of the building with each other. That's what has brought us closer within the team meeting room, in our individual meetings, to get on the same page."
The Dolphins hold the last wild-card position for the AFC playoffs and control their own destiny. They visit Tennessee on Sunday and then finish the regular season at home against AFC East rival New England. If able to win the two remaining games, they would be the first team to reach the playoffs after starting with one win in the first eight games.
The Saints host NFC South rival Carolina Panthers on Sunday and finish the regular season at Atlanta.