Former House IT aide Imran Awan reached a plea deal with prosecutors on July 2 in a bank fraud case.
Awan pleaded guilty to one count of bank fraud in a deal that ensures he will not be charged with any nonviolent criminal offense committed within the District of Columbia prior to the agreement.
As part of the deal, charges were dropped against Awan's wife, Hina Alvi Awan. His lawyer, Christopher Gowen, said they are seeking a probation-only sentence without fine or restitution.
The bank fraud charges stem from false statements made by Awan on a loan application. He was arrested by the FBI at Dulles International Airport last July.
Prior to the announcement of the plea deal, the hearing had been postponed an unusual seven times.
Awan was first hired as a congressional IT aide in 2004, hitting the pay cap in 2005. In total, Awan and his family members and associates received $7 million in pay and were responsible for the IT services of 1 in every 5 House Democrats, or 44 in total.
In February 2017, they were abruptly fired by most of the representatives who employed them, after they were banned from the House IT network by the House sergeant-at-arms.
Some of those representatives serve on committees that handle sensitive and sometimes classified information, such as the House Permanent Select Committee on Intelligence, the House Committee on Homeland Security, and the House Committee on Foreign Affairs.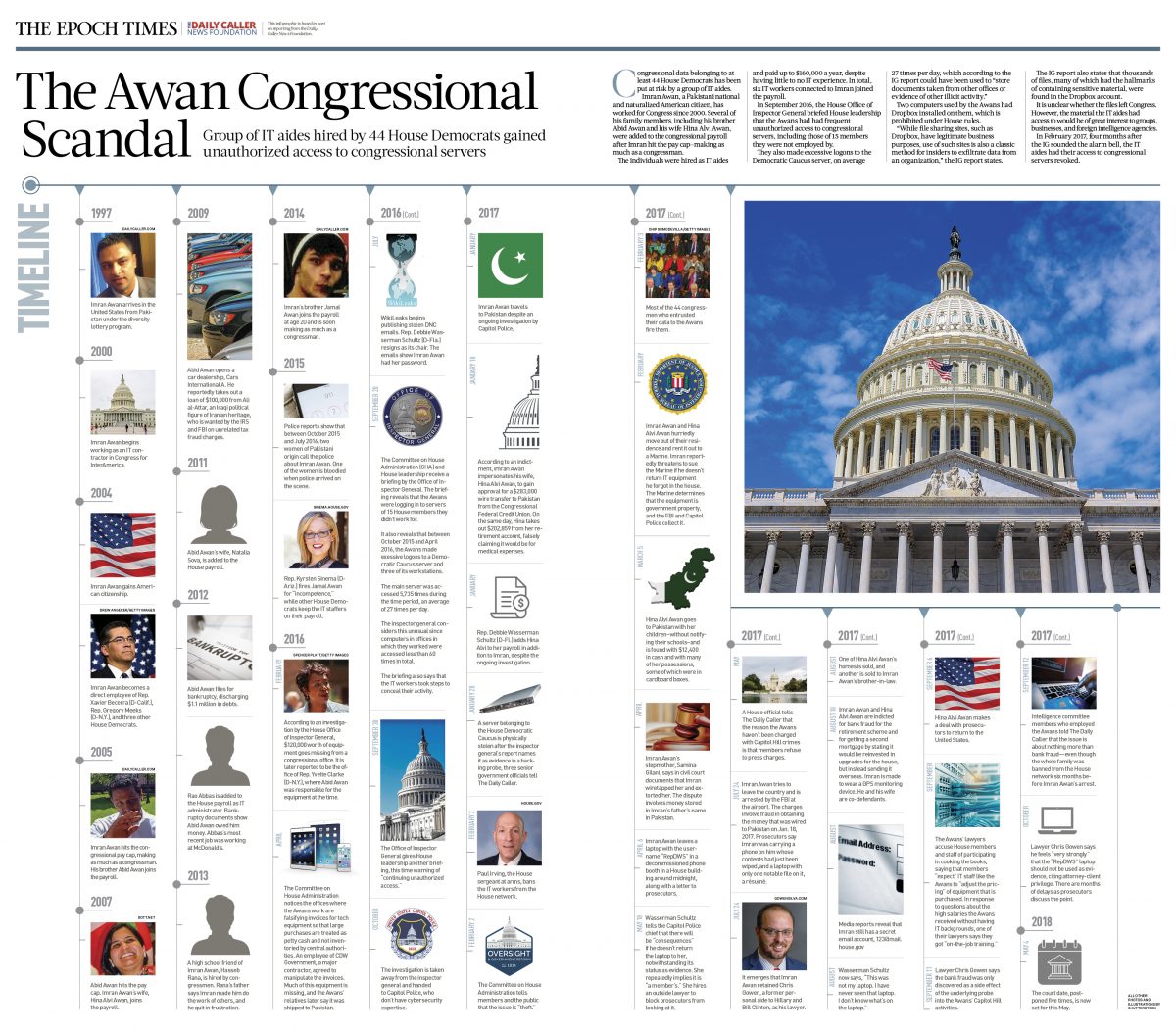 The action by the House sergeant-at-arms followed an investigation by Capitol Police and the House Office of Inspector General.
The Department of Justice (DOJ), in its findings, contradicted House investigators who had found numerous unauthorized logins by Awan and his associates on congressional computers.
The DOJ said it had interviewed Awan during "numerous voluntary interviews" and had examined the House Democratic Caucus server, along with other computers, hard drives, and electronic devices.
"[The] Government has uncovered no evidence that your client violated federal law with respect to the House computer systems," court documents show.
Prosecutors did not explain, however, why its findings were so divergent from those of House investigators, nor whether Capitol Police had been correct in banning the IT workers from their systems.
The House Office of Inspector General, in a September 2016 briefing, had warned House leadership that the IT workers had made unauthorized logins on systems of House members who did not employ them.
In a subsequent briefing later that same month, it said that it had identified a DropBox account installed on two Democratic Caucus computers used by the IT workers and that it likely contained sensitive documents.