Los Angeles Dodgers (35–17) starter Tyler Anderson remains undefeated with his seventh victory in six shutout innings against the New York Mets (35–19), at Dodger Stadium on Friday night, winning 6–1.
In the second of a four-game series matchup of the National League's top two teams, the Dodgers solidified their lead in the league, with solid pitching along with consistent run support, including home runs from Cody Bellinger, Zach McKinstry, and Chris Taylor.
The veteran left-hander, Anderson, joined his fifth team in the offseason and was not set in the Dodgers' starting rotation.
Anderson began with two long relief appearances. But injuries, including Clayton Kershaw's, have given Anderson the opportunity to pitch in eight undefeated starts.
"I just wanted to come here and be on a team that's going to win and do whatever I could, whether that was starting, bullpen, whatever," said 32-year-old Anderson. "Just put all that selfishness aside and try to be the best team guy I could."
Anderson now has pitched 26 scoreless innings pitched to a 2.59 ERA and a 0.95 in walks and hits per inning pitched.  His scoreless-innings streak to 26 against an offense that has the second-most runs scored in baseball.
Anderson has only six walks in 55 2/3 innings, and based on statistics in the modern era, is the first pitcher to be undefeated in seven games or better, with less than seven walks over his first 10 games.
"He was, once again, so consistent," said Los Angeles manager Dave Roberts. "He made pitches when he needed to and kept those guys off-balance."

Besides the Dodgers run support, Anderson attributes his newfound success to increasing the use of his changeup. He threw it 24 times with 10 misses, as the three hits allowed came from his four-seam fastball.
"Last year, [the changeup] was good at times, but it wasn't as consistent," Anderson said. "Finding a better grip has helped me just be a little more consistent, and trusting to throw it when I need to and when I want to."
Anderson and Tony Gonsolin (6–0) have anchored the Dodgers' starting rotation with an undefeated 13–0 record, giving the starting staff the league's best ERA of 2.50. Gonsolin shut out the Mets on Thursday 2–0.
"They both had different paths to get here this season," Roberts said. "Tony was looked at as a fifth starter for us, and Tyler came in as a sixth starter, essentially. But both have pitched like top-end guys. I'd hate to imagine where we'd be without those two guys."
The Dodgers jumped to a 4–0 lead by the fourth inning through Bellinger's homer in the second scoring Justin Turner, and McKinstry's homer in the fourth scoring Bellinger off of Mets starter Chris Bassitt.
Anderson was relieved after 81 pitches in six dominant innings, leading to the Mets' solo run from Pete Alonso off of Dodgers reliever Yency Almonte.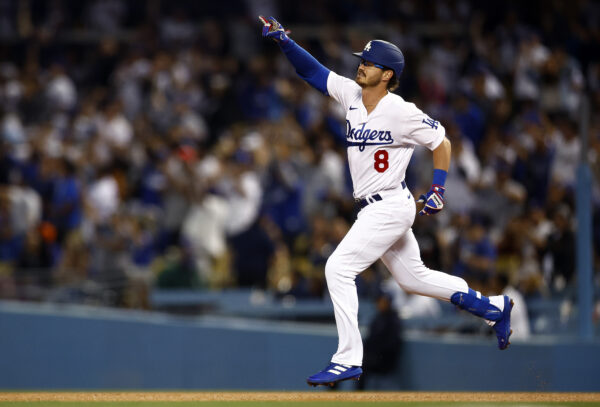 The Dodgers added insurance runs with Trea Turner's single scoring Mookie Betts in the seventh, and Chris Taylor homered to center field in the eighth for a 6–1 final.
The teams meet for game three of four in the series Saturday with the Dodgers starting RHP Walker Buehler (6–1, 3.22 ERA) going against the Mets LHP David Peterson (2–0, 3.03 ERA).