The Kentucky doctor who was violently removed from a United Airlines flight has spoken out for the first time since the traumatic ordeal took place two years ago.
Dr. David Dao, 69, was dragged bruised and bloodied off an overbooked flight at Chicago's O'Hare International Airport on April 9, 2017, according to multiple reports.
Footage captured on cellphone video by fellow passengers showed the bleeding grandfather being dragged down the aisle by agents after he refused to give up his seat to make way for airline staff.
Dao broke his silence about the incident on ABC's "Good Morning America" on April 9.
"I don't know, I just cried," he told Amy Roback after he viewed the video clips taken by fellow passengers that sparked the online outrage.
Dr. David Dao, who was dragged off a United Airlines flight at O'Hare International Airport two years ago, is speaking out for the first time ever. https://t.co/TGhZzVVX3U

— ABC 7 Chicago (@ABC7Chicago) April 9, 2019
'Don't Know What Happened'
Dao, a doctor of internal medicine, and his wife, a pediatrician, were on their way to Louisville on April 9, 2017, when airline staff asked them and two other passengers to disembark in order to make room for United Airlines staff who needed to fly, the Courier-Journal reported.
He refused to give up his seat and was hauled off the plane by Chicago Department of Aviation officers.
Cellphone recordings showed blood coming out of Dao's nose and his glasses askew as he was dragged down the aisle.
Dao told ABC News that he hit his head on the plane's ceiling and has a hard time recalling much of the encounter with clarity.
"After that, to be honest, I don't know what happened," he told ABC.
After two years of silence, Dr David Dao speaks about that infamous incident at O'Hare where he was dragged off a United flight. Tomorrow only on @GMA. pic.twitter.com/gbrdg2JpAQ

— Daniel Lopez (@4danlopez) April 9, 2019
He said he suffered a concussion, lost teeth, and had his nose broken.
Footage of the incident went viral, sparking outrage and scrutiny over how United handled the situation.
David Dao, the Kentucky doctor who was unceremoniously — and very literally — dragged off a United Airlines flight on April 9, 2017, is speaking out about the viral incident for the first time in two years.https://t.co/DfLbRYAbGK

— TheBlaze (@theblaze) April 9, 2019
'Disruptive and Belligerent'
United CEO Oscar Munoz initially said in an internal email to staff in the days that followed the incident that Dao had been "disruptive and belligerent," the Daily Mail reported.
Munoz was cited in the report as saying that Dao "raised his voice and refused to comply" with staff requests to leave the aircraft.
"Our agents were left with no choice, but to call Chicago Aviation Security Officers to assist in removing the customer from the flight, he repeatedly declined to leave."
'I just cried': #Kentucky #doctor #DavidDao forcibly removed from #UnitedAirlines flight speaks out https://t.co/EIf2DjH3c0 via @nbcnews

— NY Jᴜsᴛɪᴄᴇ Sᴇᴇᴋᴇʀ (@NYJusticeSeeker) April 9, 2019
Munoz said that when Dao refused to comply with the officers, they then followed "established procedures" and "physically removed him from the flight as he continued to resist – running back onto the aircraft in defiance of both our crew and security officials."
"While I deeply regret this situation arose, I also emphatically stand behind all of you, and I want to commend you for continuing to go above and beyond to ensure we fly right," he said, Daily Mail reported.
"The most important thing is the accident turned out the positive way." David Dao, who was violently dragged off a United Airline flight two years ago, spoke out publicly for the first time. https://t.co/LF6mUct4VP

— HuffPost (@HuffPost) April 9, 2019
The CEO later issued a public apology saying he "apologized for having to re-accommodate these customers," Daily Mail reported.
"Flight 3411 was a defining moment for United Airlines and it is our responsibility to make sure we as a company and all of our 90,000 employees continue to learn from that experience," the airline said in a statement to NBC News Tuesday.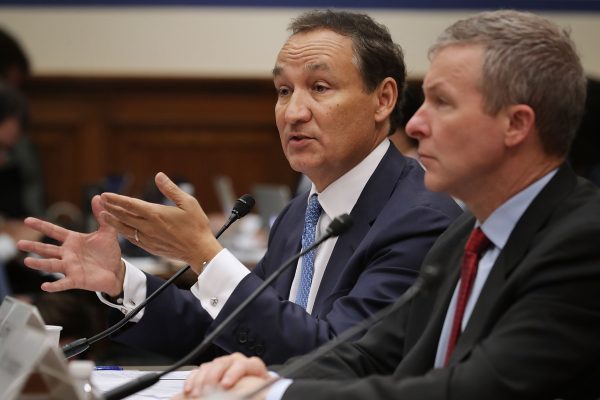 "The changes we have implemented since that incident better serve our customers and further empower our employees," United stated, according to NBC.
Dao was offered an undisclosed settlement weeks after the incident.
While Dao said the traumatic ordeal left him with chronic problems like difficulties with balance and concentration, he said he has no regrets because it forced United to review its policies.
"Everything happens with a reason," he told ABC.