Discounts Lure Labor Day Shoppers
Best deals of the year on certain items
September 3, 2013 10:44 am Last Updated: September 3, 2013 10:59 am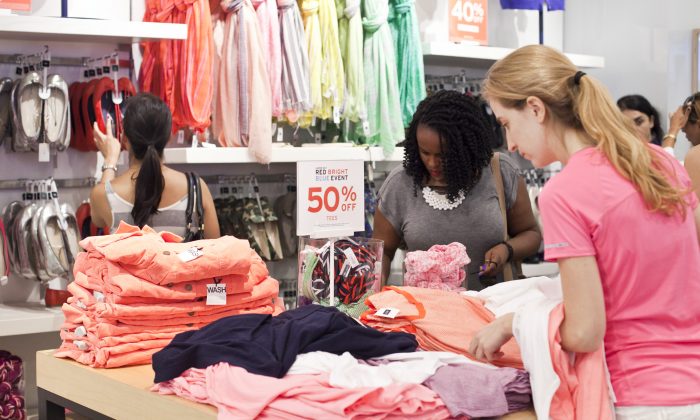 NEW YORK—As holiday sales go, Black Friday has the most retailers, but Labor Day has the biggest discounts.
Nearly 100 major retailers, including Macy's, Wal-Mart, H&M, and Best Buy, offered sales through the three-day weekend and beyond. And shoppers took advantage.
According to Christy Vogel, CEO of Marketing Direction, the number of retailers offering Labor Day sales has been growing. What's the best part? Average discounts are 48.4 percent, said Vogel, higher than on any other retail sales day in the United States.
"Depending on the items you're looking for, you'll get a better deal than any other time period of the year, but keep in mind that not everything is going to be on sale during Labor Day," Vogel said.
It's a good time to shop for things like back to school items, summer apparel, patio furniture, gardening equipment, grills, bikes, mattresses, iPhones, and iPads.
"But if you're looking for fall and winter clothing, you're not going to find what you're looking for," Vogel said.
Searches for "Labor Day sale" on Google have been growing steadily. In 2013, more people searched for "Labor Day sale" than ever before.
Deandre Bristow bought shirts, pants, and socks for college at the JC Penney store in the Manhattan Mall. The store offered 10 percent off on all items and an additional 20 percent off for store-card holders. Bristow has a store card and saved close to $100 on his purchase.
"If there wasn't a sale I'd be out here anyway. It just helped that there was a sale," Bristow said.
Adnan Chaudry, 13, and his mother Farah Naz shopped at the H&M store on West 34th Street and Sixth Avenue as it began raining during the early afternoon.
"Everyone likes to save a little money," Naz said. " Especially these days. I don't even want to spend a penny, but my son needs it."
Adnan bought jeans and shirts. He saved close to $30.
Over at American Eagle Outfitters across the avenue all items were 40 percent off for close to two weeks.
"We're a popular store regardless because we are in a tourist attraction area," Earnie, a store employee, said. "But yes, more people did come in because of the sale."
Although some of the sales ended on Labor Day, some retailers, including Best Buy, Zales, Bath & Body Works, Nordstrom, Ralph Lauren, and Nautica have sales running through Sept. 3 and later.
Rachel Wilson bought work pants, shirts, and jewelry at the Express store on West 34th Street near Fifth Avenue. The store offered 40 percent off on all items. Wilson spent $250.
"It's nice. It's not 50 percent though," said Wilson, laughing.