Gong Dao'an, director of the Shanghai police bureau and the city's deputy mayor, was sacked on Aug. 18, representing the first Shanghai official, and the third top official from the Chinese regime's security apparatus, to be punished this year.
Shanghai is known as the stronghold of a political faction loyal to former Chinese Communist Party (CCP) leader Jiang Zemin—the chief political rivals of current leader Xi Jinping.
The Party's internal anti-corruption watchdog, Central Commission for Discipline Inspection (CCDI), announced on Tuesday: "Gong Dao'an is suspected of seriously violating discipline and laws, and is under investigation and inspection."
After the announcement, the Party boss of Shanghai Li Qiang and Shanghai mayor Gong Zheng urgently hosted two meetings with senior Party officials in Shanghai that day to express their loyalty to Chinese leader Xi Jinping and their faith in the central government.
U.S.-based China affairs commentator Li Linyi analyzed that Gong was very close to Meng Jianzhu, former Jiang loyalist and former head of the Political and Legal Affairs Commission (PLAC), a Party agency that oversees the country's security apparatus, including police, courts, and prisons.
"Chinese leader Xi Jinping's authorities are investigating Gong to target Meng Jianzhu," Li said.
Gong Dao'an
Gong was director of the Shanghai police bureau, and sixth-ranked out of the eight deputy mayors of Shanghai.
According to state-run media Xinhua, Gong, 55, began his career as a police officer in Hubei Province and worked his way up the ranks.
In 2010, Gong was promoted to become deputy director of the No. 12 Bureau, the criminal investigation branch of China's Ministry of Public Security. Two years later, he was promoted to director.
In June 2017, Gong was appointed director of Shanghai's police bureau. Then, in January 2018, Gong was granted another title as Shanghai deputy mayor.
After CCDI announced its investigation of Gong, his resume was removed from the Shanghai municipal government's official website. CCDI did not give details about Gong's suspected wrongdoing.
As deputy mayor of Shanghai, Gong maintained the second-highest ranking as a vice-provincial-level official within the Party's bureaucratic system.
He is the first official of that ranking in Shanghai to be sacked since nearly three years ago, when the Party held an important conclave, the 19th National Congress.
Meng Jianzhu
When Gong worked at the Ministry of Public Security, Meng Jianzhu was the minister. Gong was broadly believed to be loyal to Meng.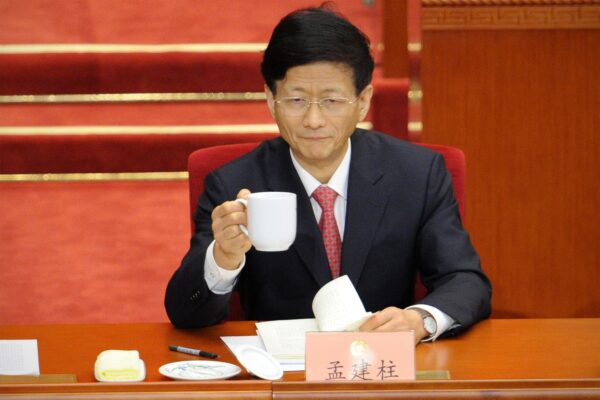 Taiwan-based China affairs commentator Chen Simin wrote in a 2017 commentary that Gong was involved in cases led by Meng, such as an anti-corruption investigation into Zhang Jian, then-director of the No. 12 Bureau.
Meng, 73, was loyal to former Party leader Jiang Zemin. Since Xi took power in November 2012, he has sought to purge officials loyal to Jiang under a sweeping anti-corruption campaign.
Those include former PLAC head Zhou Yongkang, former Party boss of Chongqing city Bo Xilai, and former vice-chairman of China's top military council Guo Boxiong.
Unlike his peers, Meng quit Jiang's faction and showed his loyalty to Xi Jinping in February 2012 as the latter came to power. However, China observers speculate that Meng was actually still faithful to Jiang. Meng retired in 2017.
Target
In the past four months, two of Meng's followers have been sacked.
On April 19, CCDI announced an investigation into Sun Lijun, who was suspected of "serious violations of Party discipline and the law." Sun, 51, was No. 5 vice-minister within the public security ministry.
On June 14, CCDI announced Deng Huilin was sacked. Deng, 55, was director of the Chongqing police bureau.
Insiders from the Chinese central government told The Epoch Times in April that Sun was involved in a coup to force Xi to resign. The Epoch Times could not independently verify this information.
Commentator Li Linyi analyzed that Sun, Deng, and Gong used to work with each other closely to support Meng.
"I believe that [Xi's] target is Meng Jianzhu. He is using a similar strategy as when Zhou Yongkang was investigated and detained, which is investigating the target's followers to collect evidence. Then, arrest the target," Li said.
Li analyzed that Zhao Fei, current PLAC director of Tianjin city, might be investigated soon because Zhao is another key follower of Meng.
In July, PLAC Secretary-General Chen Yixin hosted a meeting in Beijing to begin a "cleansing" campaign within the agency nationwide. Chen announced that the Party will complete the purge by the first quarter of 2022, right before its 20th National Congress, a conference that occurs every five years to determine the next succession of Party leaders.