Details of the roadmap out of lockdowns for New South Wales (NSW) has been revealed, with state leaders explaining freedoms that will be available once the 80 percent COVID-19 vaccination target is reached in the state.
NSW Premier Gladys Berejiklian told reporters that fully vaccinated individuals will be able to freely travel around the state, attend community events, and have a drink at the local pub from the first Monday after the state hits 80 percent vaccination threshold. This includes all citizens within the 12 local government areas of concern in Sydney.
The sole exception for the unvaccinated is that they will be allowed to attend places of worship.
The government is expecting the state to reach the 70 percent vaccination on Oct. 11 and 80 percent two weeks after on Oct. 25.
On Dec. 1, restrictions against unvaccinated people will be lifted as they join the rest of the state in regaining freedoms.
By then, masks will no longer be required in outdoor settings or indoor offices and there will be no limit on the number of people who can visit homes or gather outdoors. Community sport will also be opened for all.
Berejiklian hopes that by December, over 90 percent of the adult population will be fully vaccinated.
"I think today is a very disappointing day for those who aren't vaccinated," she said. "They'll have to wait at least four or five weeks after we get 80 percent double dose to be able to enjoy those things others enjoyed."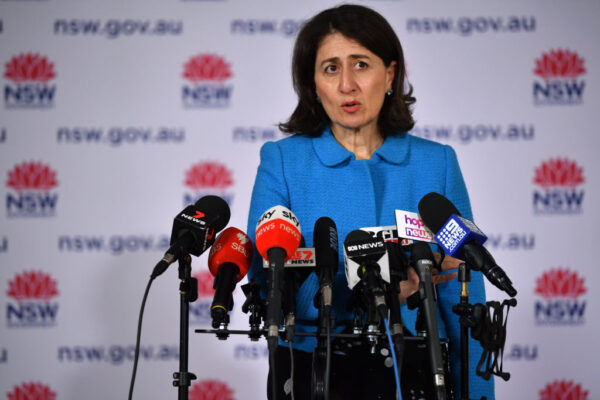 While the state is gradually opening, Berejiklian asked everyone, including the fully vaccinated, to be "extra careful" and act as though they or the people around them have COVID-19.
"In the experience of many countries around the world, people thought they had an extra coat of armour when they were fully vaccinated and perhaps had a disregard for the health orders," Berejiklian said. "We asked people to really think about making sure you're still acting as though you might have the disease or somebody else might."
Unvaccinated citizens will not be allowed to run their business or allowed into one until Dec. 1, meaning many businesses will "go backwards."
"Some individuals or businesses might go backwards if they choose not to vaccinated and that's a decision for them," Berejiklian said.
She said she appreciated that "some individuals" had very strong views and accepted it, but the government would not be distracted.
"People have those opportunities in a democracy, they're free to exercise them and that's on them," Berejiklian said. "But the legal system recognizes the health orders are there in exceptional circumstances."
The announcement of the new restrictions comes as other countries, remove all health restrictions and vaccine passports around COVID-19.
Denmark removed all COVID-19 restrictions, except external border requirements on Sept. 10 after it reclassified COVID-19 as no longer a critical threat to human life. The downgrading of this classification means vaccine passports are no longer necessary.
While Norway announced on Sept. 24 it would be removing all domestic COVID-19 restrictions on Sept. 25.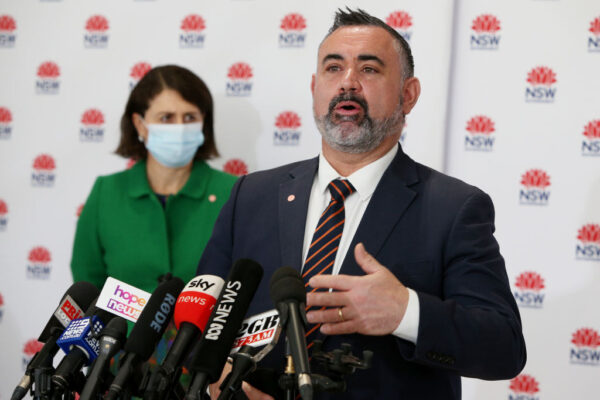 A four-square metre per person rule will be in place from Oct. 11 until Dec. 1. Deputy Premier John Barilaro said once the restrictions are released, there will be a two-square metre rule across the board.
"The message to the unvaccinated is that you will not achieve any further freedom unless you get vaccinated," Barilaro said.
Barilaro also warned that unvaccinated citizens in regional NSW, who currently enjoy greater freedoms than those in Greater Sydney, may end up losing those freedoms once the roadmap is enacted.
"The 70 percent roadmap does apply the whole state, so there will be individuals in regional NSW who choose not to be vaccinated, who will lose their freedoms on the 11th of October," he said.
From Sept. 27, outdoor pools have reopened to the public, and construction sites are allowed to operate at full capacity.
NSW ROADMAP OUT OF LOCKDOWN AT 80 PER CENT:
New freedoms will apply on the first Monday after the state reaches an 80 per cent double dose vaccination target, expected late October.
These apply to the fully vaccinated but there are some concessions for the unvaccinated.
TRAVEL
Travel between Greater Sydney and regional NSW allowed.
Caravan parks and camping grounds can operate, including for those who are not fully vaccinated.
Carpooling is permitted. Those who are not fully vaccinated can only carpool with their household.
GATHERINGS IN THE HOME AND PUBLIC SPACES
Up to 10 visitors in a home where all adults are vaccinated (not including children 12 and under).
Those who are not fully vaccinated may only gather outdoors in groups of two.
SPORT
Community sport is back.
HOSPITALITY VENUES
Hospitality venues can open with one person per four sqm inside and one person per two sq/m outside, and standing while drinking will be permitted inside.
Those who are not fully vaccinated can only access hospitality venues for takeaway.
WEDDINGS AND FUNERALS AND CHURCHES
No limit for fully vaccinated guests for weddings and funerals.
Those who are not fully vaccinated may only attend weddings with a maximum of five guests (no receptions).
Churches and places of worship can continue to open with one person per four sqm, with no singing. Those who are not fully vaccinated will be allowed.
HAIRDRESSERS AND NAIL SALONS
Personal services—such as hairdressers, nail salons, spas, beauty, waxing, tattoo and massage can open with one person per four sq/m, with no cap on client numbers.
FURTHER CHANGES FROM DECEMBER 1 FOR ALL:
These settings will apply to all NSW citizens, regardless of their vaccination status.
GATHERINGS IN HOMES AND OUTDOOR PUBLIC SPACES
No limit on the number of visitors to a home.
Density will shift to one person per two sq/m for indoor and outdoor settings.
No limit on the number of people who can attend informal outdoor gatherings.
COVIDSafe plan required for outdoor events with more than 1,000 people.
Community sport is permitted for all.
PREVIOUSLY ANNOUNCED FREEDOMS TO KICK-IN AT 70 PER CENT:
It's likely the 70 per cent double dose vaccination milestone will be reached next week, triggering new freedoms from Monday, October 11.
These freedoms apply to the vaccinated, with some concessions for children.
HOSPITALITY VENUES
Shops can open under one person per four sq/m rule.
Unvaccinated people can only access critical retail shops, such as supermarkets, as they do now.
Gyms and indoor recreation facilities can open under one person per four sq/m rule, with classes capped at 20.
Sporting facilities including swimming pools can open.
STADIUMS, THEATRES, MAJOR OUTDOOR RECREATION FACILITIES
Major outdoor recreation facilities—including stadiums, racecourses, theme parks and zoos—can open with one person per four sq/m, capped at 5000 people.
Up to 500 people can attend ticketed and seated outdoor events.
Indoor entertainment facilities—including cinemas, theatres, music halls, museums and galleries—can open with one person per four sq/m, or 75 per cent fixed seated capacity.
WEDDINGS, FUNERALS AND PLACES OF WORSHIP
Churches and places of worship can open subject to the one person per four sq/m rule, with no singing.
TRAVEL
Caravan parks and camping grounds can open.
Carpooling permitted.
Non-vaccinated people aged under 16 will have access to all outdoor settings, but can only visit indoor venues with people from their household.
Employers must continue to allow employees to work from home if the workers can do so.
MASKS
Masks remain mandatory for all indoor public venues—including public transport, front-of-house hospitality, retail and business premises and on planes—and at airports.
Only hospitality staff will be required to wear a mask outdoors.
Children aged under 12 won't need a mask indoors.
SCHOOLS:
Kindergarten and Year One students return to classrooms on October 25.
Year 12 students undertaking HSC exams can study on campus from October 25.