Chinese authorities recently confirmed that the fall armyworm has invaded 11 of China's 31 provinces, destroying corn and other staple crops. They estimated on May 9 that the pest will expand to Hebei Province, Beijing, and all other regions of China by this summer.
The fall armyworm (FAW) is native to the Americas, and in its larval stage, can eat through and cause damage to crops such as corn, rice, wheat, sorghum, barley, sugarcane, cotton, soybeans, and peanuts.
There is currently no large-scale solution to get rid of the pest.
The U.S. Department of Agriculture (USDA) published a foreign agriculture report on April 30 explaining that this crop-eating pest was first detected in China in late January, entering from nearby Burma. It does not have natural predators in China.
If China cannot stop the spread of the FAW, it may destroy this year's harvests and threaten China's food security.
Since the worm first landed in West Africa in early 2016, it has spread quickly to more than 40 countries on the African continent. The Food and Agriculture Organization of the United Nations reported that the FAW has infested millions of hectares of corn in Africa, threatening the livelihood of 300 million Africans. By February 2018, it has already caused up to $4.8 billion in losses to corn production alone.
Destroying China's Crops
Citing information from the National Agricultural Technology Extension Service Center, an agency under China's Ministry of Agriculture and Rural Affairs, state-run newspaper Beijing News reported that the FAW has invaded 11 provinces of southern China by May 8, which are Yunnan, Guangxi, Guizhou, Guangdong, Hunan, Hainan, Fujian, Zhejiang, Hubei, Sichuan, and Jiangxi.
Beijing News said that 230 counties and 52 cities from these provinces have reported that their cornfields have been damaged by FAW. The larvae can eat through all the leaves and grains on a crop field overnight, then move to another one quickly, farms have reported.
A FAW moth can fly 500 kilometers (300 miles) during its lifetime, and lay 1,000 to 1,500 eggs in total. The eggs can hatch into larvae within a few days.
The agriculture ministry estimated that as spring temperatures rise, the FAW will keep moving north, invading fields of young crops. The ministry predicted the pattern of FAW's spread: it will invade provinces along the Yangtze and Huai rivers in the middle of May, then move along the Yellow River in June and July, eventually covering the whole country.
Beijing News also reported on May 7 that the agriculture ministry has arranged to set up traps for the FAW moths in 220 counties located in 26 provinces.
The USDA said in its April 30 report that the Chinese Academy of Agricultural Sciences was working with crop protection companies to find appropriate chemical and non-chemical control solutions to get rid of the FAW.
Trade War Woes
The FAW is threatening harvests at a sensitive time, as domestic production of soybeans and corn dipped in 2018 due to droughts and unusually frosty weather.
Meanwhile, the trade dispute with the United States also limited crop imports. Beijing imposed 25 percent retaliatory tariffs on $50 billion worth of U.S. goods, mostly affecting agricultural products, in April 2018. Despite China's heavy reliance on U.S. soybean crops in the past, which are mostly used to make animal feed, the Chinese regime's self-imposed tariffs resulted in a sharp drop-off in soybean imports in 2018.
On May 13, the Chinese regime retaliated to an announced U.S. tariff hike on $200 billion of Chinese goods last week by imposing additional tariffs on a list of 5,140 U.S. products. However, agricultural crops are not on the new list.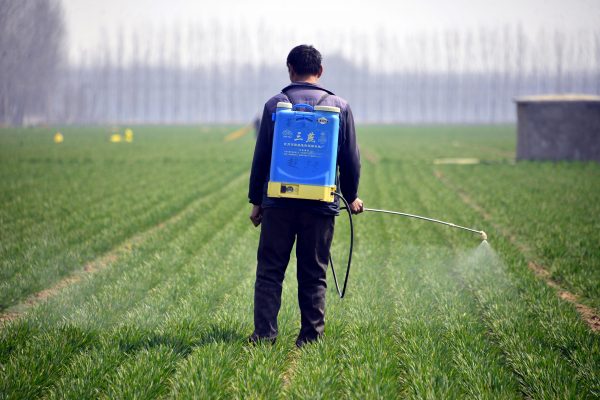 China's Dining Table
Still, the FAW threatens China's staple cereals; livestock and poultry that are fed by grains; and food products made from grains such as vegetable oil, vinegars, and liquor.
As the world's largest consumer of pork, China is also reeling from the effect of the African swine fever (ASF), which has obliterated the country's pork supply.
On the evening of May 10, Hong Kong's Secretary for Food and Health Sophia Chan Siu-chee announced that the city had its first outbreak of ASF, spread by pigs that were transported from neighboring Guangdong Province in mainland China.
The newest Hong Kong case indicates the ASF epidemic is still severe, though Chinese authorities have tried to deny it.
Since the first ASF outbreak occurred in northeastern China in August 2018, the disease has spread to all provinces and regions of China. Since January, China's neighbors in Mongolia, Vietnam, and Cambodia have reported ASF outbreaks, while Japan, South Korea, and Taiwan have detected and seized ASF-infected pork products made in China that travelers have brought in through customs.