Delta Diner is an unexpected vision in the Wisconsin Northwoods. As you come around the bend on an old county highway, a classic aluminum diner appears at the roadside, shining like brand new in the sun, alongside a smoking open-air Jamaican jerk shack, a coffee and ice cream stand, and a craft-beer bar built into a couple of shipping containers connected by an arcing steel rooftop. Stop for the photo; stay for the food.
From Dream to Diner
In 1994, Todd and Nina Bucher left the "career" world on the East Coast, cashed in their 401Ks, and bought some land near the edge of the Chequamegon National Forest between Ashland and Iron River in Todd's home state of Wisconsin. They lived a year in a 13-foot trailer with two dogs and two cats while both of them worked and Todd built a house near Delta, where there was practically nothing but a small stone storage structure and the ruins of the 1923 Delta Store, a grocery, bar, restaurant, gas station, and post office that succumbed to fire in 1973. So many times the Buchers had passed that lot, imagining what could be done with it. Finally, they bought it.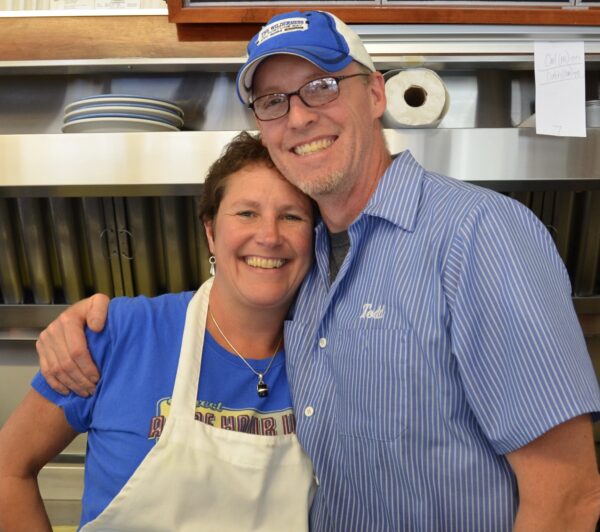 Todd's childhood love of diners dictated the plan. He found a 1940s Silk City diner abandoned in a lot in Upstate New York, had it renovated in Cleveland, and moved it to its unlikely new home in the woods in Delta, a town without an actual town, surrounded by hidden lakes and cabins. It took nearly two years to get the project going, but in November 2003, the Buchers opened Delta Diner in the proverbial middle of nowhere. And they didn't just play it safe with the same old trusty offerings either.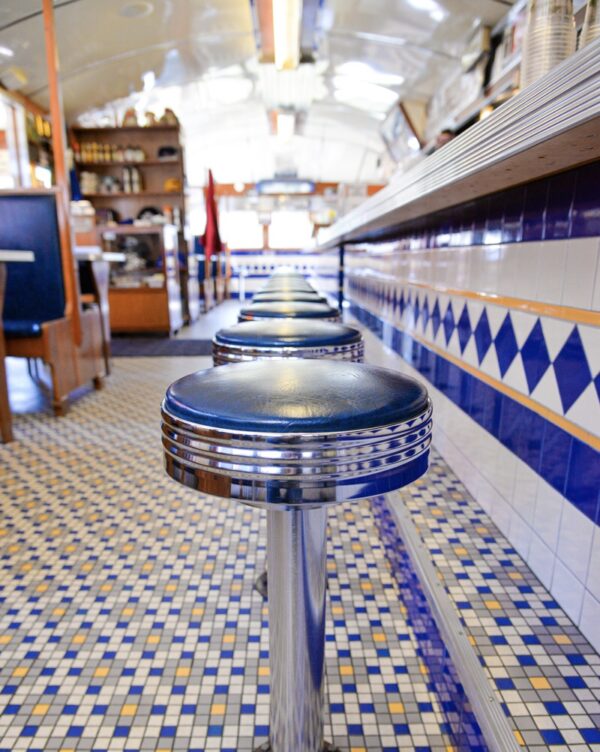 Not Your Ordinary Menu
"We wanted to kick it up a little," Todd said. And so he has. How about a Greek omelet with gyro meat, summer sausage, spinach, tomatoes, Greek olives, and tzatziki sauce? Or very flat Norwegian pancakes poured around jalapeño slices laid on the grill? "They actually sweeten with the heat," Todd said of his "hotcakes." There's stuffed French toast with mascarpone and blueberries, and hashbrowns folded around pulled pork. Pedro's Mexican Benny is a turn on Benedict with two eggs over cornbread topped with a spicy chorizo gravy. Todd says they spent months dialing in the recipes that have made it to the menu or daily specials.
One such returning special, a spin on southern Red Eye gravy, became the focus of one of the diner's two appearances on Guy Fieri's Food Network series "Diners, Drive-Ins, and Dives." Served over biscuits, the gravy is made with pork sausage, diced prime rib, and bacon, with cayenne, black pepper, and a fine Turkish grind of espresso beans. "Fifty percent will be addicted, and fifty percent won't be able to eat it," Todd said.
Anyone can find something they like on the menu, but not everything on the menu is designed for everyone. "Either you love it or you can't do it. If everyone is OK with it, then no one loves it."

Results speak for themselves: Customers drive from 45 minutes to six or even eight hours just for a meal. A Hungarian traveler had seen the diner on the Food Network and made it a goal to visit during his trip to America.
Adapting and Growing
Delta Diner initially opened daily from 8 a.m. to 2 p.m., but when customers showed an interest in burgers, which aren't on the daily menu, Todd started Burger Mondays, featuring a menu of seven specialty burgers, fries, and the usual malts and shakes, but from 11 a.m. to 7 p.m. instead.
Not long after the opening of the diner, Nina created Taste Budz, a coffee counter and ice cream shop in the old stone storage building, perfect for waiting customers.
But bigger plans—plus upgrades to the diner's existing kitchen—demanded bigger spending. Rather than turning to a bank, the Buchers opened their LLC to 35 small investors, many of them loyal customers, to become silent shareholders.
Then came the Tin Tap House and Chicken Shack—together called the TapShack—two mural-covered containers connected by an arcing steel roof. The bar container serves eight brews from Earth Rider Beer in Superior, Wisconsin, with a Caribbean-style lager brewed specifically for the outlet. Open Wednesday to Sunday afternoons in season (it's closed until spring), the shack serves jerk pork and ribs, seafood fritters, and the Lilliput Special—a jerked half chicken, with callaloo, rice and peas, and festival bread—named for the inspiration for the setup, Lilliput Jerk Centre. (Nina Bucher is friends with its Montego Bay owners after more than 25 years of annual girls' getaways to Jamaica.)

Not every new idea has worked, or at least not right away. Friday Fish fries—a cultural imperative in Wisconsin—did well in the diner in high season, but didn't pay off in winter, but Bucher didn't want to keep adding it and taking it away. Instead, it became Caribbean-style and moved to the TapShack, which is only open in high season when the fish fries make business sense.
For one season, a "Pancake Porch" experiment served breakfasts through a side window for those who didn't want to brave long wait times for the diner's 48 seats, but it never took off. "Prior to the pandemic, we couldn't give away outdoor seating; the market wanted the interior experience." That changed, and now they serve up to 60 with some extra outdoor tables.
A Different Work Model
In 2016, the diner introduced a no-tip policy. "We are in the experience business, and everyone in the house is contributing to that," Todd said. "Everybody needs to be addressed in terms of compensation in a way that is both fair and equitable." Raising menu prices 20 percent funds a starting wage of $15 an hour for full-time workers out front or in the kitchen. Each server explains this policy to any new customers while also walking them through each item on the menu that day.
For years, Todd worked the grill himself, but kitchen staff mastered the tasks, giving him more time to work on other projects, such as the TapShack as well as a line of in-house products. The house hot sauces and the devilishly delicious Delta Diner spicy pickled garlic are produced on site and for sale up front. The growing product line spreads out revenue from just dining.
The diner adapted during the pandemic, with online orders and pickup, and even closing during a couple winter months. But the experience made Todd realize some of the staff could use a break from an exhausting busy season, so the diner closed for November and December 2021. Employees who needed to stay working focused on production work with Delta Diner products, while those with a side gig or artistic ambition were able to take advantage of some personal time. Starting Jan. 1, they reopened for Saturdays and Sundays only.
On the Map
The parking lot is full on a summer's day, and a crowd waits as much as an hour or more to get a table or counter stool inside. Some days you might find a long row of Harleys or classic cars in the lot, as road touring groups often add Delta Diner to their itinerary.
"We are in the experience business, and it revolves around food and vibe. One happens to be 'diner' and the other is very island and Caribbean. That vibe has to be right, and the food has to be right, and you have to put the right customers on that platform," Todd said. But he sees another development for the TapShack, and it involves the small stage that appeared at the edge of the woods in 2021.
The TapShack will continue to offer the jerk experience most of the time, said Todd, but on 20 special designated days, "we are going to build an experience around a combination of food and music—it could be Cajun, it could be Southern, it could be soul food." And all of this can be found in what was just a forgotten lot along a highway in the woods.
Todd isn't surprised, however. "What they don't teach you in business school about 'location, location, location' is that if you want to build something totally unique, you are better off creating that location and drawing people to it."
If you build it, they will come? Seems so. Put Delta Diner on your road-trip bucket list.