Demonstrators Protesting the House Arrest of Chen Guangcheng Clash with Police in Shandong
February 10, 2006 12:00 am Last Updated: February 10, 2006 12:00 am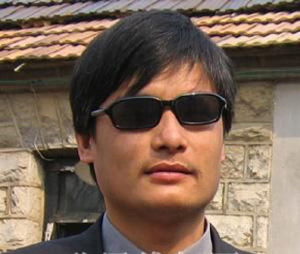 Tensions over the long-term house arrest of blind human rights activist Chen Guangcheng and the detention of his nephew Chen Hua who went to visit him, have boiled over. Protestors, dissatisfied with what they claim is the police's inability to make a distinction between right and wrong, clashed with police in Yinan County, Linyi City of Shandong Province. It has been reported that on the evening of February 5, over three hundred villagers overturned three police vehicles and many villagers were injured by the police. It is said that the two sides are still locked in a confrontation.
Last September, Chen Guangcheng exposed cases of illegal forced abortions of rural women by the Linyi department of family planning. After he went to Beijing and met with a lawyer, a reporter and U.S. Embassy staff, Chen was forcefully taken to Shandong by local police. The local officials promptly put him under house arrest, charging him with leaking state secrets to foreign countries. He has been under house arrest since then.
On September 19, 2005, a spokesperson for the State Family Planning Commission acknowledged that in some towns and counties in Linyi, some irregularities had occurred during the enforcement of birth control measures. These irregularities involved some illegal administrative measures and some violation of citizens' rights and interests. Dr. Teng Biao, from the Political Science and Law Department of China University and author of "Investigation Notes on Birth Control in Linyi", said that until now no local government officials had been punished for the offences, yet Chen Guangcheng, who exposed the corruption and irregularities, was placed under house arrest in retaliation.
Ming Pao newspaper reported that on the evening of February 2, when Chen Guangcheng's nephew Chen Hua went to visit him, Hua sustained injuries to his head and legs after being beaten by hired thugs who were monitoring the scene. Around 200 villagers came out in support of Hua after hearing the news. Four police, some uniformed, spirited Chen Hua away on the afternoon of 4th, with the excuse that they were taking him to make a statement. On the 5th, the police announced the detention of Chen Hua, but did not notify his family for how many days they would detain him nor the location or reason for his detention. This enraged the villagers.
At around 7 p.m. on February 5, the throng of villagers gathered around Chen Guangcheng's home in Shigu Village gradually swelled. According to Chen Guangcheng and Professor Teng Biao, there were about three to four hundred people at the scene. Yinan County authorities sent dozens of police to reinforce the police contingent already in place and that is when both sides clashed.
Microsoft VBScript runtime error '800a01fb'
An exception occurred: 'hz.next'
/_website/pagebase/article.asp, line 288