While Republicans extended their majority in the Senate in the midterm elections, Democrats seized Congress after flipping dozens of seats on Nov. 6.
The new majority means Democrats will head all the committees in the House and gain subpoena power.
Ending eight years of Republican control that began with the tea party revolt of 2010, Democrats picked off more than two dozen GOP-held districts in suburbs across the nation on the way to securing the 218 seats needed for a majority.
As of early Wednesday, two dozen races had yet to be decided, meaning the tally could grow slightly larger. But the final count is likely to leave Democrats with a narrow majority that could be difficult to manage and preserve.
Upsets came in for Democrats in districts across the nation even as Republicans held more seats than some forecasters believed possible. The two biggest upsets were Kendra Horn over Rep. Steven Russell in Oklahoma's 5th district and Joe Cunningham over Katie Arrington in South Carolina's 1st district, according to Dave Wasserman of Cook Political Report.
In locking down a majority, Democratic candidates flipped seats in several suburban districts outside Washington, Philadelphia, Miami, Chicago, Denver, and Dallas that were considered prime targets for turnover because they were won by Hillary Clinton in 2016. The Democrats made only slight inroads in Trump country.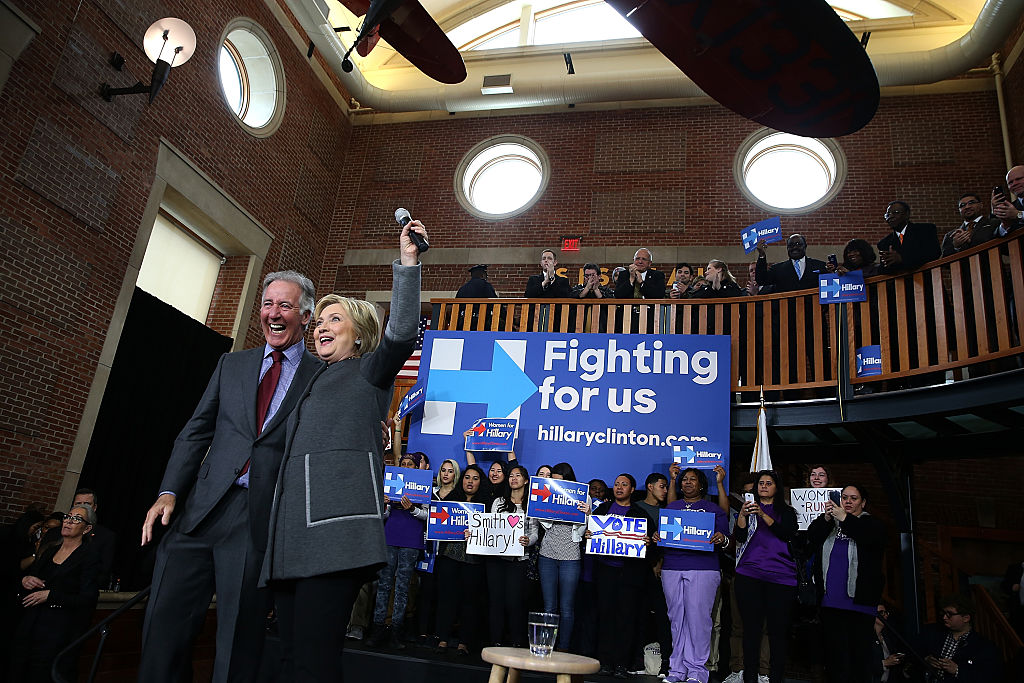 Investigations
Democrats have already vowed to launch investigations into various aspects of President Donald Trump's life, including his tax returns and his businesses.
A probe into possible collusion with Russians during the 2016 election is already underway but has turned up nothing linking Trump or any other American to Russian efforts to influence the vote that year. Instead, evidence has emerged of a widescale effort by the U.S. government to prevent Trump from winning.
Rep. Richard Neal (D-Mass.) will become the head of Ways and Means Committee. He said he wants to formally request the president's tax returns. Rep. Elijah Cummings (D-Md.), who will become the head of the Oversight Committee, is also expected to probe Trump's businesses for possible ethics issues.
The tax code includes a provision that lets select officials, such as the chairmen of those two committees, to request specific tax returns from individuals or entities, reported the Washington Examiner. But the law poses difficulties because it doesn't allow the public release of the tax returns unless the person agrees to it, something Trump is unlikely to do. Leaking carries penalties, including a prison sentence of up to five years.
Still, Democrats have vowed to probe Trump's personal finances and do what they can to make their findings public.
"The more and more you get into the investigation, whether it's obstruction of justice, whether it's colluding with the Russians, whatever," Rep. Bill Pascrell (D-N.J.) said. "The deeper that you get into those investigations the more you realize the key to all of this is his economic operations."
Trump has appeared unconcerned, telling reporters this week: "I don't care. They can do whatever they want and I can do whatever I want."
Rep. Jerry Nadler (D-N.Y.), who will become head of the Judiciary Committee, is also planning investigations of Trump's policies on immigration, including at the border, and the Intelligence Committee could reopen a probe into potential Russia interference in the 2016 election after the committee closed its probe, saying it found no evidence of collusion.
While Democrats are excited about probing Trump, others noted that that could backfire by sending independent voters to Trump's camp. Many Trump supporters already believe investigations into him have gone too far, and a string of new subpoenas could end up alienating voters.
"I don't know that there will be much of an appetite" for members of Congress to spend their time "investigating, instigating, trying to impeach, and subpoena people," White House counselor Kellyanne Conway told reporters late Tuesday night.
Israel has hypnotized the world, may Allah awaken the people and help them see the evil doings of Israel. #Gaza #Palestine #Israel

— Ilhan Omar (@IlhanMN) November 16, 2012
Anti-Semitism
Even as many hailed the gains by Democrats, others pointed out that their ranks included at least two newly elected congresswomen who have radical views on Jews and Israel.
Rashida Tlaib (D-Mich.) and Ilhan Omar (D-Minn.) both made history by becoming the first two Muslim congresswomen, but face heavy criticism about views some said are clearly anti-semitic.
Omar, a self-described intersectional feminist who wears a hijab in public, once said in tweet, "Israel has hypnotized the world, may Allah awaken the people and help them see the evil doings of Israel."
Responding to criticism of the missive, she refused to apologize. "Drawing attention to the apartheid Israeli regime is far from hating Jews. You are a hateful sad man, I pray to Allah you get the help you need and find happiness," she told someone who pointed out her comments.
Omar also opposed a bill in the Minnesota Legislature that would have barred the state from working with companies that support the Boycott, Divestment, and Sanctions (BDS) movement against Israel, reported the Times of Israel.
Omar has also come under fire for appearing to marry her brother for immigration purposes.
Tlaib has expressed support for BDS, wants Israel to become one state, and wants United States aid to the country cut in the meanwhile, reported JDS. She's a close friend of Linda Sarsour, the Women's March co-leader who has expressed support for Louis Farrakhan, the Nation of Islam head who recently said "Jews are Termites" and appeared in Iran to chant "Death to Israel."
Sarsour has described Tlaib as a mentor.
Confusion over Tlaib's views on Israel led the lobby group J Street to ultimately withdraw its endorsement of her in August.
"After closely consulting with Rashida Tlaib's campaign to clarify her most current views on various aspects of the Israeli-Palestinian conflict, we have come to the unfortunate conclusion that a significant divergence in perspectives requires JStreetPAC to withdraw our endorsement of her candidacy," J Street announced.
"We cannot endorse candidates who conclude that they can no longer publicly express unequivocal support for a two-state solution and other core principles to which our organization is dedicated," it continued.
The Associated Press contributed to this report
From NTD News