The Iowa Democratic Party declined to have a new voting application vetted by the Department of Homeland Security, according to Chad Wolf, the department's acting secretary.
The app, developed by Shadow Inc., was blamed for some of the problems during the Democratic caucuses on Feb. 3. The issues led to a delay in releasing the results of the caucuses.
"Our cybersecurity and infrastructure security agency had offered to test that app from a hacking perspective," Wolf said Feb. 4, during an appearance on "Fox & Friends." "They declined, so we're seeing a couple of issues with it."
There's no evidence of a hack, Wolf said.
"Right now, we don't see any malicious cyber activity going on. No one hacked into it. This is more of a stress or a load issue as well as a reporting issue that we're seeing in Iowa," he said.
"Given the amount of scrutiny that we have on election security these days, this is a concerning event, and it really goes to the public confidence of our elections."
The Iowa Democratic Party didn't immediately respond to a request for comment about how the party tested the app. Party officials declined to provide details about the app when asked by multiple outlets before the election. Troy Price, the chairman of the state party, told NPR that the state party worked with the national party's cybersecurity team and Harvard University's Defending Digital Democracy project.
"We as the party have taken this very seriously, and we know how important it is for us to make sure that our process is secure and that we protect the integrity of the process," Price said. "We want to make sure we are not relaying information that could be used against us."
Price said at a press conference on Feb. 4: "We had no knowledge of DHS making that offer to us."
Party spokeswoman Mandy McClure said late Feb. 3 that the election results were delayed due to "quality checks" and inconsistent reporting, but said the app developed by Shadow didn't go down and wasn't hacked. Ballots provided a sound paper trail that was being used to tally the results, she added.
No email addresses or phone numbers were listed on Shadow's website. The company is full of "campaign and technology veterans" who have built and put into place technology for Hillary Clinton's and Barack Obama's campaigns as well as Google, the Democratic National Committee, and the AFL-CIO union, the company said.
"Our passion is to create a permanent advantage for progressive campaigns and causes through technology," the company stated. No staff members were identified on the site.
In a statement on Feb. 4, Shadow said, "We sincerely regret the delay in the reporting of the results of last night's Iowa caucuses and the uncertainty it has caused to the candidates, their campaigns, and Democratic caucus-goers."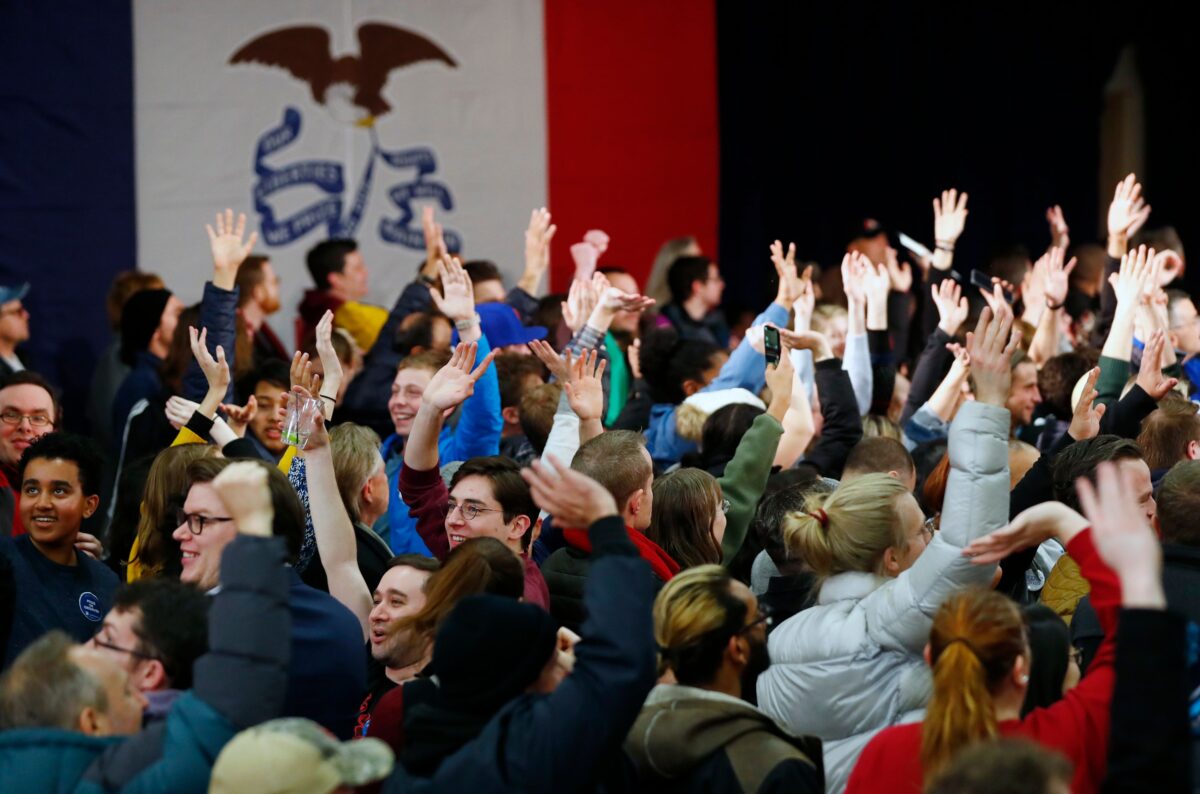 Several high-level Shadow executives, including CEO Gerard Niemira, worked on Clinton's 2016 campaign. Niemira was previously the chief technology officer and chief operating officer at ACRONYM, a nonprofit digital strategy firm.
Shadow was created in part from investments by ACRONYM, the nonprofit's founder and CEO, Tara McGowan, said in January 2019.
In a statement issued overnight, the nonprofit attempted to distance itself from Shadow, noting it was one of multiple investors in the company.
"We are reading confirmed reports of Shadow's work with the Iowa Democratic Party on Twitter, and we, like everyone else, are eagerly awaiting more information from the Iowa Democratic Party with respect to what happened," ACRONYM spokesman Kyle Tharpe said in a statement.
ACRONYM didn't provide any technology to the DNC, Iowa Democratic Party, or presidential campaigns, the statement said.
Robby Mook, Clinton's 2016 campaign manager, also distanced himself from the app on Feb. 3 after people drew attention to the Des Moines Register reporting last week that Mook and experts in a number of fields "simulated the different ways that things could go wrong on caucus night."
"Sorry, folks," Mook wrote on Twitter. "I did NOT have anythjng [sic] to do with building the Iowa caucus app. I dont know anything about it, had no role in it, and dont own a company that makes mobile appa [sic]."
Shadow was paid $58,000 in August 2019 by the Nevada Democratic Party, and the Iowa Democratic Party paid the company over $63,000 in late 2019, according to campaign finance records. The Nevada Democratic Party didn't respond to a request for comment. Former South Bend, Indiana, Mayor Pete Buttigieg's campaign also paid Shadow more than $42,000 last year for "software rights and subscriptions."