Rival Democratic presidential candidates expressed displeasure with a shift in rules that was widely perceived to benefit former New York City Mayor Michael Bloomberg, enabling him to make a debate stage for the first time.
The Democratic National Committee (DNC) dropped a requirement for a certain number of donors, leaving only a polling threshold to qualify for debates. "Now that the grassroots support is actually captured in real voting, the criteria will no longer require a donor threshold," said Adrienne Watson, a DNC spokesperson.
Out of the leading candidates in the field, the rule change appears to only benefit Bloomberg. Other candidates took notice, hammering the 77-year-old over his prolific personal spending on the race and decrying the change.
"The DNC didn't change the rules to ensure good, diverse candidates could remain on the debate stage. They shouldn't change the rules to let a billionaire on. Billionaires shouldn't be allowed to play by different rules—on the debate stage, in our democracy, or in our government," Sen. Elizabeth Warren (D-Mass.) said in a statement on Twitter.
Rep. Tulsi Gabbard (D-Hawaii) was even more direct. "Billionaire Bloomberg just bought the DNC," she wrote in a tweet.
"Let's make one thing clear: changing the rules now to accommodate Mike Bloomberg and not changing them in the past to ensure a more diverse debate stage is just plain wrong," fellow billionaire Tom Steyer added in a statement.
Jeff Weaver, a senior adviser to Sen. Bernie Sanders (I-Vt.), said in a statement that the change in rules was made "to accommodate Mike Bloomberg, who is trying to buy his way into the Democratic nomination."
"That's the definition of a rigged system," he added.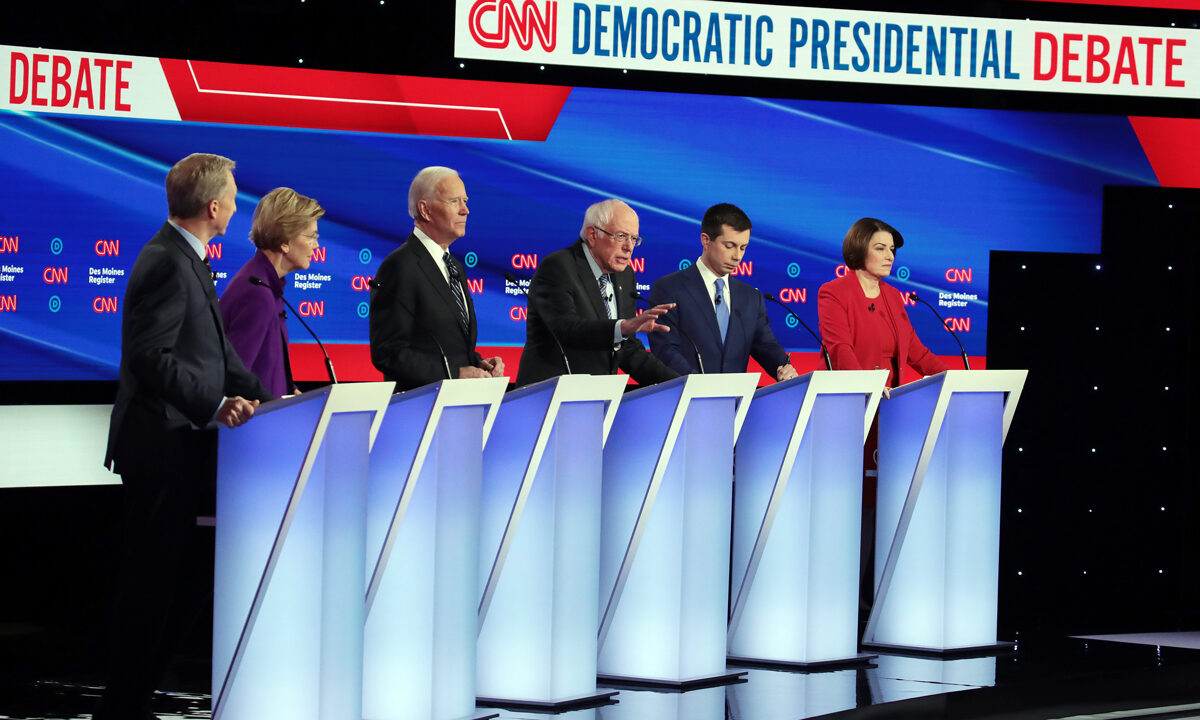 Former Vice President Joe Biden, campaigning in Iowa, was asked about his thoughts on the change for the Feb. 19 debate in Las Vegas. "He's not even on the ballot in Nevada," Biden told reporters.
Former South Bend Mayor Pete Buttigieg declined to criticize Bloomberg or the rule change.
"I'll leave it to the DNC to set the rules and then we compete under them," he told reporters on the campaign trail in Council Bluffs, adding that the change signaled "a different focus."
"It is important that we have that process where folks have to stand with their competitors and explain why each of us is the best," he said.
The Bloomberg campaign didn't respond to a request for comment. Earlier in the week, a spokesperson told The Epoch Times by email: "If the rules change and we meet the eligibility criteria, we will participate."
A number of candidates pushed the DNC to change the debate qualifying thresholds earlier in the campaign, including several who later dropped out. Julian Castro, the former Housing Secretary, said in a tweet that it appeared the committee made the change to benefit Bloomberg.
"When @CoryBooker led an effort to change the debate thresholds, the DNC refused—saying they couldn't benefit any candidate," he said. "It seems the only candidate they're willing to benefit is a billionaire who's buying his way into the race. Total mess."