Several Democratic political action committees are erecting billboards in Georgia urging Republicans not to vote in the upcoming Senate runoffs.
Really American PAC, one of the committees, has placed two versions around Georgia.
One says that Sens. David Perdue (R-Ga.) and Kelly Loeffler (R-Ga.) "got RICH" while "Georgians got SICK."
Another alleges the senators "didn't deliver for" President Donald Trump, so "DON'T deliver for them."
The PAC said nine of the billboards went up on Nov. 30 and asked for more donations so they could put up more.
"We're blanketing Georgia with our billboards to remind Georgians, among other things, that their Senators got rich while Georgians suffered," the group said in a statement.
A second committee, the Mad Dog PAC, was sending a billboard truck to Atlanta on Dec. 1, its leader said. The billboard uses phrases similar to one of Really American PAC's billboards.
"Georgia Republicans aren't fooled by Democrats' disgustingly dirty tricks," Loeffler campaign spokesman Stephen Lawson told The Epoch Times in an email. "Every Republican in this state knows the stakes of this race because it will decide the future of our country, and that's why everyone is getting to the polls to vote for Kelly Loeffler and David Perdue.
Abigail Sigler, a Georgia GOP spokeswoman, said, "It's disappointing to see an extreme left-wing super PAC come into Georgia with the sole intention of deceiving voters, but no amount of billboards will divide Georgia Republicans, who know that Kelly Loeffler and David Perdue continue to stand with President Donald Trump."
A spokesperson for Perdue's campaign didn't immediately respond to a request by The Epoch Times for comment.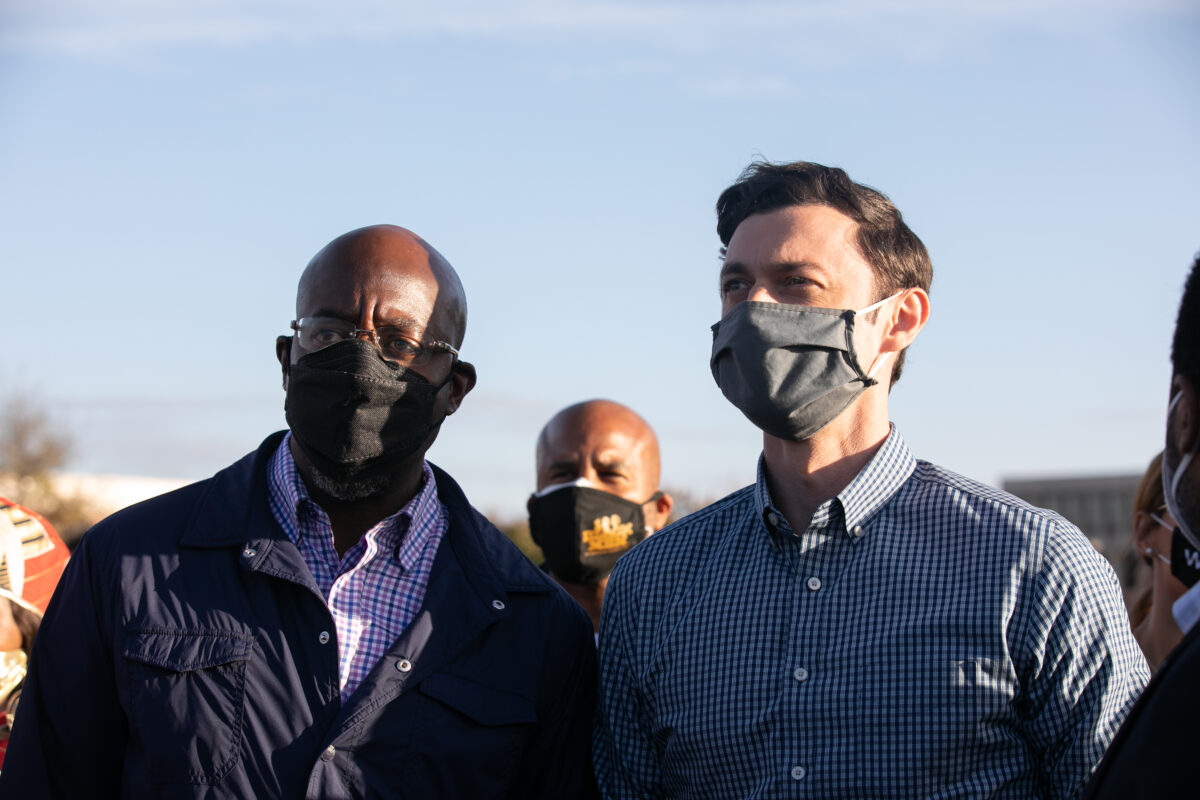 The notion of boycotting the Jan. 5, 2021, runoffs has been criticized by leading Republicans, who are urging voters to cast their votes, with control of the Senate up for grabs.
Republicans have 50 Senate seats in the next Congress. They'll retain control unless Democrats win both runoffs and the White House. Vice presidents can cast tie-breaking votes in the Senate.
Loeffler is facing Atlanta pastor Raphael Warnock and Perdue is vying against filmmaker Jon Ossoff. The runoffs were triggered because no candidate won a majority of the vote in the Nov. 3 elections.
Interest in the runoffs is high. Nearly 1 million voters have requested mail-in ballots, a state official told reporters this week.
Republican National Committee Chair Ronna McDaniel over the weekend urged voters at a committee event to turn out for the runoffs.
"It's not decided. This is the key," she said.
"So if you lose your faith and you don't vote and people walk away, that will decide it."
Donald Trump Jr., the president's son, took to social media last month to call the idea of not voting "nonsense."
"We need ALL of our people coming out to vote for Kelly & David," he wrote.
The president said that sitting out the Georgia runoffs would be "playing right into the hands of some very sick people."
Loeffler sounded a similar message on Fox News' "Sunday Morning Futures."
"Look, everything's at stake in this election. The future of our country is on the ballot on Jan. 5 right here in Georgia. We know what the stakes are," she said.
"We know that if Chuck Schumer gets his way and says, 'Now we take Georgia, then we change America,' they would fundamentally and radically change America for the worst. We are not going to let that happen."