Delve Into the World's Most Celebrated Kitchens Through Film
July 18, 2013 7:08 am Last Updated: July 18, 2013 11:12 am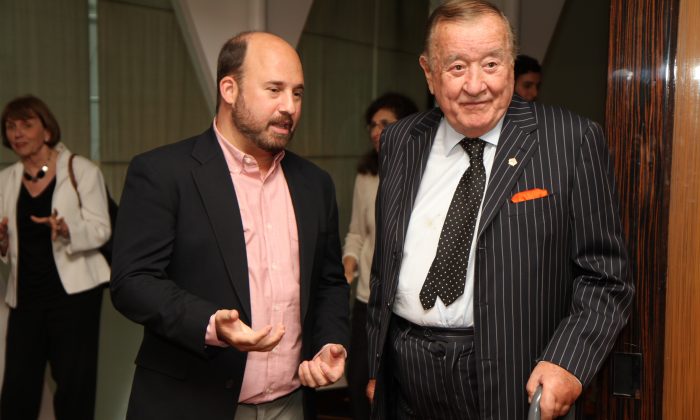 If you've ever dreamed of getting an in-depth look into the kitchens of El Bulli and Le Cirque, or following restaurateur Danny Meyer or chef Paul Liebrandt, turn to SundanceNOW Doc Club, whose curated documentary series shines a light on a fascinating universe.
Thom Powers, who curates the Culinary Cinema series, said filmmakers are often working for years on the documentaries, offering a very different alternative to the reality shows out there today. Currently, nine superlative documentaries are available for streaming through the SundanceNOW site through the rest of July.
"I love food TV shows, but there tends to be a format to those shows, which is, here is the chef, he's going to make something in an hour—go! And then it's over," Powers said. Investing time into a film, on the other hand, "you get a story that's more layered, more nuanced. full of suspense, you see people at the their best and at their worst."
Powers and several film directors whose documentaries are featured recently attended a party at Le Cirque last week to honor their work as well as the 55th anniversary of Cirque patriarch Sirio Maccioni's arrival in New York. Le Cirque is featured in one of the films in the series, Andrew Rossi's "Le Cirque: A Table in Heaven."
Powers said the film challenged his expectations.
"I thought, that's some rich person's restaurant, but to meet the people behind it in this film, they're such lovable characters. One of my favorite scenes is when they're all eating at McDonald's—the whole Maccioni family is eating at McDonald's while they're planning their restaurant."
Director and filmmaker Andrew Rossi, who is familiar with the restaurant business (his parents owned a restaurant), followed the Maccionis at Le Cirque from 2004 to 2007.
Marco Maccioni, one of the three brothers, said his family was aware of Rossi for the first few weeks, then got busy and forgot he was around. "He disappeared and became just like that wall, or this piece of carpet. I had no idea where he was."
Three years later, out of the blue, the family was asked to view the screening of the iteration of the documentary at the time.
"As a family we looked at each other and said, 'what documentary?' … My reaction was, holy cow, what did we say? And I think my father said 'you actually had film in that camera?'" Maccioni said.
"I remember heading down to the Soho House. We were all freaked out. [Rossi] arranged a car for us to get down there. We didn't say one word on the way down."
In the screening room, each member of the family sat apart, both "freaked out by the whole thing" and "a little mesmerized."
By the end of the movie, though, Marco Maccioni was in tears. "It was truly … he hit it. He literally got it."
For Rossi, working on the documentary provided much insight: "I was surprised … how much [the Maccionis] were themselves at the restaurant … they really don't mince words. Often times it's in Italian, so the New York clientele doesn't always understand, but it can really get rough. I found that really fascinating, how permeable the wall between the personal and the public really is for the Maccionis. I think that infuses the restaurant with something special that really draws people.
"It has personality, and it's not constructed. It's not engineered, it's very natural."
What Marco Maccioni enjoyed most about the film is that it "demystified this aura that's created about celebrity chefs in other sources of the media… These people are elevated to god-like figures or personalities to a certain extreme when in reality, people who really do this work … are the most humble and human people in the world."
Also showing in the series is "Pressure Cooker," which is about high school students in Philadelphia's inner city competing for scholarships. Filmmaker Mark Becker said he normally feels a sense of privilege that often comes with documentaries, of being allowed into people's homes and lives, but it was especially so with this film.
People are always more surprising and complicated than the stereotypes of inner city life would let on, Becker said. "We strove, when we were making the film, to avoid cliches because that wasn't what we were presented with."
As with the Maccionis, the film gets down to the humanness of the people featured. "There are people who might have made a film about getting out of the hood. And even though that was an element in the film, underneath it all, it's really about their lives. Their lives are so much more rich and transcendent, and like everybody's lives really."
"This is a slice of Americana," Becker said. At graduation, the youth were singing songs—not the R&B or hip hop most would expect, said Becker—it was cheesy pop songs, like you might hear out of any teenager's lips anywhere.
The subscription to the SundanceNOW Doc Club is $4.99 for a month, $29.99 for a year. It includes access to the full archives of past documentaries. For more information, visit www.sundancenow.com/doc-club