News Analysis
Defense diplomacy is Beijing's stealthy move to expand its soft power through arms sales and military education—for both autocratic states and democratic allies of the United States—in the Americas.
The Chinese regime is giving arms, loans, and investment to Latin America and the Caribbean (LAC), in exchange for mineral resources and political allegiance. China imports about 75 percent of the world's traded iron ore, and 60 percent of its copper from Latin America. Beijing repays the favor and strengthens relationships by providing the LAC region with military hardware and training.
The Bolivarian Alliance for the Peoples of Our America (ALBA), an association of socialist governments, was the first buyer of Chinese weapons in the early 2000s. ALBA members include Antigua and Barbuda, Bolivia, Cuba, Dominica, Grenada, Nicaragua, Saint Kitts and Nevis, Saint Lucia, Saint Vincent and the Grenadines, and Venezuela.
Using the ALBA states as a springboard, arms sales spread across the continent. Since that time, Venezuela, Ecuador, and Bolivia dramatically increased their Chinese arms purchases.
Chinese weapons sales to LAC nations were just about zero in 2005, but grew to $130 million by 2014. Sales include not only small arms, but also vehicles and aircraft. In 2008, Venezuelan President Hugo Chavez purchased K-8 military training jets and air search radars from China. Chavez, and later Nicolas Maduro, purchased PLA transport aircraft and self-propelled artillery, as well as the armored personnel carriers that were deployed against protesters in 2014.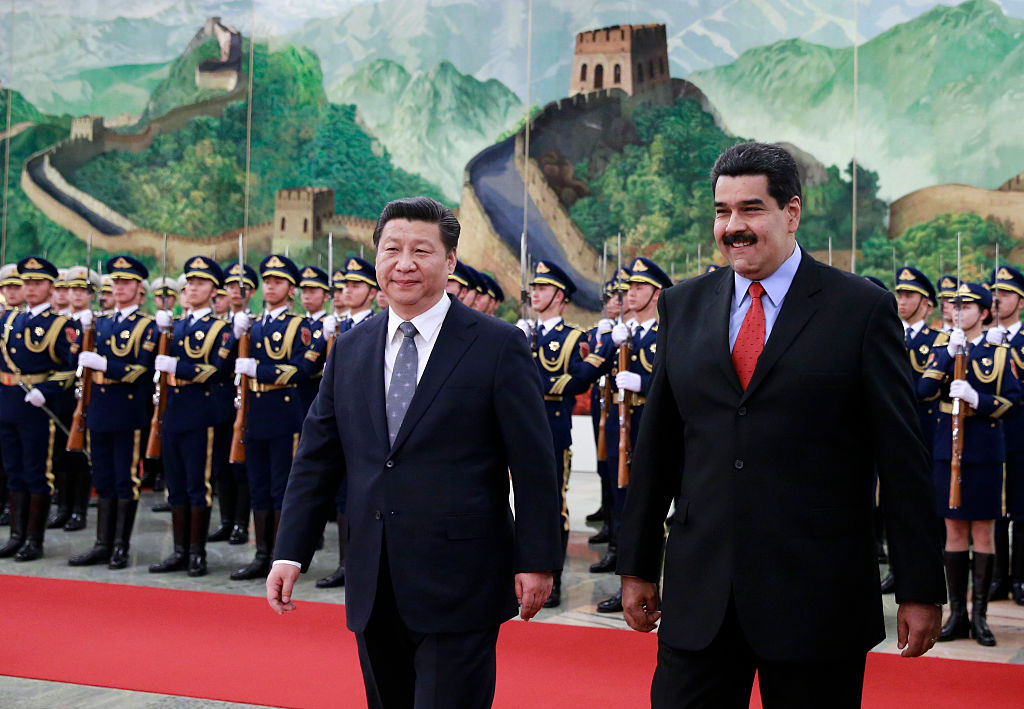 Today, the largest regional purchasers of Chinese arms are Venezuela, Bolivia, Trinidad and Tobago, Peru, and Ecuador. Venezuela accounts for 85 percent of China's weapons sales to Latin America.
The CCP has been increasing its engagement with the LAC in terms of economics, trade, investment, geopolitics and influence; and convincing many member countries to switch their diplomatic recognition from Taiwan to China. According to a Chinese military white paper, published in state-run media China Daily, China's military cooperation with LAC is the next step in the CCP's global influence strategy.
Beijing has increasingly used the military to promote soft power through "harmless" visits and performances. In 2002, the People's Liberation Army Navy (PLAN) conducted its first circumnavigation of the globe, along with Ecuador, Peru, and Brazil. The PLA band performed in Grenada. The acrobatics team of the PLA has conducted shows in Peru, Ecuador, Guyana, Venezuela, and Bolivia. PLA fighter jets took part in air shows in Chile, Argentina, Peru, and Brazil.
Joint exercises have been another excuse for China to temporarily station its soldiers and ships in the Americas. The PLA conducted its first bilateral military exercise— called Angel de la Paz—in the region in 2010, dispatching the hospital ship Peace Ark to Peru. China has since sent troops to LAC to conduct training and to participate in humanitarian missions. For example, the Chinese military police served as peacekeepers in Haiti, as part of United Nations Peacekeeping Force in Haiti (MINUSTAH), from 2004 to 2012.
Uruguay signed a defense cooperation agreement with China in 2016. China gave them donations of trucks, ambulances, cars, and bullet proof vests. Beijing also sold Uruguay L-15 fighters and Z-9 helicopters. Numerous Uruguayan officers have attended training at China's National Defense University in Beijing, as well as general staff courses in Nanjing.
Military instruction and joint exercises are another means of military diplomacy. Venezuela regularly sends military personnel to China for education. In 2017, Venezuela took part in a Chinese military exercise called "Clear Sky."
Over the past several years, more than 100 officers, from 12 Latin American countries, have graduated from PLA academies, including the People's Liberation Army (Navy) Command College and the elite PLA National Defense University (PLA NDU). By opening courses for junior officers, Beijing wants them to begin building relationships with people who will later be in a top position.
PLA NDU has multiple institutions, all of which have hosted officers from Latin America. The International College of Defense Studies, located in Changping district in Beijing, has a school especially for foreign military. Chile has been sending officers to the college since 1997, while Uruguay's military personnel began attending in 2009. Other countries whose officers were educated at the military college include Mexico, Peru, and Colombia.
The Army Command College, in Nanjing, has been attended by officers from Colombia, Peru, Barbados, and Jamaica. The Chinese Navy Command School, outside of Nanjing, has taught officers from Uruguay and Brazil. Uruguayans also attended a five-month special forces course in Shijiazhuang. And Chilean Marines trained at the Center of Military Instruction.
So far, there have been no PLA bases built in the LAC region, but PLA personnel are manning at least three Soviet-era monitoring facilities in Cuba: Lourdes, Bejucal, and Santiago de Cuba. A Chinese company is in the process of purchasing an island, off the coast of El Salvador, where it wants to build a shipping port.
As part of the maritime component of the Belt and Road Initiative (BRI), the CCP is establishing a network of ports around the world. China now has partial ownership of at least a dozen ports in Europe, as well as ports in Pakistan, Argentina, Uruguay, Cuba, Mexico, and Panama. U.S. defense experts are concerned that Chinese shipping ports could be designed as dual-use ports, large enough to accommodate PLA Navy ships.
Views expressed in this article are the opinions of the author and do not necessarily reflect the views of The Epoch Times.