Decade of MP3 Experiments Has Hilarious Results (Photos, Video)
September 22, 2014 5:22 pm Last Updated: September 22, 2014 5:32 pm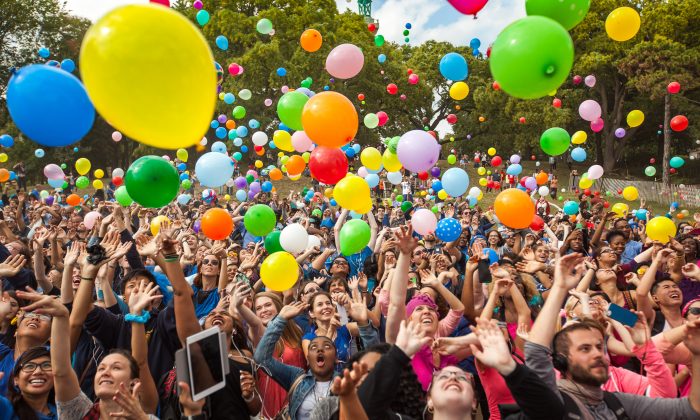 NEW YORK—It was an ordinary day in 2004. The European Union had just expanded by 10 states, the iPod Mini was just released, and thousands of Harvard students had just started to enjoy the obscurities of "Thefacebook."
Charlie Todd was riding on a subway when he noticed many people were wearing headphones. The MP3 music players were really taking off. Then a thought occurred to him: "What if everyone was listening to the same song?" Or even better: "What if everyone was listening to the same instructions?!"
Being the founder of Improv Everywhere, a "prank collective," as the company calls itself, there wasn't much lag time between Todd's wacky idea and its happening. 

That year, he put together 70 people for a staged performance that established the premise of the "MP3 Experiment"—everybody has the same audio track in portable players; they press "Play" at the same time and follow instructions voiced on the track, achieving seemingly impossible coordination.
It worked.
The following year, Todd moved the event to Central Park with 200 participating. A year later, 600 joined. 
Catching On
In 2013 he had to split the event in two so the thousands of participants wouldn't overwhelm the South Street Seaport location.
The possibilities are limitless. Participants may be asked to suddenly freeze—especially effective in busy public spaces—or point to the nearest tree, act like in a movie, form a line, assemble, disperse, make some noise, etc.
This year, about 4,000 participated in Fort Greene Park, Brooklyn, according to the event's Facebook pages. Again, they split in two groups, starting at 2 p.m. and 6 p.m.
Julian Golfarini, 26, joined for the fifth time. He remembered the astonishing moment of his first experiment on Times Square in 2010 when he pressed "Play" and the instructions said everybody participating should identify themselves by a signal. 
"It blew my mind," he said. "I was like 'Oh my God there's so many people here'."
The moment of surprise was spoiled this year because organizers asked people to wear single-color outfits. 
"Before it even started you could see that person's definitely doing it," Golfarini said.
Yet the color division made way for a whole lot of shenanigans. Like playing tag–red's it! Or forming a "rainbow line."
"I'm surprised how creative they can be," Golfarini said.
Aside from having fun puzzling oblivious onlookers, the MP3 experiment has a power to bring people together.

"People let go of their inhibitions and no one really cares if they're making a fool out of themselves," said Jenny Poretz, 23, from Manhattan.
"Or just locking arms with a random stranger," Golfarini said. "You might never do that on a subway train but in this case it's totally fine."