Scores of Brown Pelicans along the coast of Orange County, California, have become victim to brutal attacks resulting in serious injuries, leaving many to die from severe wounds.
During the past few months, more than 32 pelicans have arrived at the Wetlands and Wildlife Care Center in Huntington Beach, brought by fish and wildlife officers and lifeguards able to capture the injured fowl.
Badly mutilated, fewer than a dozen of the pelicans survived their injuries, which authorities say point to intentional acts.
"Normally, we might see one or two injured pelicans a year," Debbie McGuire, executive director of the Wetlands and Wildlife Care Center, told The Epoch Times. "To have this many is highly unusual and absolutely heartbreaking."
Authorities said 22 of the pelicans brought to the center suffered compound fractures to their wings. A compound fracture (also known as an "open fracture") is a broken bone that breaks through the skin, causing the broken ends of the bone to come into contact with the outside environment, usually resulting in fatal infections.
"The injuries we are seeing are so severe that it was evident pretty early on that there is a person or persons out there intentionally going after the birds in an especially brutal manner," McGuire said. "It's been really hard on everyone here at the center to witness this level of animal cruelty, especially because pelicans are relatively defenseless against humans."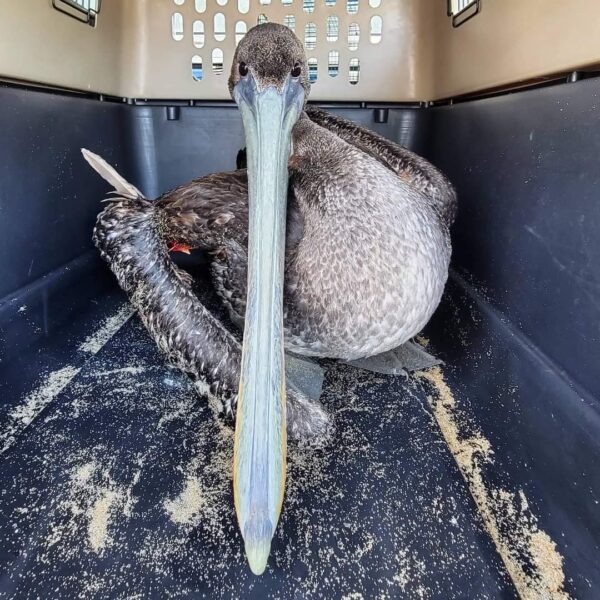 McGuire said the center is hoping the public will assist in finding the perpetrator.
There is a reward of $500 being offered for any information leading to an arrest and conviction in connection with the pelican mutilations.
"These are very serious injuries that require emergency surgeries and long-term care" said Dr. Elizabeth Wood, who has tried to save as many of the birds as possible.
The orthopedic surgery, medications, and care for the birds is costly; McGuire estimates that the cost for each of the badly injured birds is upward of $5,000. Donations are needed since a catastrophe of this nature wasn't factored into post-pandemic budgeting for the center.
"Someone out there knows something, but it's a very cold case at this point," said McGuire.
Anyone with information is asked to the Cal Tip Hotline at 888-334-2258. Anonymous tips can also be sent to the California Department of Fish and Wildlife by using tip411 to text wildlife officers. Tipsters are asked to include Penal Code 597 in their report.