The D.C. National Guard's top official on Wednesday said deployment of guardsmen was delayed after the U.S. Capitol was breached on Jan. 6 because of an "unusual" memorandum that was issued a day prior.
William Walker, commanding general of the D.C. Guard, told lawmakers during a Capitol Hill hearing that then-Army Secretary Ryan McCarthy on Jan. 5 issued a memo barring the use of the Guard's "Quick Reaction Force" without approval.
If that limitation wasn't in place, Walker alleged, he would have immediately sent troops to the Capitol following the breach, especially after getting an emotional call from former Capitol Police Chief Steven Sund at 1:49 p.m.
"We already had Guardsmen on buses ready to move to the Capitol," he said in his opening statement before two Senate Committees in Washington.
Instead, it took over three hours to get the green light to deploy after Walker told Pentagon officials of Sund's request.
By then, protestors had been roving around inside the Capitol for hours, getting close to members of Congress, entering the Senate chamber, and stealing items from offices.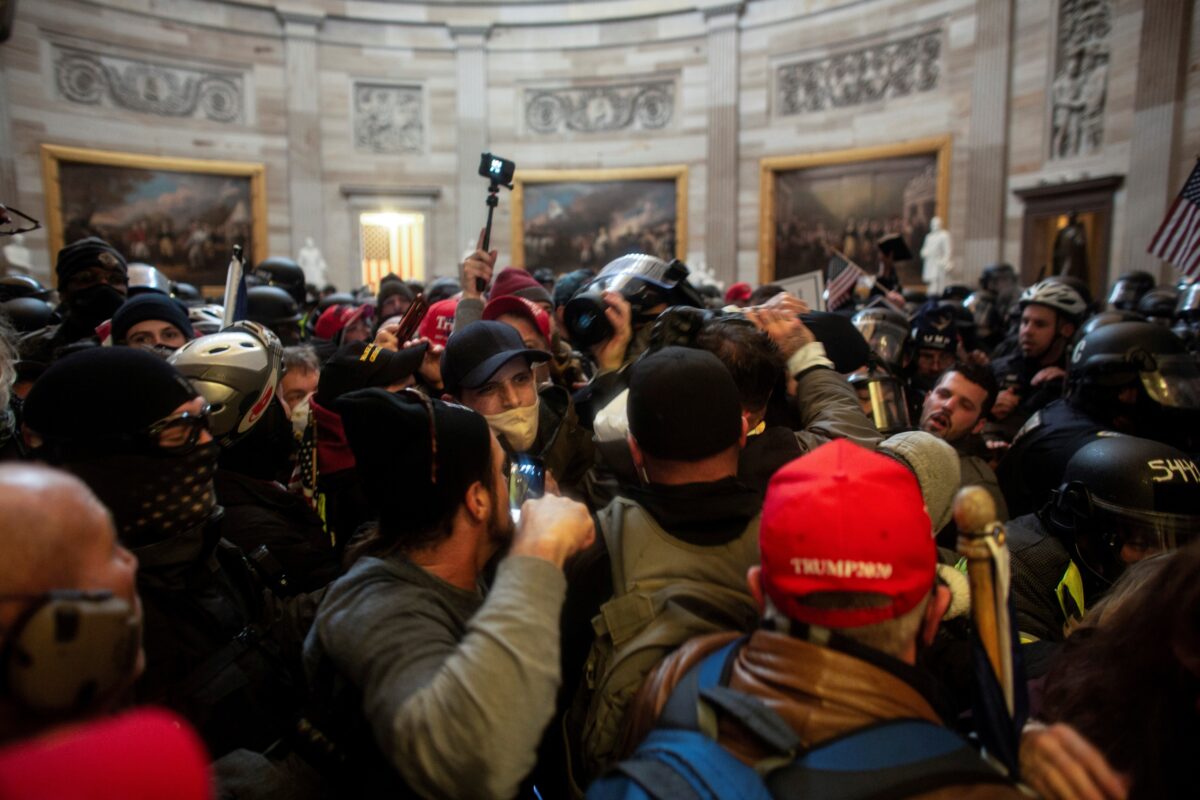 After getting approval, Guardsmen rushed to the capitol and "helped to re-establish the security perimeter at the east side of the Capitol to facilitate the resumption of the Joint Session of Congress," Walker said.
The "Quick Reaction Force" is a tool commanders typically use to help a civilian agency or help National Guardsmen who are already deployed and need assistance.
McCarthy's memo required approval to send Guardsmen from one traffic control point to another, according to Walker. He had never seen such a limitation in his 19 years in his position.
Walker said officials told him the force could be used, but only as a "last resort in response to a request from an appropriate civil authority."
Army officials thought it would be bad optics to deploy troops to the Capitol and were concerned about triggering further unrest, Walker claimed, recounting a call with officials at 2:30 p.m. on Jan. 6. McCarthy wasn't on the call, he said, but Lt. Gen Charles Flynn, brother of retired Lt. Gen. Michael Flynn, was. Michael Flynn was former President Donald Trump's national security adviser and has alleged the 2020 election was rife with fraud.
Sund told lawmakers last week that he approached former House Sergeant-at-Arms Paul Irving and former Senate Sergeant-at-Arms Michael Stenger on Jan. 4 to request the assistance of the National Guard, as he didn't have the proper authority to request the assistance himself.
Irving "stated that he was concerned about the 'optics' of having National Guard present and didn't feel that the intelligence supported it," Sund said in prepared testimony, while Stenger "suggested I ask them how quickly we could get support if needed and to 'lean forward' in case we had to request assistance on January 6."
Irving has denied that characterization of the discussion, saying he didn't worry about the optics but didn't feel intelligence supported requesting Guard support.

Sund said he called Walker, who advised him that he could be prepared to dispatch nearby Guardsmen in the event they were needed.
Sund, Irving, and Stenger were on a call with federal officials, including Walker, at approximately 2:30 p.m. on Jan. 6, during which Sund said he asked for immediate National Guard support.
According to Sund, Lt. General Walter Piatt, the director of Army staff, responded that he didn't "like the visual of the National Guard standing a line with the Capitol in the background."
"I would much rather relieve USCP officers from other posts so they can handle the protestors," Piatt allegedly said. Piatt ultimately agreed to send the request for help up the chain of command. The first 150 Guardsmen were sworn in on Capitol grounds at 5:40 p.m., officials say.
Irving and Stenger told senators last week they thought the security plan was adequate to handle the planned rallies on Jan. 6.
"This was a violent, coordinated attack where the loss of life could have been much worse," Stenger said.
Robert Salesses, who currently performs the duties of assistant secretary of Defense for Homeland Defense and Global Security, challenged Walker's testimony on Capitol Hill later on Wednesday.

Salesses said in his opening statement that then-acting Secretary of Defense Christopher Miller authorized activation of the D.C. National Guard at 3:04 p.m., after conferring with top officials. Guardsmen were told to travel to the Capitol about 30 minutes later. When they reached the grounds, they were deputized by and began supporting the Capitol Police. By 6:14 p.m., they established a perimeter on the west side of the Capitol.
Salesses also said Miller authorized McCarthy to employ the 40-person "Quick Reaction Force" to provide support if requested.
Mark Milley, chairman of the Joint Chiefs of Staff and the nation's top military official, told reporters on Monday that Pentagon officials approved a request for help from law enforcement in about 60 minutes. It did take several hours for the D.C. Guard to mobilize and go to the Capitol, he added.
"If the forces . . . were ready to go as part of the preparatory stuff, then I'd say, okay, that's a fair assessment. But this is the D.C. National Guard that went from a cold start, and they had troops there in two and a half, three hours," Milley told reporters traveling with him during a trip to Colorado. "They reacted faster than our most elite forces from a cold start."
The approval in approximately an hour was "super fast" for the Pentagon, he said, adding, "That's like sprint speed."
Trump has said he requested 10,000 National Guard personnel on Jan. 6, but was rebuffed. He said he heard the request was rejected because congressional leaders, including House Speaker Nancy Pelosi (D-Calif.), didn't want so many troops at the Capitol.
"That was a big mistake," Trump told Fox News over the weekend.
Pelosi hasn't responded to requests for comment.
Miller told Vanity Fair that Trump told him at the White House on Jan. 5 that the military needed to deploy 10,000 troops.
"I'm not talking [expletive]. He said that. And we're like 'maybe, but you know, someone's going to have to ask for it,'" Miller added.