Shoppers and diners 12 and older in the nation's capital now must show proof of COVID-19 vaccination under new rules that took effect on Jan. 15.
Washington Mayor Muriel Bowser's executive orders, announced last month, force people entering a range of indoor venues to prove they've gotten a COVID-19 vaccine by presenting the paper card people get when receiving a shot, a record of the card, or a verification application.
The mandate applies to people entering restaurants, nightclubs, and coffee shops; movie theaters, bowling alleys, and venues hosting concerts; gyms, fitness studios, and any facilities used for group fitness classes; and venues for indoor events and meetings.
Bowser, a Democrat, said the mandate was a way to ensure hospitals in the city don't get overwhelmed amid a spike in COVID-19 cases.
Republicans urged Bowser to rescind the mandate before it took effect, arguing that it would disproportionately harm businesses in the District of Columbia and drive people to spend their money in nearby locales.
"Everyone I've talked to says, 'Oh, I'll just go to Virginia. It's so close,'" Rep. Marjorie Taylor Greene (R-Ga.) told NTD, sister media outlet of The Epoch Times.
Bowser and her administration have defended the mandate, saying it will lead to more people getting vaccinated and make indoor establishments safer.
"So there are two reasons why we have the vaccine requirement: one, to encourage more people to get vaccinated, and two, to make sure that we have safer environments when we all gather together," John Falcicchio, Washington's deputy mayor for planning and economic development, told reporters on Jan. 14.
He appeared at Dauphine's restaurant, where one of the partners expressed his support for the vaccination requirements.
"We're leaning into the mayor's vaccine mandate and really stressing to people that it's safe to come in the restaurants. We're going to do everything we can to make it a safe experience for you," he said.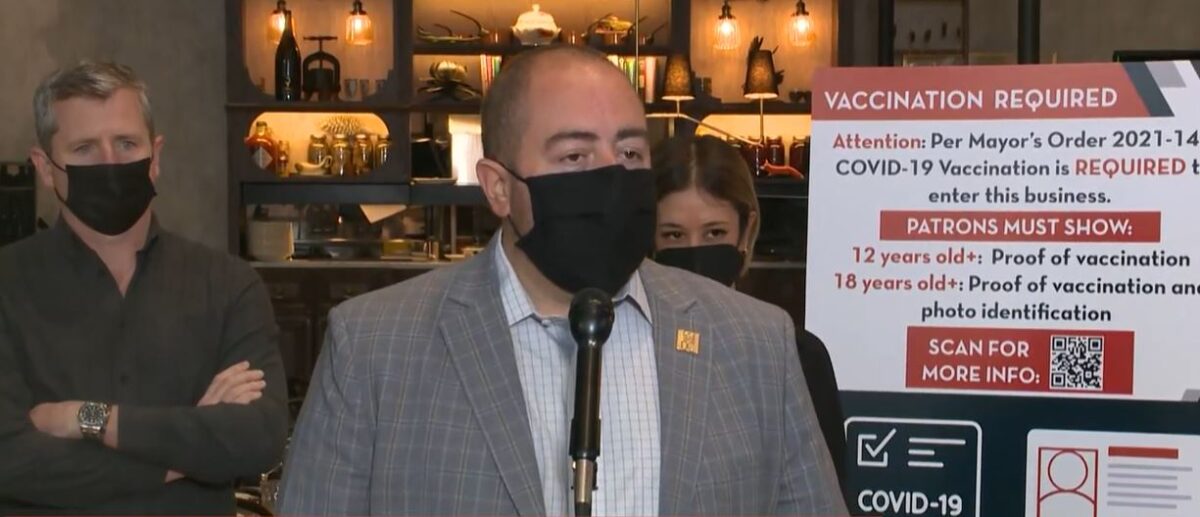 Neither were questioned on their statements, which clash with studies and data from the UK, South Africa, and elsewhere that suggest the vaccines don't protect people against getting infected by the CCP (Chinese Communist Party) virus, which causes COVID-19, especially following the emergence of the Omicron variant of the virus.
The new rule makes people show they've gotten one dose of a vaccine; on Feb. 15, people must prove they've been fully vaccinated with two doses of the Moderna or Pfizer jab or the single-shot Johnson & Johnson.
Adults have to show identification along with proof of vaccination.
Kathy Hollinger, president and CEO of the Restaurant Association of Metropolitan Washington, called the forcing of businesses to check vaccination status "burdensome" and said that "our bigger issue is the policing of everything and the layering mandates of having to have a small business police various mandates." At the same time, she expressed gratitude that the city wasn't trying to force so-called non-essential businesses to curb service or shut their doors like earlier in the pandemic.
Some establishments signaled they won't comply with the mandate.
"As has always been the case for us, everyone is welcome. This rule applies yesterday, today, and tomorrow. Hopefully we'll see you Jan. 16," The Big Board pub and burger restaurant said on Twitter.