Washington Mayor Muriel Bowser on Wednesday imposed a new COVID-19 vaccine requirement for all 12 and older seeking to enter many businesses in the nation's capital.
Bowser, a Democrat, says the mandate will increase the number of people who get a vaccine and help ease conditions at hospitals, where most patients don't have COVID-19.
"We do need more people to get vaccinated and boosted," Bowser told a press conference announcing the requirement.
Beginning Jan. 15, 2022, establishments will be required to verify patrons 12 and older have gotten at least one dose of a COVID-19 vaccine.
A month later, the bar will be raised to two or more doses of the Pfizer or Moderna vaccine or the single-shot Johnson & Johnson jab.
People can prove their vaccination status by producing paper cards or digital passports.
Workers aren't being required by Bowser to get vaccinated, at least for now.
Businesses affected by the mandate include restaurants, nightclubs, and gyms.
"If you are a resident who has not yet vaccinated and you want to continue enjoying these activities, now's the time to get vaccinated," Bowser said.
Exceptions will be made when a person briefly enters a facility, such as when picking up a takeout order.
Grocery stores, pharmacies, churches, and museums are among the establishments that won't have to verify vaccination status.
The Washington mandate follows requirements in New York City, Boston, Chicago, and Seattle.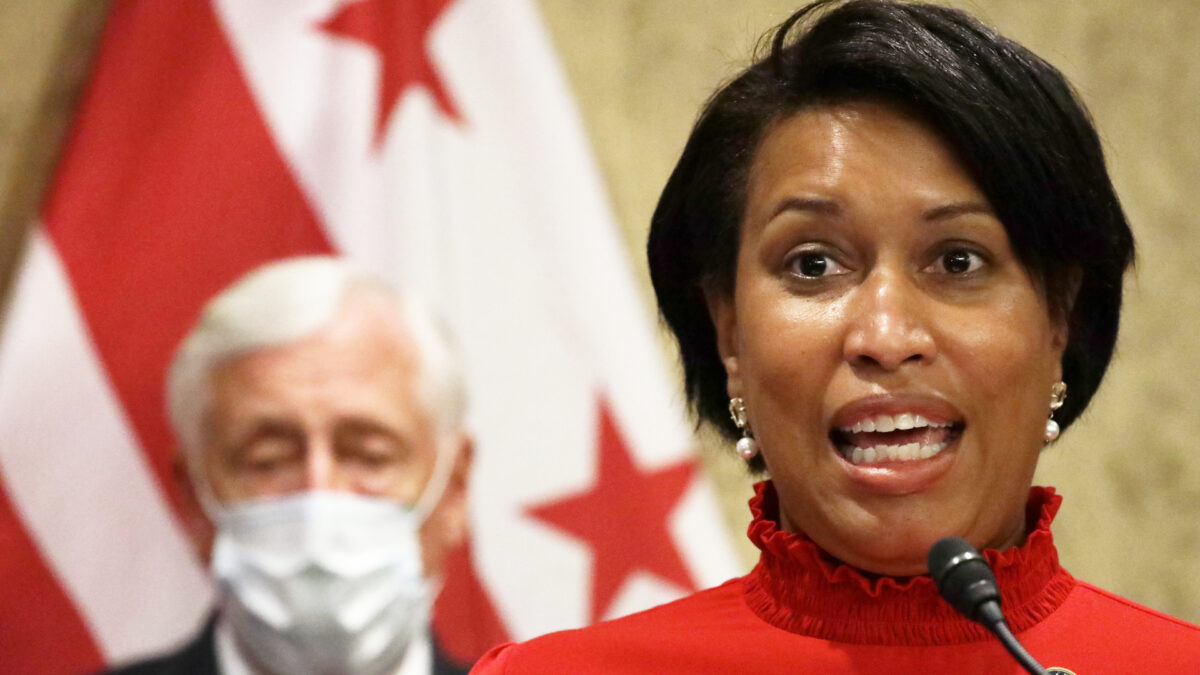 Bowser also this week announced all students must get a COVID-19 vaccine that's received Food and Drug Administration approval, if eligible, by March 1 to attend school and that all city employees must get a vaccine and a booster to continue to work for the district.
The new mandate drew widespread criticism.
"D.C. is now forcing a vax mandate. Unreal, but not surprising. Only Liberals can make sense out of forcing proof of ID to eat at a restaurant but not to vote," Rep. Andy Biggs (R-Ariz.) wrote on Twitter.
The Republican National Committee noted that over half of Washington's black residents have not gotten a vaccine, meaning they would be barred from gyms, restaurants, and some other businesses.
Terry Schilling, who runs the American Principles Project, said he wouldn't hold any events in the district or comply with the mandate.
Officials said the requirement was needed because unvaccinated people are more likely to get COVID-19 and need hospital care for it than fully vaccinated people and due to the increase in COVID-19 cases recorded in recent weeks.
Daily cases have jumped from 13.7 cases per 100,000 population last month to 123.8 cases per 100,000 population. However, the hospitalization rate has dropped and the overwhelming majority of hospitalized patients in the district don't have COVID-19.
Bowser told reporters she was aware of indications the Omicron virus variant does not cause severe disease as much as the Delta variant.
"That doesn't mean it's not disruptive, and that doesn't mean that we don't have a responsibility to contain it where we can but also make sure that our public health system, which is what we're doing, is amply resourced in able to respond in the worst case scenario," she said.