David Beckham became a household name after joining LA Galaxy soccer club in 2007. Since then, he has lived stateside with his beautiful fashion designer wife (and former Spice Girl!) Victoria Beckham and their four children.
But recently, the accomplished soccer star has come under fire for something a little more personal than his behavior on the pitch. The 44-year-old dad has been criticized for kissing his 7-year-old daughter Harper Seven on the lips in a series of Instagram posts that some irate parents are calling "disgusting."
View this post on Instagram
The loving father of four has spoken out in defense of his affectionate gestures, claiming that he and Victoria, 45, have always been lovingly tactile and affectionate with their kids.
David retired from professional soccer practice in 2013 to become president of Inter Miami CF. With reduced time on the pitch, David found more time to spend with his family and was also keen to respond to the backlash. He took to Facebook Live during a family vacation to Bangkok, the Daily Mail reported, insisting that he kisses all of his children on the lips.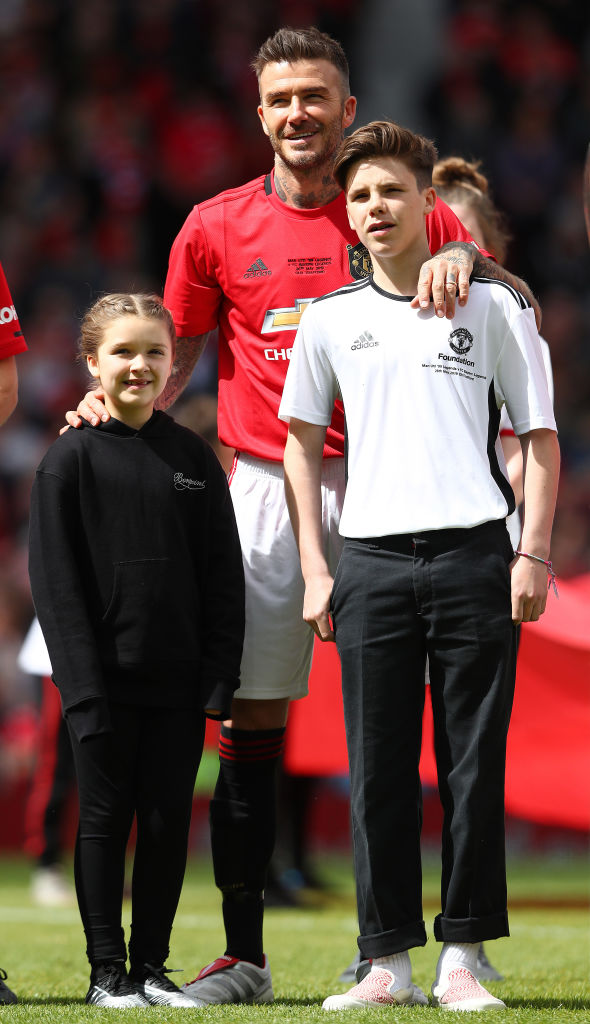 The only exception, he added sensibly, was his eldest son Brooklyn, now a 20-year-old model and photographer. "He might find that a little strange," David said, "but I'm very affectionate with the kids." David and Victoria's other children, however (Romeo, 16, Cruz, 14, and Harper, 7), are still very much in the family fold.
In summer of 2017, the doting dad uploaded a sweet picture of himself kissing little Harper (then 5 years old) on the lips to his Instagram page. They were pictured snuggling up for a selfie during a family trip to Tanzania. He then uploaded a pre-Christmas snap of himself and Harper sharing a kiss on the lips while skating in November of 2018.
View this post on Instagram
Many of David's followers thought the sweet snaps depicted nothing more than fatherly love and should be celebrated. Others, however, chastised David's behavior for being inappropriate, even "disgusting." David was taken aback but willing to contribute to the conversation to defend his family's mode of showing affection. "I kiss all my kids on the lips," he said.
"It's how I was brought up, and Victoria, and it's how we are with our children."
View this post on Instagram
Victoria has also shared intimate family snaps of herself with her kids on Instagram. On Harper's fifth birthday, Victoria shared a picture of the pair sharing a little kiss on the lips while playing in the swimming pool, captioned: "We all love you so much, kisses from Mummy."
A picture of the mom-daughter duo holding hands and bumping noses even graced the cover of Vogue magazine in September of 2018. The fashion designer's followers, however, couldn't agree on the kissing photos; was it strange for a parent and child to be kissing on the lips? Old-fashioned? Downright inappropriate?
View this post on Instagram
Whatever the critics say (and the debate continues), this appears to be one very happy family indeed. On Father's Day, Victoria even shared a snap captioned: "The best daddy in the world! We all love you so, so much." Victoria separately insisted that she and her sporting legend hubby have "a lot of fun together."
View this post on Instagram
"We want to show our kids love and we protect them, look after them and support them," David added, in defense of the couple's affectionate parenting style. "Having children is the most special thing in the world."
That is one sentiment that we surely can't deny.