Dark Side of The Mooncakes
September 19, 2005 12:00 am Last Updated: September 19, 2005 12:00 am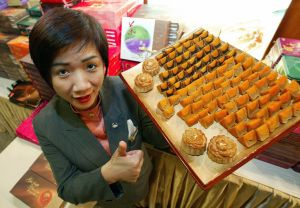 BEIJING – The people of Beijing munched through 15,000 tonnes of mooncakes – more than 1 kg (2.2 lb) per person – and bought one tenth of all the round cakes sold nationwide for Sunday&#039s Mid-Autumn Festival, news reports said on Monday.
The traditional, heavy pastries, symbols of the moon and common gifts for family, friends and business associates, have become a huge business in China with elaborate, lavishly packaged sets of just a few cakes commanding sky-high prices.
Around this year&#039s moon festival, when families get together for dinner and to observe the largest full moon of the year, mooncake sales in the Chinese capital alone hit nearly 1 billion yuan ($123.9 million).
For all their popularity, mooncakes are subjects of annual controversy over their climbing prices, the waste generated by their excessive packaging and unsavory makers grinding up the previous year&#039s cakes for use in new batches.
But the controversies have not left a bad taste in China&#039s mouth about the pastries, which come filled with salted duck egg yolk, lotus seed paste and even chocolate or ice cream.
China&#039s 10,000 mooncake makers baked off 200,000 tonnes of mooncakes last year, an official from the Chinese Association of Bakery and Confectionery Industry was quoted in news reports.
The cakes symbolise the overthrow of the Mongols at the end of the Yuan dynasty in the 14th century when, according to legend, secret notes baked into sweets helped spark an uprising.