CALGARY, Canada—Shen Yun Performing Arts, the world's premier classical Chinese dance and music company, impressed mother and daughter Judy and Alexis Derosier, both veteran dancers.
The two caught the final show of the New York-based performing arts company at Southern Alberta Jubilee Auditorium on Monday evening, April 9.
Alexis, who has danced for Alberta Ballet, said she found classical Chinese dance "absolutely amazing" as presented by Shen Yun.
"What impresses me the most is the range, the full range of what I'm seeing," she said, drawing on her training in classical ballet.
"The extensions, how elegant everybody is. Oh, it's just beautiful, it's absolutely beautiful," she added.
An art form thousands of years old, classical Chinese dance is rich with expressive power, according to the Shen Yun website.
"Classical Chinese dance is composed of three main parts: bearing, form, and technical skill. Other than complete training in the fundamentals, it also entails systematic training in movements and postures, as well as very difficult jumping and tumbling techniques. And so, alongside ballet, classical Chinese dance is one of the most comprehensive dance systems in the world."
Alexis said the dancing she saw tonight differed a great deal from what she herself learned.
"Comparing their techniques [with] what I learned, it seems a lot more full-ranged. It's very, very different from Western dance, but wow, it looks almost a little more technically complicated than the one I'm used to. It's unreal," she said.
Adding to the beauty of the production for her was how Shen Yun's skillful dancers performed the physically demanding movements of classical Chinese dance seamlessly and with ease.
"The length, the extensions they're getting with their jumping, when they're doing a full split in the air—and that is one of the hardest things that anybody can do—but it's done with such grace and such ease," Alexis said.
"It's really, really fascinating."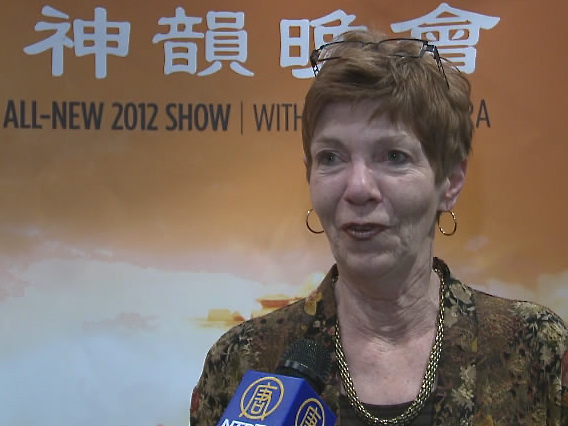 Alexis said she also enjoyed the storylines of the dances and commended the use of the digital backdrops and animated scenes that interacted with the dancers on the stage.
"It's awesome, I'm just so inspired," she said.
Alexis's mom, Judy, was also a dancer for years and has owned different dance companies. Her specialty was tap dance and character dancing.
Judy said she could appreciate how hard Shen Yun artists have practiced to be able to put on a production of such high quality.
"I have a feeling that it would take so many hours of practice to get that timing so exquisitely down, and the angles of their legs, the angles of their necks, the beauty of their arms, and they all go in sequence, which I love," Judy said.
"I assume that the training must be very long, and it's very well-loved."
Expanding further on the dances, Judy said she was impressed by the precision in the performance.
"I'm looking at the precision here—and you don't find that very often in dance—precision of movement," she said.
"I'm so impressed, I love the storylines with it too," she added.
Reporting by NTD Television.
Shen Yun Performing Arts has three equally large companies touring the world. Shen Yun Performing Arts Touring Company will next perform in Edmonton for two shows at the Northern Alberta Jubilee Auditorium on April 10 and 11.
For more information, visit ShenYunPerformingArts.org.