The Dallas Cowboys broke a franchise scoring record, for one quarter, with 29 points in the second; en route to a blow-out victory over the Atlanta Falcons at home on Sunday.
Dallas began the game, scoring a touchdown for the first opening-drive points since week three. The 73-yard drive of eight plays culminated with QB Dak Prescott completing a 13-yard timing pattern to CeeDee Lamb near the left edge of the end zone for a touchdown.
The Atlanta Falcons would respond with their only points of the game; a 35-yard field goal by Younghoe Koo, from an eight-play drive of 58 yards.
Dallas was heavily favored last week, after a six-game winning streak, but struggled in all facets in its worst defeat to the Denver Broncos. Prescott had just returned after sitting out the previous week due to suffering a right calf sprain.
"Last week just wasn't us," Prescott said. "Everybody in our locker room knows that. It left a bad taste in our mouths. I think it's a taste we needed in a sense to understand how tough this game is."
NFL's top offense regained its form as Prescott completed 24 of 31 passes for 296 yards; the team totaled 431 yards.
His favorite target was Lamb, who caught six passes for 94 yards and two touchdowns.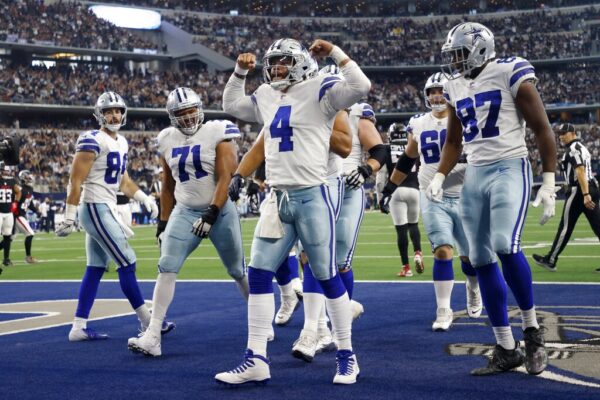 Ezekiel Elliott rushed for two touchdowns on 14 carries, totaling 41 yards. Tony Pollard added 42 yards and several others contributed to a team total of 114 yards.
"We had to go out there and set the tone," said Elliott, "You know we wanted the ball, we wanted to hit them in the mouth first, we wanted to go score first, and that's what we did."
The first half ended with Dallas' biggest halftime lead, 36–3, since 1971; when Roger Staubach led that team to a 38–3 advantage over the New York Jets on Dec. 14.
The last score of the half resulted from Dorance Armstrong blocking Dustin Colquitt's punt; it was then recovered by Nashon Wright in the end zone with 37 seconds remaining in the half.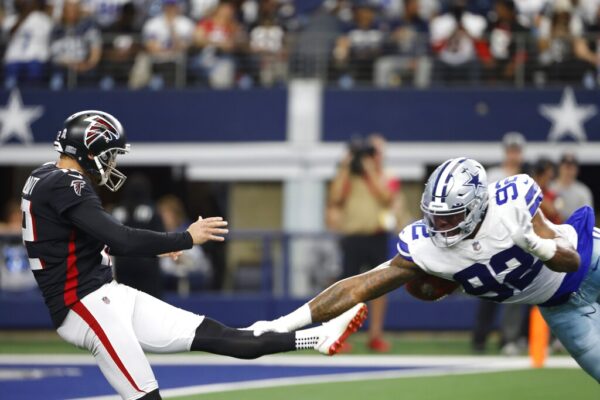 The Dallas defense had their best game of the season; allowing just 111 passing yards and 103 rushing yards.
Dallas defensive coordinator, Dan Quinn, was fired by the Falcons as head coach last year after a winless first five games.
The Cowboys limited Atlanta to 11 first downs and just one of 11 third-down conversions; they gained a mere 214 yards in total.
"Credit to him and credit to their defense," said Atlanta QB Matt Ryan. "I thought he did a great job of putting those guys in position to be successful and their guys made plays."
Ryan completed just nine of 21 passes for 117 yards and two interceptions before being replaced when the Falcons were down by 40 points.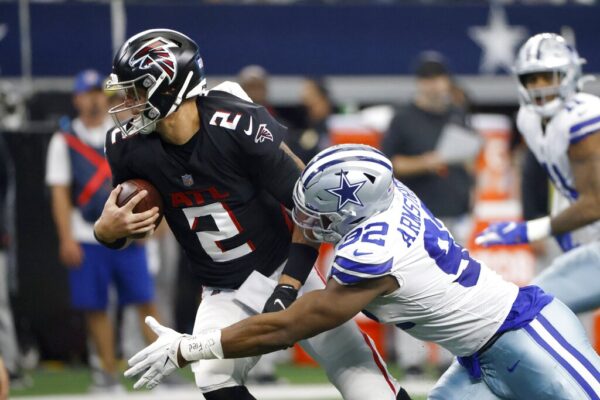 Cowboys Trevon Diggs had one of those interceptions adding to his NFL-leading eighth for the season.
Up next for the Falcons is a very short week with the hot New England Patriots visiting Atlanta on Thursday.
The Cowboys also have a tough game at the two-time defending AFC champion Kansas City Chiefs on Sunday.