CVS Health and Walgreens are no longer limiting the number of at-home COVID-19 tests customers can purchase at their stores, spokespersons for both companies have confirmed.
The two largest pharmaceutical chain stores in the United States announced in December—just days before Christmas—that they were limiting the number of at-home COVID-19 testing kits that customers could buy be due to "unprecedented" holiday demand for them.
At the time, Walgreens put in effect a four-item purchase limit for customers while CVS shoppers were limited to six at-home test kits per purchase.
Representatives of both companies told CBS MoneyWatch that they have now been able to increase their inventory of the over-the-counter virus testing kits and have thus removed purchase limits.
A spokesperson for Walgreens said customers can now purchase as many rapid COVID-19 tests as they want from the retailer.
A  CVS Pharmacy spokesperson said, "We've worked with our vendors to increase inventory of OTC COVID-19 tests and have removed all product limits on those products at CVS Pharmacy locations nationwide and on CVS.com."
Not only has the limit been removed on the number of tests that can be purchased but they are also covered by select insurance policies, CVS said.
"Once you purchase in-store or online, save your receipt and contact your insurance provider to get information about their claim submission process," the pharmacy told customers.
The Biden administration announced last month that insurance companies and group health plans must cover the cost of over-the-counter, at-home rapid COVID-19 tests for people with private health coverage, starting Jan. 15.
Many commercially available at-home tests are priced at around $12 or less per test.
Announcing the news, the U.S. Department of Health and Human Services (HHS) said that insurance companies and health plans must cover eight over-the-counter, at-home tests per month, per eligible person and there would be "no limit" on the number of tests, including at-home COVID-19 tests, that insurers or health plans must cover if a health care provider orders or administers it after a clinical assessment.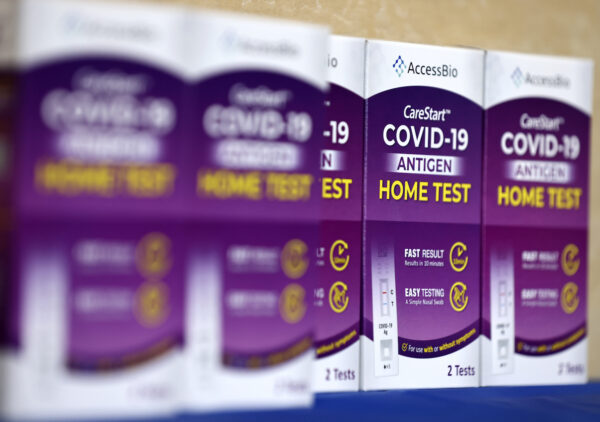 The move was in addition to the Biden administration's plan to mail out some 500 million COVID-19 tests, starting in January, in an effort to combat the Omicron variant, HHS said.
The Biden administration in 2021 required state Medicaid and Children's Health Insurance Program (CHIP) programs to cover all types of FDA-authorized COVID-19 tests, including at-home tests, with no beneficiary cost.
Last week, Medicare, which covers roughly 60 million Americans, said that individuals in either the original Medicare or Medicare Advantage will be able to get free over-the-counter COVID-19 tests starting in early spring.
"Under the new initiative, Medicare beneficiaries will be able to access up to eight over-the-counter COVID-19 tests per month for free. Tests will be available through eligible pharmacies and other participating entities. This policy will apply to COVID-19 over-the-counter tests approved or authorized by the U.S. Food and Drug Administration (FDA)," the agency's said.
The decision by CVS Health and Walgreens comes as COVID-19 cases have significantly declined in the U.S. in recent weeks, to an average of about 300,000 cases a day, down from more than 800,000 in mid-January.