Sen. Ted Cruz (R-Texas) grilled the boss of United Airlines about his decision to enforce COVID-19 vaccine mandates on all United employees during a meeting of the United States Senate Commerce, Science, and Transportation Committee on Dec. 15.
Cruz praised two Texas-based carriers, American Airlines and Southwest Airlines, calling them "exemplary" over vaccine mandates and not terminating employees who refused to get shots.
The senator then turned his attention towards Scott Kirby, the CEO of United Airlines.
"United's behavior on this issue, I have to say, has been deeply disturbing," Cruz said to Kirby. "Your competitors have said they will stand with their employees, United has not made that same commitment."
"We allocated over $54 billion to keep the American aviation industry strong and healthy," the senator said.
"I spoke with each of you in great length about maintaining our pilots and flight attendants was critically important.
"Fast-forward to where we are today and we find ourselves in a different circumstance and the behavior of airlines has not been uniform."
The committee heard from airline executives in a full hearing concerning oversight of the U.S. airline industry.
It was in response to "disruptions" in the industry caused by the CCP (Chinese Communist Party) virus, the virus that causes COVID-19.
To make sure airlines "remained viable", Congress signed into law the Payroll Support Program (PSP) on March 27, 2020.
It provided assistance to consumers and businesses, including aid to air carriers and eligible contractors.
The Senate committee examined the impact of the program on commercial airlines and their workforces, as well as the effect of airline performance as it related to "American consumers."
Executives from four major airlines, United, Delta, Southwest, and American, were present.
When asked by Sen. Cruz how many pilots had been terminated for failure to comply with United's vaccine mandate, Kirby said about "200 employees did not comply with United's mandate and were fired out of its 67,000 employees."
Kirby added approximately six pilots were fired and 80 were on unpaid leave out of about 13,000.
However, Cruz begged to differ.
"Well, I will tell you, I spoke this morning to the Airline Employees for Health Freedom that said they had over 2,000 United employees who had been placed on unpaid leave because they sought exemptions from the vaccine mandates. That included 331 pilots."
Kirby went on to defend United's vaccine mandate.
"We believe this saves lives," Kirby told the committee. "I think that's my No. 1 obligation … safety, particularly running an airline."
Cruz said during the hearing that he had been "inundated" with United employees complaining to him about the company's "callous disregard for the rights of the pilots."
The senator referenced a video that he saw of Kirby on Instagram that he described as "very disturbing."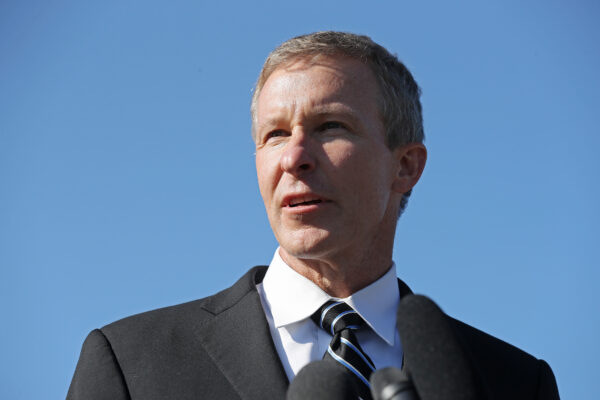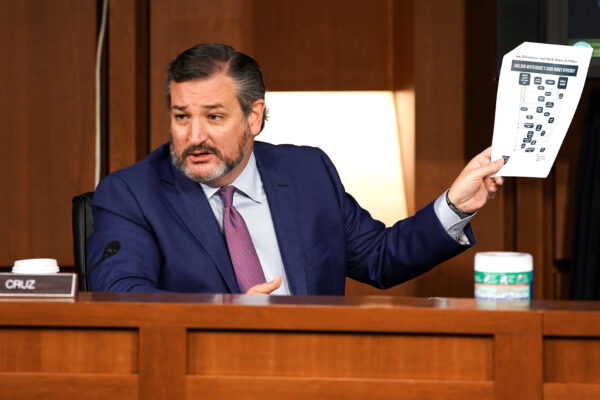 "United CEO Scott Kirby told his employees that 'very few people' who requested a religious exemption to their vaccine mandate would be granted one, said his employees would be 'putting their job on the line,' and said employees should 'be very careful about that," Cruz said.
Adrianna Uballe, a 10-year United flight attendant told Cruz via letter that she had been terminated by the airline for not getting the vaccine "in time."
That letter was later introduced into evidence by Cruz and accepted by the committee chair Sen. Maria Cantwell (D-Wash.).
Uballe told The Epoch Times that she experienced "complications" from the vaccine and had to be hospitalized.
"At first I was standing firm in not getting the vaccine," she said of her experience. "This vaccine was forced on us, I wanted to stay true to myself because of my religion, but I was backed into a corner."
The single mother of a 6-year-old son, said she began to panic because she didn't want to lose her job, but wanted to adhere to her convictions, she continued.
Uballe said she went to her union representative for help.
"I was told by my union representative, that a religious exemption was no longer accepted and prepare to be terminated if I didn't get the vaccine," she said.
"She told me to think about my son, my benefits, then I broke down making a choice."
Uballe said her union person told her, "Go do it right now, the J&J only, I'll call the dogs off your back."
At that moment, Uballe said she lost "all respect" for United Airlines, her union, and even herself for "caving" into the demands of her employer.
After getting the shot that was recommended to her, Uballe began to have a severe reaction to the vaccine and was hospitalized.
She said her union representative told her she "would keep her job."
During a video conference with a human resources worker, Uballe said he asked why she did not get the vaccine in a timely manner.
After explaining she had been denied an exemption and that her union representative had "talked her into getting the vaccine,"  she was then presented with an eight-page document that Uballe described as a "covenant not to sue."
"I was told the document was time sensitive and that I needed to sign in now," she said. "I wanted to read it and understand what I was signing."
After failing to sign the document, Uballe said she arrived home to find a termination letter hung on her gate in a clear plastic garbage bag.
"I felt like garbage after I read it," she said. "I have been a very good employee. I was done so wrong."
The Epoch Times reached out to United Airlines and union representatives who did not return telephone calls by press time.