OTTAWA—Crowds of people gathered in Ottawa on Canada Day to call for freedoms as police continued to maintain a heavy presence, at times confronting some of the protesters.
Police had set up three scanning areas to check people as they entered the precinct of Parliament Hill, where a rally was planned to protest the federal government's COVID-19 vaccine mandate. But due to the delays caused by the screening process, rally organizers decided to move the equipment for the event closer to the fence, as the vast majority of the protesters were waiting on the other side.
However, the police tried to stop the rally's relocation, and a brief confrontation erupted between police and protesters.
Protesters repeatedly yelled out "freedom" as they moved to the alternative gathering location. As police intervened, some protesters yelled "police stand down" and "shame on you."
Tom Marazzo, a military veteran who acted as the spokesperson for the truckers' Freedom Convoy protest at the national capital earlier this year, called on the demonstrators to remain calm.
"The Ottawa police want the same thing as you do. You're working with us. We're working with them," he said.
The conflict was quickly resolved, and the organizers were allowed to move their speakers and equipment closer to the fence.
Earlier in the day, people marched through downtown Ottawa to protest the federal government's different COVID-19 mandates and restrictions. Cheering and chants of "freedom" were heard as people marched.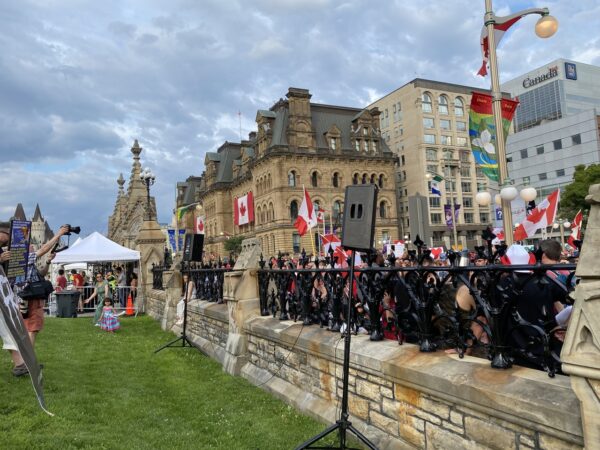 A day earlier, a large crowd convened at the War Memorial to welcome military veteran James Topp to his final destination, after he completed his four-month journey on foot from downtown Vancouver to protest COVID-19 vaccine mandates.
There has been a heightened police presence as the city and law enforcement say they want to avoid a similar situation to what occurred this winter when Freedom Convoy protesters camped in the Parliament area for weeks. They were cleared in an escalated police operation after the federal government invoked the Emergencies Act on Feb. 14, in a controversial move.
Police limited access to the downtown area ahead of July 1, and the city raised fines, saying offences such as "unusual noise" and "shouting" would result in $1,000 fines. Vehicle-based protests were also prohibited at the city's core and will be stopped on highways or roadways if they present a public safety risk, the OPS said.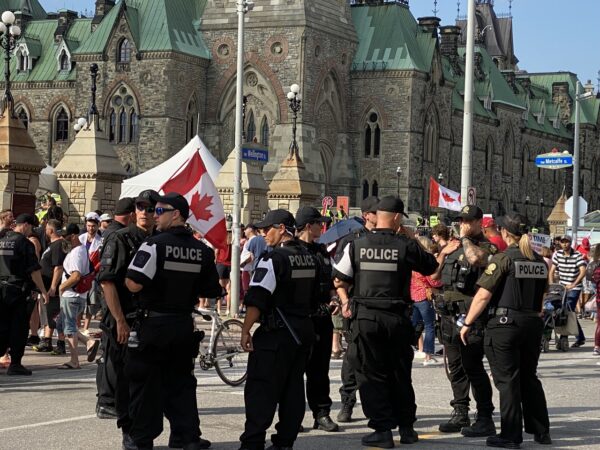 Police arrested four people after a confrontation with protesters on June 30.
The Ottawa By-law and Regulatory Services said in the morning of July 1 that since June 29, officers had issued 275 parking tickets and towed 72 vehicles in areas designated as "vehicle control zones" in place for Canada Day events.