When the campaign for Democratic presidential candidate Sen. Elizabeth Warren (D-Mass.) claimed she drew 12,000 to an event in Minnesota and 15,000 to an event in Washington state, skeptics derided the estimates as overblown.
When President Donald Trump made a similar claim about a rally in New Hampshire, it was also met with derision. But a local fire official went on the record to support the claim, noting Trump broke the all-time attendance record at the venue that was set in 2004.
Attempts by Epoch Times to confirm Warren's figures were unsuccessful and no officials have appeared to corroborate her claims to other outlets, though that didn't stop some outlets from portraying the numbers as confirmed.
Barbara Laskin, a spokeswoman for Macalester College, where Warren went in St. Paul, directed inquiries to the Warren campaign. The St. Paul Fire Department spokesman said the department wasn't involved in the event and the St. Paul Police Department directed inquiries to Macalester College and the Warren campaign.
Deborah Daoust, spokeswoman for the Seattle City Center, where Warren went in Washington state, said that the city "has a policy of not commenting on crowd sizes" that's been in place since at least early 2017.
"We just ask people to go with the event organizer's numbers," Daoust told Epoch Times.
The Seattle Police Department did not respond to a query and a Seattle Fire Department spokesman said in an email that the department did not have any information about the crowd size.
Asked to provide information about how the campaign came up with the estimates, the Warren campaign said on Aug. 27 it would get back to Epoch Times but had not by Sept. 4.
Dr. G. Keith Still, professor of Crowd Science at Manchester Metropolitan University in the United Kingdom, said that he was unable at this time to estimate the sizes of Warren's crowds but in an email to Epoch Times he noted, in general, event organizers overestimate crowd sizes to "make them look great" and that "politicians (if it's their crowd) usually overestimate (some by huge factors)."
Still's team is working on developing an application that people can use to estimate crowd sizes at events.
Because of the lack of aerial pictures from Warren's events, there would be "unacceptable margins of error" in any estimates, Curt Westergard, president of Digital Design & Imaging Service, told Epoch Times in an email.
"There is an unacceptable bias in the TV crew's pedestrian-level photos and targets," he said in reference to pictures posted by local reporters and broadcasters. "Our science-based methodology for performing unbiased crowd counts relies on high-resolution overhead photos rapidly gathered at the peak of an outdoor event. An orthographic (straight down) overview is required to reduce distortions. More importantly, our aerial photo process rapidly captures the entire event at once."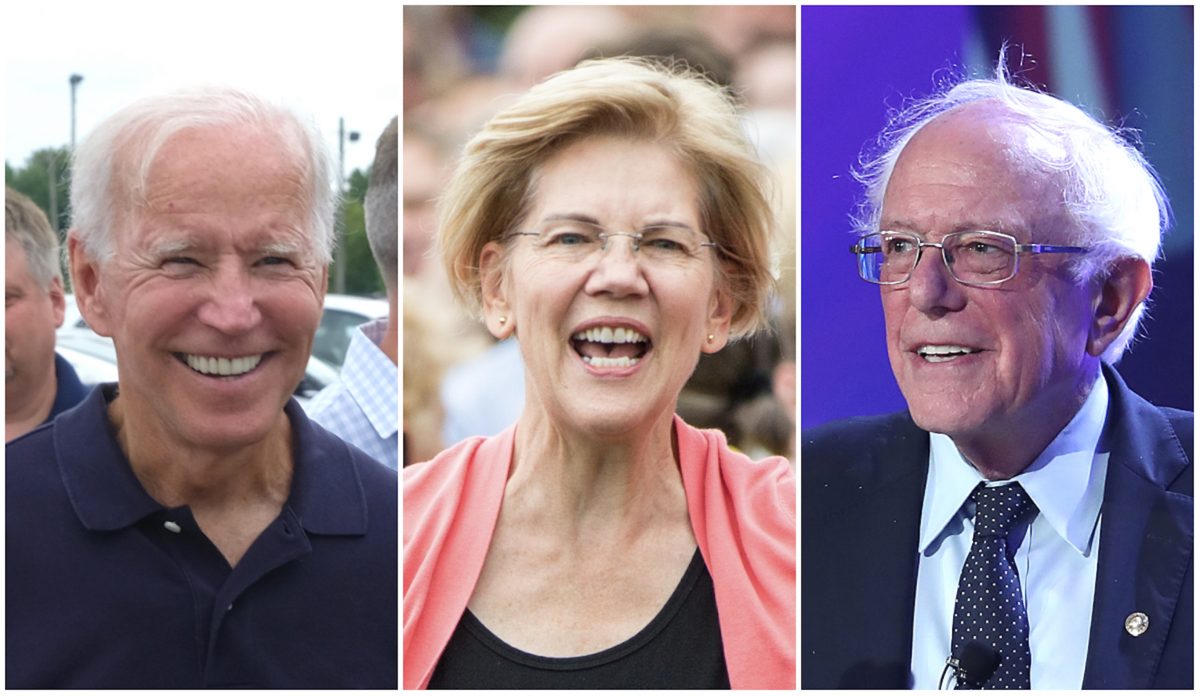 Campaign 'Rising'
Even though the crowd numbers are likely lower than those Warren claimed, enthusiasm for her campaign is strong and she's on the rise, Cal Jillson, professor of political science at Southern Methodist University, told Epoch Times.
"She's rising. And I think that she has found her footing and she's gaining strength in this campaign. I think early in this campaign people looked at Elizabeth Warren and saw a very smart, very energized—perhaps too radical democratic candidate, maybe kind of a duplicate of Bernie Sanders—but over the last six months, say, she's put out program after program that have impressed people with their thoroughness. and that theme 'I have a plan for' that has kind of taken hold and people are now more impressed with her preparation and intelligence," he said.
"And so she has risen past Bernie Sanders and is sort of the principal progressive alternative to former vice president Joe Biden."
Polls have regularly shown Warren and Sanders locked in a battle for second place behind Biden, who is often 10-plus percentage points ahead of whoever is next. Two new polls, though, showed Warren had gained significant ground and was closer to Biden than Sanders. Meanwhile, an average of favorability of national polls released in late August showed the top three contenders with similar numbers in terms of enthusiasm.
Warren has presented herself as a more youthful, vigorous choice than her two older rivals, often breaking into runs while arriving at campaign events and speaking forcefully during them, presenting a contrast to Biden's frequent memory lapses and Sanders' hunched-over posture.
Drawing thousands of people, whether it was several thousand or a much higher number, is a good sign for Warren's campaign, Jillson noted.
"Certainly you'd rather have big crowds than small crowds, but it indicates a lot of interest in her campaign," Jillson said.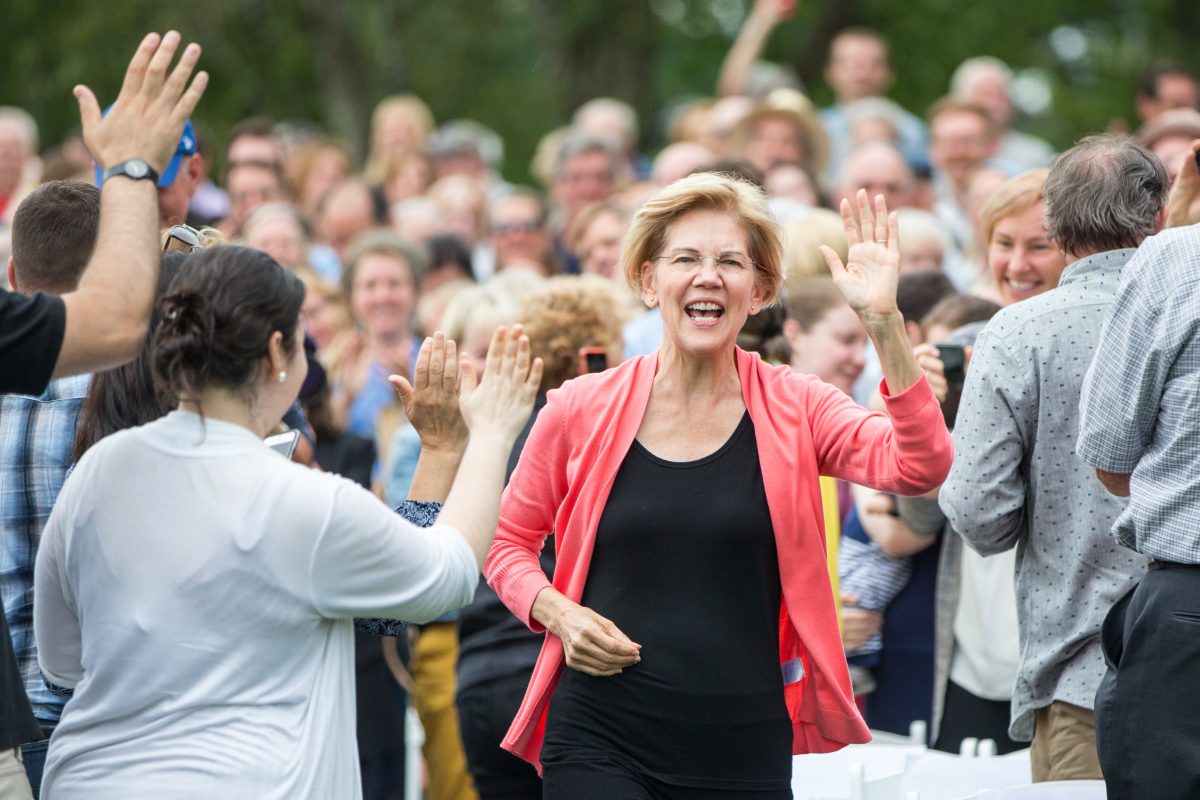 "At this point in the process, people are still taking stock of various candidates in many cases so there are a lot of people looking at Elizabeth Warren and trying to make a judgment about her. The crowd size reflects the interest people have in hearing from her, that doesn't mean that they're all going to vote for her in the primary or the general but it means that she's getting a good close look from a lot of people," he added.
If Warren keeps rising then "she may at some point challenge Biden" head-to-head," Jillson said. While Biden remains the frontrunner for now, Warren "is rising slowly but steadily and that's not a bad place."
Amber Faust, a 35-year-old mother-of-three in South Carolina who regularly votes, said that Warren's ordeal involving her claim to Native American ancestry "became too much for me," particularly the video in which Warren claimed a DNA test vindicated her claims. That video was recently removed from her campaign website as she apologized to Native Americans.
Faust began following other candidates and began to like former Texas Rep. Beto O'Rourke and South Bend, Indiana Mayor Pete Buttigieg. But just before the first round of Democratic debates, Faust started following Warren's appearances on Facebook Live and Instagram and watching her speeches and debate performances.
Initially, Faust said, Warren's appearances felt forced, but she's witnessed a transition to a more natural persona.
"It seems like she's figured it out. She's figured out how not to be so forced. She's becoming more natural on the campaign trail," Faust, a commercial photographer and social media influencer, told Epoch Times. "I'm back to loving her. I fell off her wagon and I'm back. I'm going to vote for her."