Rep. Lee Zeldin (R-N.Y.) is running for governor to unseat Democrat incumbent Kathy Hochul in the Nov. 8 election. He says New Yorkers across the political spectrum are tired of crime and poor quality of life, the most important issue to them is public safety, and they want a governor who will make their communities safe.
"This is not a red wave. This is a commonsense wave. Republicans, Democrats, independents, and people who have never voted before are standing up and saying enough. We want our personal accountability back. We want our freedoms back. We want our New York back. Public Safety's on the ballot come November 8, and New Yorkers know it," said Zeldin's running mate for Lt. Governor, Alison Esposito during an Oct. 22 interview with The Epoch Times' sister media NTD News.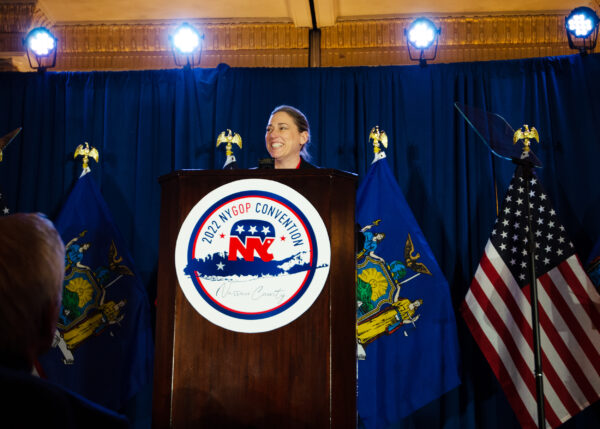 New York's revolving door and soft on crime justice system has emboldened criminals, made police officers' jobs more challenging, and created a crime surge, said Esposito.
As a commander at an NYC police department, Esposito saw that "most criminals were back in the precinct, collecting their property to go home before my officers were even done processing the arrest," she said.
Esposito said most police officers have the heart to serve and are good, and Zeldin will back the police force and ensure there is more funding, not less, so police officers can be properly trained and equipped to do the often dangerous job of fighting crime.
Former NYC Mayor Rudy Giuliani's son Andrew Giuliani said he will vote for Zeldin because he also wants to see safety restored, the police and judges empowered to lock up criminals, and to see lesser "broken window" crimes prosecuted to send a strong message to other potential criminals.
"If Kathy Hochul gets elected on November 8, unfortunately, New York is going to go down the path of Illinois or California," said Giuliani. "We've seen cashless bail- that has been an absolute disaster, and unfortunately, in Rochester, they've reached record highs in murders, [and] in Binghamton, the same thing," said Giuliani.
Esposito also wants to see bail reform, but blames the last few years of the Democrats' "defund the police" campaign for the surge in crime.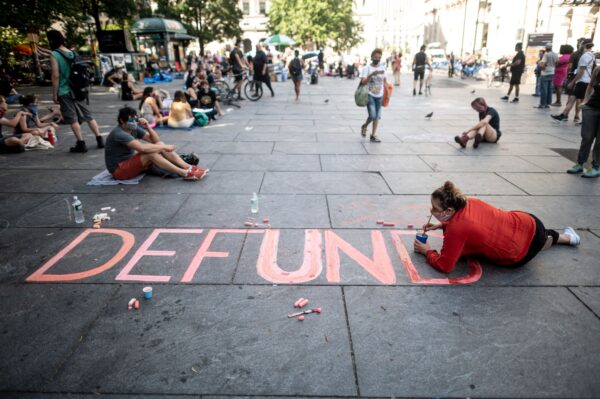 "We are existing in a world where false media narrative and dangerous political rhetoric have made our cops all across the state and the country, public enemy number one," said Esposito.
The police union, the Fraternal Order of Police with its nearly 300,000 members endorsed Zeldin and Esposito.

Voters Want Criminals Locked Up
New York resident Kevin Smith said he will vote for Zeldin because he wants safety to be restored in NYC and his kids can grow up enjoying the city as he did.
"And it worries me that a lot of my friends are leaving, guys I grew up with, they're all headed for Tennessee and Florida and Texas. I love New York, and I don't want it to change. I want it to be the city that I grew up in," said Smith.
Smith criticized NY District Attorney Alvin Bragg, for supporting criminals over the victims of crimes and said Zeldin will fire Bragg, which Zeldin has said he would do on day one.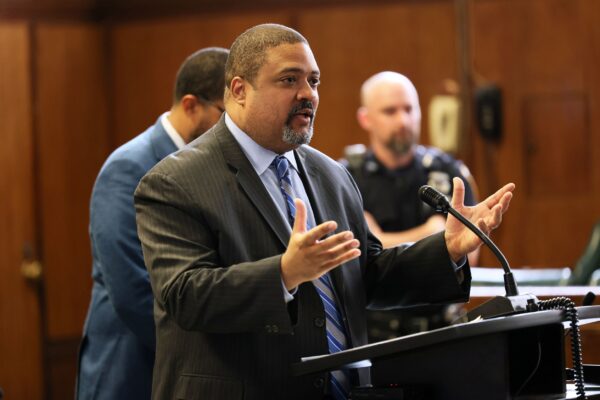 Increasingly, criminals take advantage of the current district attorney's soft-on-crime policies where older criminals enlist younger criminals to commit crimes because they know that the DA's office will let them off easy, said Esposito.
"So, the older criminals will say, you hold the gun, or you carry the drugs because you'll get out the next day," said Esposito.
The Epoch Times did not get an immediate response from Bragg's office to our request for comment.
Another Zeldin supporter, Anthony Conte, echoed criticism of NYC's justice system and lenient crime policies.
"You want to do something wrong? you get locked up, you go to jail and you stay there until you learn your lesson, not that you walk in the front of the court and you walk out the back door," said Conte.
Yiatin Chu, a young woman living in Manhattan, said she will vote for Zeldin because she is concerned about the direction NYC is moving in, including expenses, quality of education, lack of freedom, and crime.
"I don't feel safe on the subway," Chu said. "We like our elected officials to be doing something about it and a lot of them are just ignoring it. So, addressing crime in the city is definitely one of the things I hear from everyone."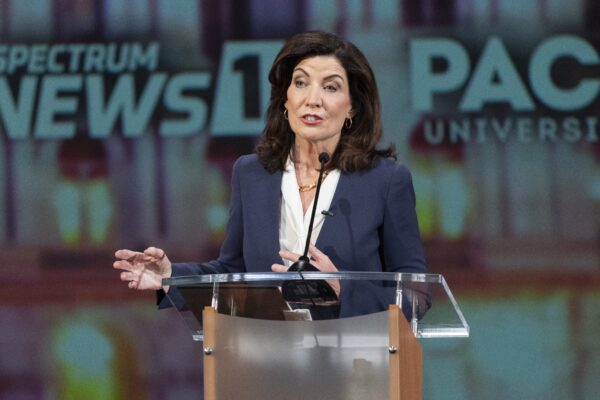 She said there are no consequences for criminals and there needs to be more "common sense" in the NYC justice system.
New Yorkers should vote for Kathy Hochul if they are satisfied with how things are, but "when somebody hits you in the hand and they beat you up, and they were out the next day, you did it to yourself," Conte's said.