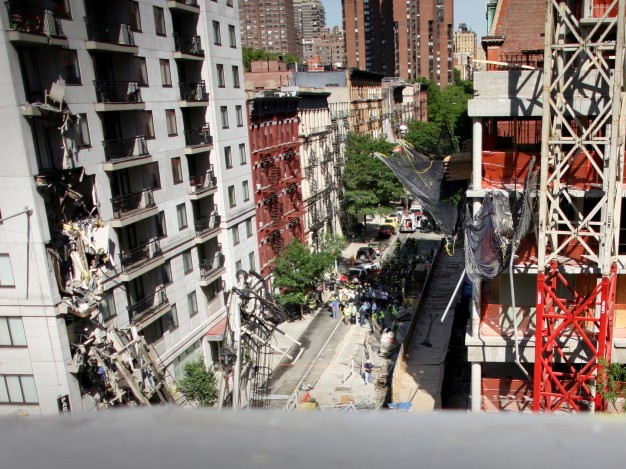 NEW YORK—James Lomma, owner of New York Cranes and J.F. Lomma, Inc., has attended a series of trials in Manhattan Supreme Court over the last week on charges of second degree manslaughter, negligent homicide, and other charges related to the death of two men in 2008.
On May 30, 2008, two men were killed when a structural weld failed and a crane's turntable collapsed on East 91st Street. Donald C. Leo of Monmouth Beach, N.J., was operating the crane at time. Ramadan Kurtaj of Bronx County, was working below. Both were killed.
Lomma cut corners, charged District Attorney Cyrus R. Vance.
The indictment statement alleges that he bought a replacement turntable for his crane from a Chinese company, RTR, without properly checking the company's credentials. Other estimates for the turntable ranged from $34,000 to $120,000, while RTR's model cost $20,000.
Lomma allegedly failed to hire an engineer to oversee the repair as regulation requires, and did not seek Department of Building approval.
His company bought another turntable from RTR later, which the company returned to RTR after finding faulty welding. Lomma allegedly did not check the earlier turntable for faults, and it collapsed ending two lives.
He faces a maximum sentence of 15 years in prison.
"Sometimes there is no rhyme and there is no reason for the things that people do," Assistant District Attorney Deborah Hickey said in her opening her remarks last Friday, according to online publication Engineering News Record—"but here the reason is clear: It was money."
"We know that RTR is in China, but that's hardly a red flag," said Paul Shechtman, Lomma's attorney, according to Engineering News Record. Schechtman said RTR had ISO-9001 certification, suggesting that it meets industry standards.
The New York Post reported that Justice Daniel Conviser will give his verdict at 11:30 a.m. on Thursday.